Using a couple of different time-frames we can get a handle on whether gold's recent pullback is an opportunity to buy or wait for lower prices. I always use multiple timeframes to get a handle on where price is and where it could be going.
The first chart below is a 5yr-wkly using the 3 Line Price chart view. You can see the bull market that gold has been in very clearly with this view and we haven't even had one red candle during this entire pullback. Chalk one up for the bulls as the RSI continues to remain above the key 70 area.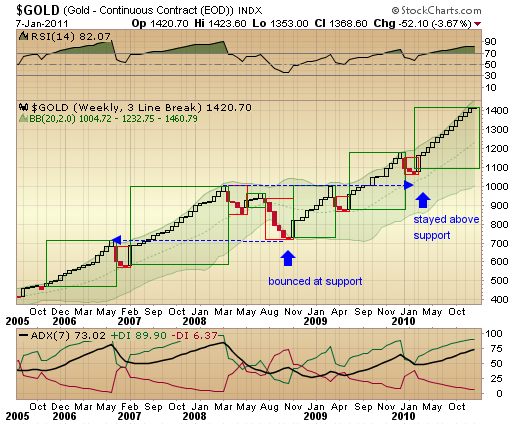 When we analyze the daily we can see a failed rally attempt after gold peaked in late November and with this new red candle it appears the short term trend has turned lower. I would feel safer making this statement once we had one more red candle to confirm, but by 3 line chart standards, anytime a reversal candle takes out the previous 3 candles a trend has changed.
The RSI has shifted to a bearish perspective as it makes lower lows and seems destined to cross below 50 for the first time since jun/july, where it bounced immediately.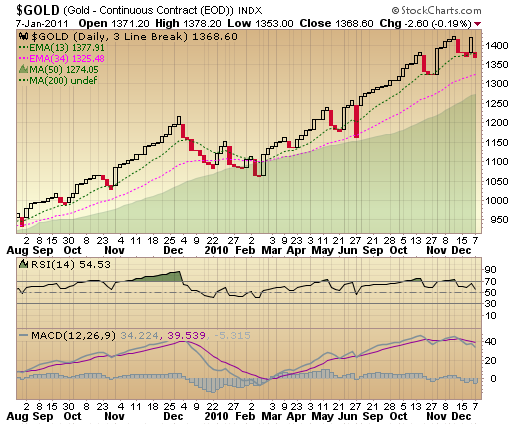 The final timeframe I want to look at is the 60 min where we can see a triple top in making, with the big gap down last week to validate the pattern. What I expect to happen over the coming days is the RSI to rally up to the 60-65 level, which would coincide with the $136 level, and then turn lower right at the gap.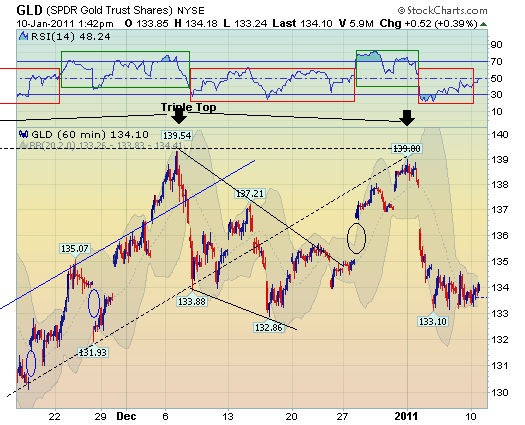 With 2 of these 3 time-frames bearish, I believe now is not the best time to be entering the gold market on a long trade. However as long as the long term trend remains bullish, I wouldn't be looking to short this precious metal either. Not every market has to be traded long or short and staying on the sidelines until the trend reverses back up is the prudent trade, although sometimes inaction is very hard.
Below is a 4 minute video with an alternate perspective on using one very selective indicator that suggests a bottom is near and the gold market is about to turn up.
Disclosure: None