The international property and infrastructure group Lend Lease Corp. Ltd (OTCPK:LLESF) is one of the leading property development and construction firms in Australia. It is well diversified amongst residential and commercial markets to balance out cyclical markets counter moves. Currently, residential development is rising in its cycle, with the Australian housing market expanding after a number of quiet years during the GFC.
Company and market
The company's market capitalization is $7.54 billion and it is headquartered in Sydney. It has operations in the US, Asia, Europe and the Middle East. Regularly, its Australian segment generates the biggest percentage of earnings, with Asia in second. In recent years, it has been expanding its US segment, taking advantage of the real estate market recovery there. This also gives the company better diversification between US and Australian property/business cycles.
The Australian construction industry was estimated to be about $285.4 billion in 2012 by the Australian Bureau of Statistics. Lend Lease's revenue for the 12 months ended June 30, 2014 was $13.21 billion. Some of its competitors' revenues are:
Mirvac Group (OTC:MRVGF) (residential/commercial): $1.75 billion
Stockland Corporation Ltd (OTCPK:STKAF) (residential/commercial): $1.77 billion
Leighton Holdings Ltd (OTC:LGTHF) (engineering, infrastructure and resources construction): $21.05 billion
Current developments and market conditions
It has a wide variety of projects currently underway. One of the biggest is the Barangaroo South development of the three towers and harbor waterfront in downtown Sydney just a short distance away from the Sydney Harbour Bridge. The project was originally valued at over $5.61 billion, and will be a major tourist attraction with office towers, residences, shopping centers, as well as a six-star hotel and VIP gaming venue planned to be operated by Crown Resorts Ltd. (OTCPK:CWLDY).
Its residential development segment is seeing great business due to the growing housing market, which started coming back to life in late 2011 after several fallow years around the GFC. In its FY 2014 results released this month in August, it posted record volumes of residential settlements. One market driver is the record low interest rates. This is fuelling demand for property, especially for housing construction.
As a well-diversified company, it also does infrastructure development. It has toll way and tunnel construction in Sydney, as well as interstate motorway contract work.
With its goal to expand business in the US, it is currently undertaking a number of residential, commercial and infrastructure projects there. For example, in Killeen, Texas near Fort Hood, Lend Lease is overseeing construction and asset management of military housing. That project entails 6,430 homes.
Profit from the US segment saw substantial growth in FY 2014, up 46.9% to $73.8 million.
Financial strength and performance (most recent results)
In the 12 months ended June 30, 2014, Lend Lease generated $770 million in net profit, or 49% up. This surge in profit was mostly due to commercial property sales in France, yet still welcomed. In the previous year, net profit was $ 513.7 million. The company's guidance for the year ending June 30, 2015 is earnings to be $565 million-$582 million. Although that will be lower than 2014's result, it continues the uptrend from 2013 for a compound 6.4% annual increase over the two years. Unfortunately, that growth rate is much lower than the compound 16% the company achieved from 2010-2013, though that was coming off a low base during the GFC.
Long-term debt stands at $2.25 billion, which is less than four times FY 2014's $770 million net profit and the projected profit range for FY 2015. I like to see it at least less than five times, so it is getting close to the edge for me. What saves it is the $1.61 billion cash position it is sitting on. That makes its net gearing a very low 14.8%.
So we have a company steadily increasing net profits since 2009 and not dangerously leveraged.
EBITDA for each segment, as seen in the chart below, was down from the previous year except for investment management. It climbed due to gains in investments and the sale of some assets.
Lend Lease business segment EBITDA (values in A$)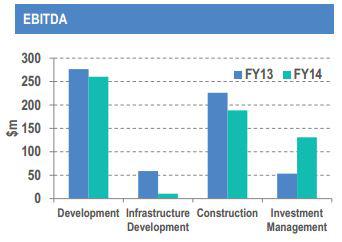 Source: Lend Lease Full Year Results August 2014
Currently the residential development segment is contributing the most EBITDA. The infrastructure development segment, containing the Barangaroo South development mentioned above, was much lower in EBITDA. The construction segment, which oversees economic infrastructure and engineering work, was second highest.
Lend Lease Return on Equity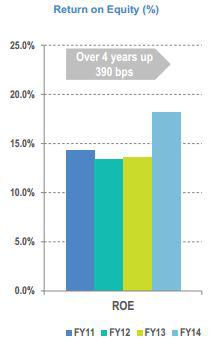 Source: Lend Lease Full Year Results August 2014
The company's return on equity has been relatively stable in recent years. The extra net profit from the French commercial property sale has bumped up ROE in FY 2014.
Stock movement
Lend Lease Corp Ltd OTCMKTS:LLESF Stock Chart

Source: Google Finance
The stock rose greatly from 2011 to late 2013, effectively doubling. The construction industry was down following the GFC, so when the property market started to move upwards in late 2011, residential developers like Lend Lease rose in chorus.
Over the past year, it has been relatively flat. If this was at the end of the property cycle, then I would say wait until it hits bottom again. However, housing is still rising, albeit in a slow economy. Should retail trade pick up and consumer spending rise, the property market and housing construction companies could pop up in higher gear.
The Australian stock is priced at 9.7 times earnings. That is towards the low end of its past average P/E range. Because the market in Australia is uncertain about the next move up, it is being reflected somewhat in the sideways trading of Lend Lease.
From what I see
If the Reserve Bank of Australia finally started to raise interest rates, it would only be because the economy has picked up enough, and doesn't need any special coddling. It now might be until the end of 2015 before any rate rises occur. A rate rise wouldn't particularly help Lend Lease, but signal that economic times were improving, which might push the property market up higher.
However, even if the property market continues to rise, at some point investors may start to bail out early to beat the rush before the industry cycle hits its peak. You have to know the cycles to know when the show is pretty much over.
As an investor, I would begin to buy Lend Lease during this lull in share price gains. We're playing the industry cycle as well as buying stock. Lend Lease's catalysts for growth are still in place, and, as former fund manager Peter Lynch would stress, the stock's "story" is still fine.
Disclosure: The author has no positions in any stocks mentioned, and no plans to initiate any positions within the next 72 hours.
The author wrote this article themselves, and it expresses their own opinions. The author is not receiving compensation for it (other than from Seeking Alpha). The author has no business relationship with any company whose stock is mentioned in this article.
Editor's Note: This article discusses one or more securities that do not trade on a major U.S. exchange. Please be aware of the risks associated with these stocks.