Kroger's (NYSE:KR) share price continues to make new highs as strategic acquisitions and organic growth fuel cash flow. Last quarter, Kroger posted same-store sales that jumped 4.6%, a number that puts it among the top performers in the industry. In the process, Kroger accomplished a surprising feat, outgrowing Whole Foods Market (NASDAQ:WFM), which only grew same-store sales by 3.9%.
Moreover, revenues are projected to continue growing as, similar to Whole Foods, Kroger is making a strong push into the trend of healthier eating. Results are already starting to mount as illustrated by the double-digit sales increase that its natural and organic foods department posted last quarter.
There should be plenty of expansion ahead in the healthy eating category, which will lift profits and is likely one reason why Kroger boosted its full-year sales growth guidance to as high as 4% on a same-store basis.
The chart below shows how Kroger's growth in cash flow from operations has fueled its share price higher. Since late 2012, the grocer has rapidly expanded cash flow as revenues have risen and cost cutting measures have been put into place. In that time, the company's share price has nearly tripled.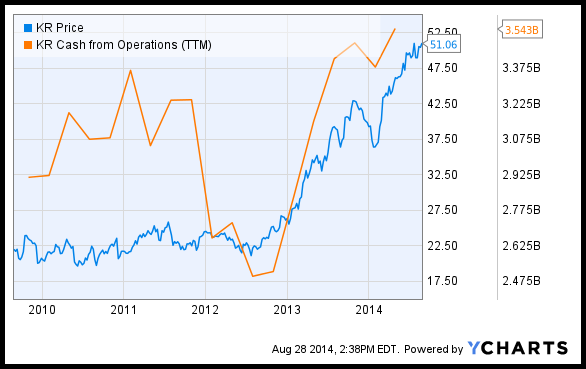 In order to fuel growth further, the company has used its robust cash flow to take on strategic acquisitions. Kroger recently spent over $2 billion to purchase its former competitor Harris Teeter in an attempt to gain exposure to fast-growing vacation and college-town markets in the Southeast United States.
Teeter's $4.5 billion in annual sales amounts to less than 5% of Kroger's massive $100 billion base, but shareholders are seeing benefits to the merger that go beyond the modest rise in sales. Kroger has been able to reap savings from increased scale that has helped them cut millions of dollars of distribution and labor costs, while those savings have also been responsible for an increase in Kroger's earnings projections this year.
Similarly, while management has targeted long-term profit growth between 8% and 11%, the company is on track to deliver between 12% and 15% in 2014 as merger synergies work its way through the system. Harris Teeter has also had success with its online ordering and store pickup model, which is something Kroger is hoping to scale to its own locations.
Increased cash flow has also led to strong dividend growth and a smaller payout ratio over the past few years for the company. Since 2010, Kroger's dividend per share has almost double from $0.275 to $0.48. In that time, the payout ratio has fallen to a meager 21%. If the company is able to continue generating strong cash flow, while keeping its payout ratio low, Kroger could significantly increase its dividend payout over the next decade.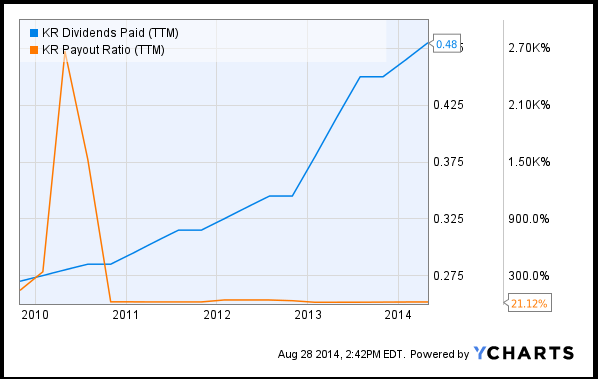 With all of the revenue growth and share price appreciation, one would think Kroger would be trading at an unreasonable valuation. That, however, is not the case, as Kroger's 17.2 trailing 12 months price to earnings ratio is historically low. Back in 2012, Kroger's P/E (NYSE:TTM) was well above 20, with a less bright outlook than the company currently holds.
As cash flow continues to grow and strategic acquisitions begin paying off, Kroger's share price is poised to continue its outperformance. Considering valuation multiples remain historically low, there could be significantly more share price growth before the company is viewed as overbought.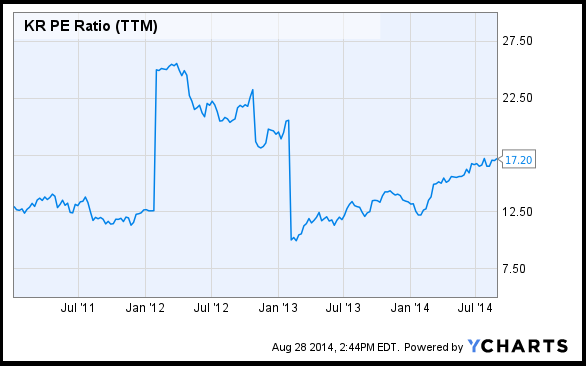 Disclosure: The author has no positions in any stocks mentioned, and no plans to initiate any positions within the next 72 hours.
The author wrote this article themselves, and it expresses their own opinions. The author is not receiving compensation for it (other than from Seeking Alpha). The author has no business relationship with any company whose stock is mentioned in this article.