Limited Brands Inc. (LTD), a specialty retailer of women's intimate and other apparel, beauty and personal care products recently posted sales results for the five-week period ended January 1, 2011.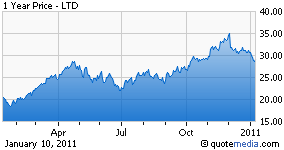 The owner of Victoria's Secret and Bath & Body Works chains sustained its growth momentum. Limited Brands' comparable-store sales for December rose 5%, following a 10% increase registered in November 2010, and reflecting a sharp improvement from a decline of 2% in December 2009. Limited Brands now expects January comparable-store sales to rise in the mid-to-high single digits.
Comparable-store sales for December increased 8% at Victoria's Secret Stores & Victoria's Secret Beauty, 11% at Victoria's Secret Direct, and 4% at Bath & Body Works & The White Barn Candle Co. but dropped 7% at La Senza.
For the forty-eight week period, comparable-store sales for Columbus, Ohio-based company, Limited Brands, grew by 8%.
Limited Brands, which competes with Gap Inc. (NYSE:GPS) and Hanesbrands Inc. (NYSE:HBI), said that net sales for December rose 7.8% to $1,790 million from $1,660 million posted in the same month last year. In the forty-eight week period, sales climbed 10.4% to $8,841 million from $8,010 million in the prior-year quarter.
Limited Brands' sustained focus on cost containment, inventory management and merchandise initiatives has kept it afloat in a sluggish retail environment.
The company's Bath & Body Works segment is gaining traction, driven by a rise in store transactions, enhancement in the direct channel business and growth in new stores. Victoria's Secret Stores have been performing well, and the company is also revamping its La Senza brand.
Limited Brands is keen to enhance its retail footprint across the globe by expanding aggressively in Canada and other international markets. Moreover, the company's strong liquidity positions it to drive growth and enhance return.
Currently, we have an Outperform rating on the stock. However, Limited Brands holds a Zacks #3 Rank, which translates into a short-term 'Hold' rating.