Santacruz Silver Mining (OTCQX:SZSMF) just announced its second quarter earnings results. The company's one producing mine - Rosario - continues to lose money, although considering that it has only been in production for a couple of quarters it is making considerable progress. As you can see in the following table from the press release, the company has increased silver-equivalent production slightly, but more importantly it brought down its production costs from $36/oz. to $35/oz.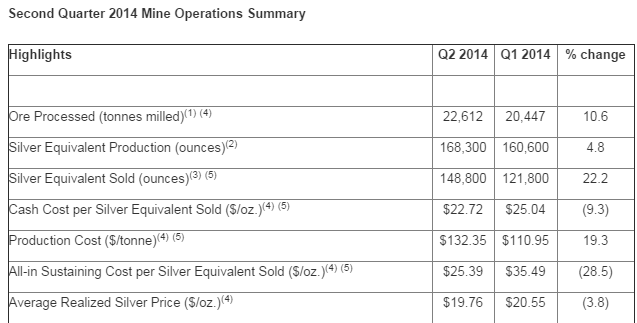 In addition to these figures the company shed some light on more recent production data showing that the company has continued to ramp up production at its Rosario mine from 300 tonnes of ore per day to 380 tonnes of ore per day with a Q3 target of 400 tonnes per day. Ultimately the company has a goal of bringing this figure up to 700 tonnes per day which means that production should more than double from current levels.
While it wasn't discussed in the press release the company's real potential lies in its pipeline of projects. For instance, earlier this year management released a very promising initial resource estimate for the Gavilanes Project, and it plans on releasing a PEA for its San Felipe Project shortly.
As I argued last August Santacruz Silver Mining is compelling given its ambitious plans to bring three (now two) projects into production in just a few years without spending a lot of money to do so. Management has so far lived up to these expectations by bringing Rosario into production, and it continues to be motivated as insiders own 38% of the company. With the stock down 33% since I recommended it and with the company's progress it seems like there is a disparity that should be exploited. While the company doesn't have advanced, thorough mine plans, this remains a speculation stock, but so far management has done everything right, and I continue to be a believer in this company longer term.
Disclosure: The author is long SZSMF.
The author wrote this article themselves, and it expresses their own opinions. The author is not receiving compensation for it (other than from Seeking Alpha). The author has no business relationship with any company whose stock is mentioned in this article.