The news that Kinder-Morgan would be merged into one big, corporate entity has gotten a mixed reaction among retail investors here on Seeking Alpha. Of course, many are rightfully pleased about the run-up in share price: Since the announcement of the merger both Kinder Morgan Partners (NYSE:KMP) and Kinder Morgan Inc. (NYSE:KMI) have seen shares leap up by some 20%.
The benefits of Kinder Morgan's merger have been talked about several times. The merger will result in a lower cost of equity for the combined company, and this will allow Kinder Morgan to be more competitive in acquisitions. Going forward, Kinder Morgan should achieve double-digit distribution growth, up from merely five percent at Kinder Morgan Partners.
However, some investors on Seeking Alpha are not at all happy. One commenter mentioned how unhappy he was that Kinder Morgan would no longer be a partnership and that his income from Kinder Morgan Inc. would now be taxable. Aside from that concern, investors in Kinder Morgan Partners must also learn to get used to a much lower yield: At the time Richard Kinder announced the mega merger, Kinder Morgan Partners yielded nearly 7%. Based on today's pricing, however, shareholders of KMI will receive a yield somewhere in the low-to-mid-fours.
Compounding this problem is the fact that most other big pipeline partnerships are loftily valued. For example, Enterprise Products Partners (NYSE:EPD) now trades at almost 28 times distributable cash flow, and offers a yield of only 3.58%. Most other large pipeline MLPs yield a bit more than that, but not much more.
Those wanting to stay in the pipeline MLP industry, for tax reasons or otherwise, should strongly consider Williams Partners (NYSE:WPZ). Although Williams has had some issues in the past, this partnership will achieve excellent growth well into the future thanks to having the best single natural gas pipeline asset in the country.
This summer, Williams Companies Inc (NYSE:WMB), the parent company of Williams Partners, acquired Access Midstream Partners LP (NYSE:ACMP), with plans to ultimately merge Access and Williams Partners. Together, Access and Williams Partners will have a position in nearly all of the country's most prolific natural gas supply areas. Both companies together will also have access to the strongest natural gas demand markets. The end result will be a top-tier pipeline focused on a fossil fuel whose demand will continue to grow for decades -- natural gas. Williams Partners is a great place to be. Even better, the partnership still yields a generous 7%.
Courtesy of Williams Partners investor relations
This chart shows two important things. First, supply of natural gas is expected to grow steadily until 2030 at least, due to production growth in the Marcellus Shale. More importantly, however, is the chart on the right, which shows just how extensive a network Williams Pipeline Partners will have when it merges with Access.
The Access acquisition adds exposure to the Barnett, the Mid-Continent and the Permian. It also strengthens Williams' position in the "big three" natural gas production geographies: The Gulf Coast, the Rockies, and especially the Marcellus.
The partnership already has strong exposure in the best supply areas, but the pipeline industry is not just about getting the supply out. Getting supply to the strongest demand locations is equally important. That second part of the equation is what has caused many pipelines a good bit of difficulty over the past few years.
Consider the reasons why: For decades the Gulf Coast was the largest supplier of natural gas and the Northeast was the area with the greatest demand. That dynamic has greatly shifted and has become much more complex. For one, the Marcellus Shale is quickly moving to outproduce the Gulf Coast. The Northeast, not the Gulf Coast, will soon be the area of greatest supply.
The low cost of natural gas, brought on by the surge in supply from the Marcellus, has also caused a renaissance in the US petrochemical industry all along the Gulf Coast. Petrochemical companies use lots of natural gas because natural gas is the primary input for so many of the chemicals these companies make.
So, the picture has become much more complex. Gulf Coast demand has grown remarkably. The Northeast has now become the biggest supplier of natural gas. All the pipelines that transported gas from the Gulf Coast to the Northeast have suddenly found themselves a bit obsolete, and a scramble to readjust has already started.
Williams Partners, however, is already prepared. Williams' single biggest asset, the Transco Pipeline, was made to be bi-directional when it was originally built. The Transco Pipeline runs from southern Texas, along the Gulf Coast, up to the eastern seaboard, and into New York City. It transports gas to the best demand areas: New Jersey, Metropolitan New York and all along the Gulf Coast. Because the pipeline is bi-directional, it can transport gas southward and northward if need be. This gives Williams a huge advantage over its competitors.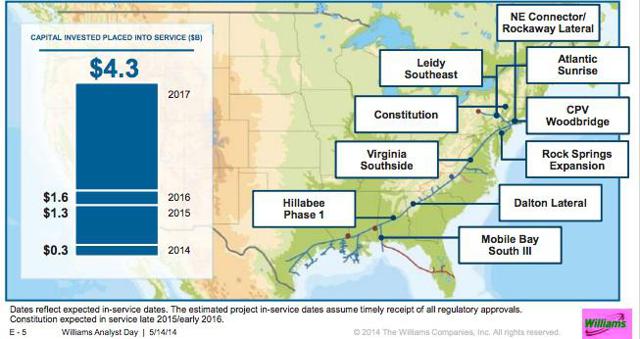 Courtesy of Williams Partners' investor relations
The Transco Pipeline is the largest and fastest-growing interstate pipeline system in the US. Transco will be the backbone of growth for both Williams Partners and Williams Companies for many years to come.
Pro forma growth outlook
Williams Partners grows its distributable cash flow by receiving dropdowns from Williams Companies. At the company's analyst day in May, management expected 6% distribution growth for 2014 and 2015, with 4.5% distribution growth in 2016.
With the acquisition of Access, all those numbers have since been bumped up. The proposed merger between Access and Williams Partners will create significant additional value. Management now expects distribution growth of 10%-12% through 2017, with distribution coverage strengthening over that time. Distributable cash flow is expected to grow by a compounded rate of 20% between 2013 and 2016. This will strengthen the partnership's current coverage ratio of only 0.95 times.
Management will spend $4 billion toward Access' legacy projects from 2014-2016. In addition, there will be eight project dropdowns from Williams Companies in 2014, eight more in 2015, three in 2016 and another six in 2017.
Valuation
Compared to other pipeline MLPs, Williams Partners is still quite cheap despite projected growth. This may be due to the partnership's sub-par distribution coverage ratio. If so, I believe that such a discount is misguided because, at this rate of DCF growth, Williams will have quite a strong coverage ratio in just a few years.
Williams trades at only 14.5 times DCF with a distribution yield of 7%. This compares very favorably with Enterprise Products Partners, which has a similar DCF growth rate but trades at 28 times DCF and has a yield of only 3.5%. Kinder Morgan Inc. expects 10%-12% DCF growth, but now yields only 4.3% and trades at over 23 times DCF.
Conclusion
Those looking for an MLP alternative to Kinder Morgan should strongly consider Williams Partners. Like Kinder Morgan, Williams Partners is heavily exposed to natural gas, which has very strong, long-term fundamentals. Williams yields a generous 7% and is a good bit cheaper than most of its peers, yet the partnership will still grow distributions at an industry-leading pace thanks to some very well-placed infrastructure.
Disclosure: The author is long WPZ.
The author wrote this article themselves, and it expresses their own opinions. The author is not receiving compensation for it (other than from Seeking Alpha). The author has no business relationship with any company whose stock is mentioned in this article.
Additional disclosure: Added units within the last 72 hours.