Introduction - A New Breed To Play Resources
As commodity investors and gold enthusiasts know, there has been a very curious bear market, especially in times where the metal should have flourished, for the gold and silver market.
Unfortunately, this is not a discussion as to how we got here, regardless through the much warranted speculation of gold market manipulation, or through bizarre claims about the underlying fundamentals of a healing economy.
The investor should contemplate this: all the fundamentals that cause gold to rise are still present, and in fact, much stronger than ever before.
Investors that care to check the corpses of the gold equities (as this writer does) may find some with life and trading at significant discounted value.
But there has become a new form of company in the mining market that has grown substantially and brought profits to many, even in the metals bear market. These are the streaming and royalty companies. The powerful names of Silver Wheaton (NYSE:SLW), Royal Gold (NASDAQ:RGLD), Franco-Nevada Corp (NYSE:FNV), and Sandstorm Gold (NYSEMKT:SAND) have been sitting comfortably in the portfolios of prudent resource investors.
With the mining industry navigating its way through some tough times, streaming companies find themselves in a strong position to bolster their streams at a discount, says Kitco News.
A decade ago a broker would advise clients to build a mining portfolio based around the core of senior producers, but today, analysts steer their clients towards building the core of their portfolios around streaming and royalty companies instead. Due to terrible dilution and rising costs of miners, streaming companies have become far less risky and much more lucrative than their senior producer counterparts.
(SOURCE: Sandstorm Gold)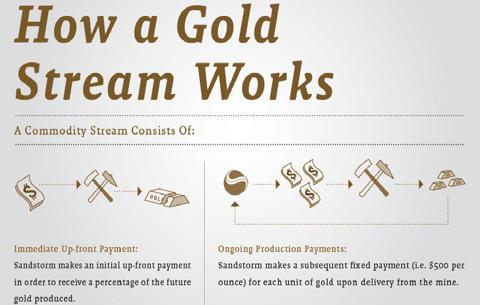 With the proven success in the streaming and royalty model for mining, the investor would logically see more streaming companies arriving in many other sectors. But this hasn't been the case, so far.
Agriculture: The Bullish Opportunity
The bullish story for agriculture is logical: population growth and homes to supply the individuals means less arable land to farm and grow food for the increasing populations. A true demand outstripping supply situation.
Investors should understand that agriculture presently has one of the oldest work forces. The average age of famers is 58, and once they retire or pass on, who will pick up where they left off?
Logically, this must transcend to the following fact: we must do more with less to feed a hungry world. Companies that produce fertilizers, such as Potash Corp (NYSE:POT), will benefit from the growing need for higher yielding crops. The demand for potash, nitrogen, and phosphate will grow over the years.
"We expect that next year (2014) the global demand for potash will definitely grow, and may reach 58 million tons to 60 million tons," Oleg Petrov, Uralkali's chief of sales and marketing.
And with China's substantial increase in their middle class and general wealth as a nation, the demand for imported grains, oilseeds, and especially meat will fuel growth in the agribusiness industry.
China is expected to become the world's leading consumer of pork on a per-capita basis, surpassing the European Union by 2022.
For example: China is already the largest importer of milk, yet the country's increasing demand for dairy products is expected to rise another 60% by imports throughout the next 10 years.
It would be wise for investors to continue on their own research with regards to agriculture. There is beyond enough information to form a bullish conclusion, as this writer has, and find many ways to profit in the future agriculture boom. But here is one interesting play.
Input Capital: The First of its Kind
There is one company that has interested many investors as of late. Input Capital Corp (OTC:INPCF) is the only streaming agriculture company that is publicly traded. It is located in Regina, Canada. The company focuses on canola farming (click here for information about what canola is used for), which is Canada's most valuable crop and most important farming export with continual growing global demand.
(Source: Canola Council)

(Source: Government of Saskatchewan)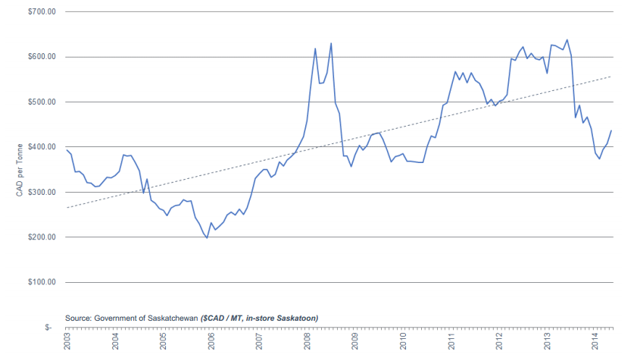 Management: The Proven Success for Shareholders
What is also highly attractive about this company is the management. The two founders, Doug Emsley and Brad Farquhar, are responsible for making investors 19% annually on their prior venture, Assiniboia Farmland (2005), before starting Input Capital Corp in 2012. Investors should look for themselves:
(Source: Input Capital)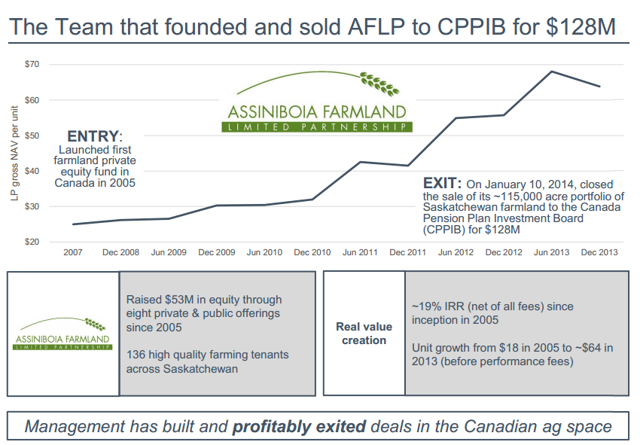 On top of this very impressive success, the inside ownership of Input Capital is roughly 26%.
The people behind a company are the absolute most important asset shareholders could want. With 1/4 inside ownership, and an extremely attractive shareholder enriching past endeavor, the management has solidified their reputation and gained investor trust.
The Business Model; Savings and High Quality Portfolio
Please study the following picture:
(Source: Input Capital)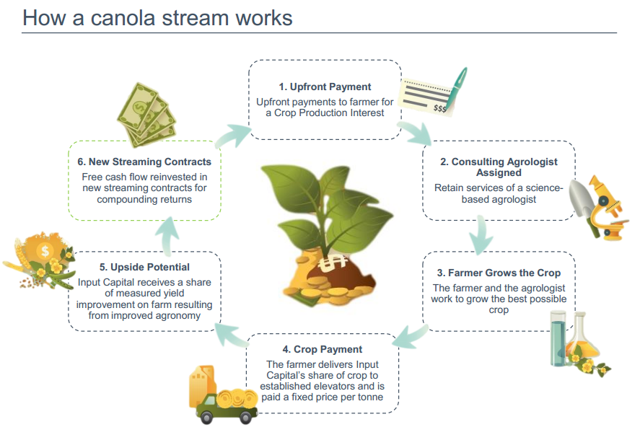 As the investor can see, the business model is very similar to the gold mining streaming companies' strategies, which were very successful.
So why would farmers partake in these agreements?:
Farmers can achieve significant margin improvement by having cash on their balance sheet to take advantage of off-season buying (off-season opportunities to buy fertilizer and seed when supply outstrips demand).
Canola farming is more capital intensive than ever due to new important technological advancements (seed technology, variable rate farming, satellite imagery, micro-nutrients, etc.) which are leading to big opportunities, but much costlier than the traditional method.
When farmers use cash, this leads to no interest payments as the traditional way had called for taking on debt to do so.
Input Capital requires farmers to use services from an agronomist to increase yields of crops.
It is rare to find win-win business solutions, but Input Capital seems to have achieved such a feat:
Input Capital - makes a profitable business out of crop cash flows.
Farmers - save significantly, varying from 40% on fertilizer and 25% on seed, with their off-season purchases through upfront cash.
As for the pipeline of contracts and agreements? Input Capital being a young company has already 20 contracts, an extensive pipeline of more, and potentially tens of thousands new deals. There is certainly room to grow. Currently they have 35,000 tonnes of canola owed towards them through the 20 streaming contracts. Yet this is only just less than .20% of the Canadian canola market.
(Source: Input Capital)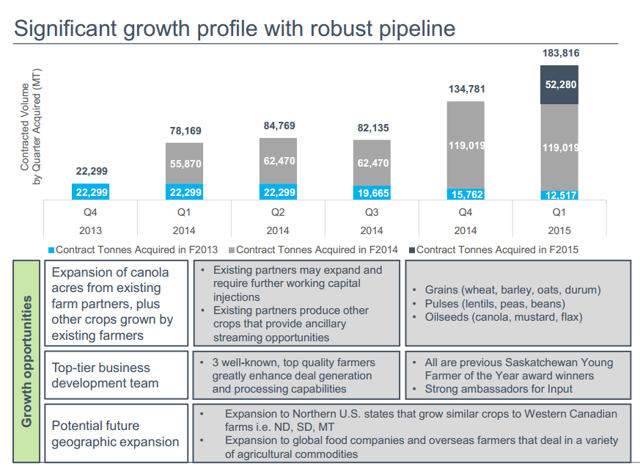 Most importantly what investors should find fascinating is how the company requires the farmers who enter agreements with Input Capital to purchase crop insurance. These insurance plans are designed to keep farmers protected from flooded farms or other damaging natural hazards.
Input requires every farmer to be a participant in crop insurance, which guarantees a farmer 70% of his long-term production average. Crop insurance is designed to keep farmers farming, so it is a very good counterparty risk reduction tool for Input. Flooded fields will trigger crop insurance payments to farmers.
The company has hedged itself with a clever situation regarding the insurance as well: if there are flooded fields and crops are destroyed, reducing the overall production for the yearly harvest, the supply crunch will most likely (as long as demand stays steady or grows) increase prices of canola prices which will add to Input Capital's revenues from unaffected farmers.
The farmers and Input Capital are both protected from significant loss. Yet another win-win.
Agriculture vs Mining: A Difference or an Advantage?
The investor should examine some of the distinct variations of Input Capital, being the first and only agriculture streamer, and the metals streaming business:
As shown, both companies have their benefits and weaknesses. But as the conclusion shows: streaming company business models in general enjoy thick margins and efficiency. Both steer clear of maintenance and the difficulties of farming and mining while having strong leverage to commodity prices without the huge risks.
Conclusion: Proven Management and Efficient Business Model
Returns are the highest where capital is scarce. And since this is the first business of its kind, and farmers being cash strapped until harvests, there exist excellent investment opportunities.
Right now, her biggest challenge, like many other young farmers, is access to capital, reports NPR.
Input Capital is clearly a unique company within its own sector. Investors have seen the success in mine streaming companies. Investors have seen the bullish trend for agriculture. And investors have seen this management have great success in their previous company.
The company has:
No debt
Outstanding and proven management whom know the agriculture and canola market
26% inside ownership
Minimal Dilution; tight share structure
A easy to understand strategy
A huge potential pool of customers for agreements i.e. farmers
Beneficial "win-win" business model; satisfying farmers
$60 million in cash to advance pipeline and buy contracts
$3.2 million in OPEX (operating cash flow) from 2014, the first reporting year
Thick margins (although they vary to crop prices/yield)
Downside protection by the use of crop insurance
These, plus the underlying trend in Canola demand, are the recipe for success.
Think of the opportunity for growth:
Crop variety - crops such as grains, oats, peas, beans, flax, etc provide many lucrative streaming opportunities to be involved in.
Global expansion - farmers overseas and agribusiness companies working with a variety of these agricultural commodities create large potential for global opportunities in future streaming companies.
The company is trading at roughly $2.60 and relative to the streaming metal companies is very cheap. The investor should note the key differences between the two sectors of agriculture and mining and invest in both. Input Capital is the first of its kind and has only grown since its inception and possesses a lucrative future.
Hopefully, just as management's last venture that gave off 19% annual returns to investors through Assiniboia Corp, this company has the ability to gain strong market presence with their unique streaming business model and unlock ultimate shareholder value.
As a shareholder, my money is betting yes they can.
Without a doubt.
Disclosure: The author is long INPCF, FNV, SLW, SAND, RGLD, POT. The author wrote this article themselves, and it expresses their own opinions. The author is not receiving compensation for it (other than from Seeking Alpha). The author has no business relationship with any company whose stock is mentioned in this article.