Synchrony Financial (NYSE:SYF) is looking very good to me. I did some digging using the statements SYF prepared in their prospectus. The performance actually looks very solid. Of course, each analyst's price target will depend on what method they use and what comparable securities they feel are most appropriate. This report will be based on relative valuation, which means it will compare ratios between companies rather than discount cash flows to a specific rate.
The first step in the process was getting the prospectus for SYF and using their numbers to establish the performance of SF. Since we are dealing with the prospectus and don't have years of 10-Q statements, modifications can take a little longer. Not too bad though. You'll want pages 88 and 94 if you feel like running your own numbers. Remember that GE still holds a huge position in SYF. I believe part of their reasoning was that the stock would go up in value after quality research was available.
Pro-Forma statements
I have elected to use the pro-forma restatements for income across the year of 2013 and the first quarter of 2014. The information gathered for the second quarter of 2014 is still preliminary. As a result of using the pro-forma statements rather than the historical statements, I have revised net income to be lower in both the year of 2013 and the first quarter of 2014. As a result of choosing to use the lower values on the pro-forma statements, I will be establishing a lower level of earnings. The pro-forma statements utilize the same value for sales, so my estimations of growth rates using sales will not be impacted. However, my estimate of the trailing earnings could be biased downwards. I believe that in this scenario the pro-forma statements are a better representation of the future success of the company, and I believe analysis using the historical statements would cause an analyst to overstate the level of trailing earnings and thus generate a price target that was too aggressive.
I pulled the numbers for the entire year of 2013, and the most relevant numbers for Q1 2014, Q2 2014, Q1 2013, and Q2 2013. That allows us to create a TTM (trailing twelve months) income statement to make our numbers more comparable. For the trailing twelve months, gross interest income is $11,542 million. Table 1 shows my calculations.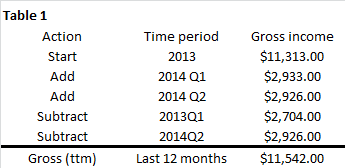 We'll also calculate the net income the same way in Table 2.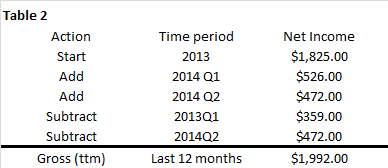 To get to earnings per share, we'll need to know how many shares are outstanding. That can be a problem without 10-Q statements. The weighted averages numbers for 2013 were 830,271 basic shares and 830,670 diluted shares, in thousands. The weighted average numbers for 2014 Q1 were identical for basic shares, but diluted shares were increased to 831,170, in thousands. The statements for June do not appear to include that information. The next best source, in my opinion, is on page 229, where the company attests that there are precisely 830,270,833 shares in existence. That could be increased as high as 849,020,833 if the underwriters use all of their options to purchase shares. The price on the option was not disclosed, to my knowledge. In determining the EPS, since no new shares have been issued prior to the IPO, I'll be sticking with the values for the diluted weighted average from March 2014.
Based on the values for net income in Table 2 (in millions) and 831,170,000 diluted shares, I'm calculating diluted EPS of $2.397 (rounded) for the trailing twelve months.
Based on 830,270,833 shares in existence and a trading range over the week around $25.36, the market cap has been around 21.055 billion. Using our value for EPS (before rounding) and the $25.36 price, the TTM P/E ratio is 10.575.
With those figures calculated, it was time to look for the comparable companies. I wanted comparisons with larger companies. SYF isn't exactly small, and using the entire sector introduces too many variables. Even if I used the median values for the industry, it would assign no preference to large companies. I picked Visa (NYSE:V) and MasterCard (NYSE:MA) for comparison. For Visa, the P/E (TTM) is 25.57. For MasterCard it is 28.66. Based on the P/E ratios of the larger and growing firms, SYF may deserve a higher valuation.
Compound Annual Growth Rate
The natural argument against similar P/E valuations would be a difference in growth rate. Using an annualized value for the first half of the year (doubling sales) and calculating the CAGR from 2011 to the annualized value of 2014 gives us the following rates for growth in the top line:
MasterCard: CAGR of 10.7%
Synchrony: CAGR of 8.63%
Visa: CAGR of 11.2%
Due to volatility of net income in some years, I felt the growth rate in sales was a better predictor of future growth. The average between Visa and MasterCard is 10.95%. Based on that history, Synchrony's growth has been 78.8% of the rate of the other two companies.
However, Synchrony hasn't had a need to pay dividends. Visa has a dividend payout ratio of 18%. MasterCard has a dividend payout ratio of 12%. This creates an average dividend payout ratio of 15%. If we assume growth is limited by the payout ratio, 8.63*85% gives us 7.3355% as the adjusted CAGR. If an analyst feels comfortable projecting that GE was not investing in the segment because they planned to spin it off, they could make an argument for a higher growth rate. I prefer to be conservative in these scenarios.
Justified P/E ratio
Using the comparisons from Visa and MasterCard we can calculate the "Justified P/E ratio". The formula is (1-b)/(r-g) where b is the retention ratio. First, I'll invert the formula and use it on MasterCard and Visa to find an approximation of the markets required return on these investments.
Using MasterCard we would approximate the required return to be 13.77%. Using Visa we would approximate the required return to be 14.41%. Since the number of years used in calculating the CAGR is arbitrary, the calculations must be considered approximations.
If Synchrony decided to use a 15% payout ratio, our calculations would look like this:
Using MasterCard: .85/(.1377-.073355) = Justified P/E ratio of 13.21 for Synchrony
Using Visa: .85/(.1441-.073355) = Justified P/E ratio of 12.015 for Synchrony
Based on the more conservative diluted EPS, which we previously found to be $2.397, the range is from $28.81 to $31.68.
The bottom line
I believe the stock has been allowed to float under the fair value due to a lack of thorough analysis. I think several buy ratings are likely to come out for the stock, and I expect when that coverage is available that the stock will trade at least near the bottom of the justified P/E range. Therefore, I'm ranking the stock as "outperform" and putting a target on $28.00. There's nothing wrong with holding it past 28, but the risk adjusted returns will be minimal once it hits that level. To be fair, the industry could be negatively impacted by other events, so I'll provide relative price targets.
Based on my analysis, and from a strictly relative point of view, a share of SYF should be worth about 36.6% of one share of MA or 12.96% of one share of V barring any major changes in the companies.
Disclosure: The author has no positions in any stocks mentioned, and no plans to initiate any positions within the next 72 hours.
The author wrote this article themselves, and it expresses their own opinions. The author is not receiving compensation for it (other than from Seeking Alpha). The author has no business relationship with any company whose stock is mentioned in this article.
Additional disclosure: Information in this article represents the opinion of the analyst. All statements are represented as opinions, rather than facts, and should not be construed as advice to buy or sell a security. Ratings of "outperform" and "underperform" reflect the analyst's estimation of a divergence between the market value for a security and the price that would be appropriate given the potential for risks and returns relative to other securities. The analyst does not know your particular objectives for returns or constraints upon investing. All investors are encouraged to do their own research before making any investment decision. Information is regularly obtained from either Yahoo Finance or the SEC database. If either of these sources contained faulty information, it could be incorporated in our analysis. The analyst holds a diversified portfolio including mutual funds or index funds which may include a small long exposure to the stock.