As recent as last year, horror films were a guaranteed way to make money at the box office… but that's changed. Starting way back in week one of this year, Paramount took a hit with its Paranormal Activity spin-off The Marked Ones and it just kept getting worse from that point on. This weekend Universal is going back to the well one more time with its final film of the summer and so far projections aren't strong; but they may not need to be.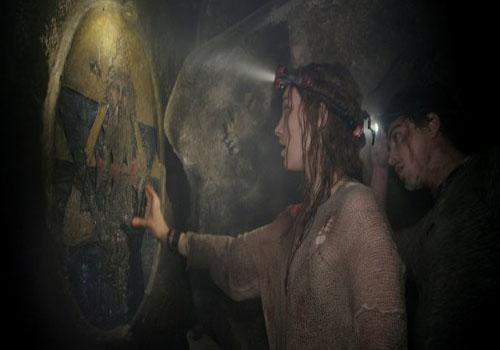 (Credit: Universal)
Universal's (a subsidiary of Comcast (NASDAQ:CMCSA)) As Above, So Below follows a group of archaeologists that travel underground through the catacombs of Paris and end up coming face to face with their past sins. Produced as a "found footage" type film, the horror thriller is looking to leverage off the appeal of that style through a digital marketing campaign featuring YouTube star PewDiePie who created a series of videos in the actual Paris catacombs. In total, the campaign has generated over 15 million viewers and also has made a strong play to the Hispanic demographic, which many executives have tried catering to in recent years.
Up against Relativity's The November Man and the one-two punch that's been Disney's (NYSE:DIS) Guardians of the Galaxy and Paramount's Teenage Mutant Ninja Turtles, Below isn't expected to top $10 million over the Labor Day weekend. However, given that it's believed it cost half of that to produce, that's a win. It's just not the monster success that gets people talking.
Investor Analysis
By comparison, look at studio sibling The Purge which was made for $3 million and parlayed that into $91 million worldwide (and a sequel made for $9 million that's already broken the $100 million mark globally). It's really all in the eye of the beholder. The Purge films aren't as much of a horror genre as Paranormal Activity or Blair Witch Project, but it's a thin line.
For Universal this is being distributed under their new partnership with Legendary Pictures which previously aligned with Warner Brothers was responsible for such movies as The Hangover trilogy, The Dark Knight trilogy and the 300 films. In other words…you can see why Universal is so keen to distribute some of the studio's smaller micro-budgeted films. It's also nice for Universal's parent company Comcast to have this successful company now under its umbrella for the next few years.
Universal has been good to Comcast this summer with a slate of films that have produced more hits than misses. The studio can actually lay claim to the first sleeper hit of the summer with Neighbors that grossed $49 million over its opening frame. The Seth Rogen/Zac Efron film had been tracking high, but nobody expected that kind of debut. In addition, Universal was able to score with the aforementioned Purge sequel and the equally low budget Lucy starring Scarlett Johansson that was made for $40 million and now has over $200 million banked worldwide.
The studio looks to keep pace this fall as well with the always bankable Liam Neeson kicking off the roster with A Walk Among The Tombstones and then a two-week horror push timed to Halloween with Dracula: Untold and Ouija (based on the game). As I mentioned, horror films have had some problems this year, but the hope is the October timeframe will boost both projects.
In addition, Universal has Unbroken slated for December which has gotten some of the year's strongest Oscar buzz yet. Directed by Angelina Jolie, this is the bio-pic about Louis Zamperini, a Olympic runner taken prisoner during World War II. In some circles, it's already the front runner for Best Picture.
Comcast is also poised for a strong final frame of 2014 as the network's lead TV subsidiary NBC is coming off a season where it's now number one in the advertiser coveted 18-49 demographic and has a roster of talked about fall dramas including State of Affairs and Constantine plus will see the return of TV's most potent trios (Sunday Night Football, The Blacklist and The Voice). Combined with NBC's cable division (E!, USA, Bravo, etc.), all areas of Comcast look to be thriving heading into the fall.
While it looks like the company shouldn't have a problem keeping that momentum that was the assumption last year as well and the wheels almost completely came off a month into the new season. It's still too early to tell if that will be the case this year, but at least if it is Comcast will have a strong summer showing to help offset any losses.
Disclosure: The author has no positions in any stocks mentioned, and no plans to initiate any positions within the next 72 hours.
The author wrote this article themselves, and it expresses their own opinions. The author is not receiving compensation for it (other than from Seeking Alpha). The author has no business relationship with any company whose stock is mentioned in this article.