We like BP (NYSE:BP) as a potential investment. We think that the numbers have improved as the company is trying to pull itself from the muck of its oil spill and the associated costs. The company has been trying to trim assets and get itself to a restructured position that executives hope will pave the future for BP growth years from now.
We like that the stock has pulled back of late and we like the fact that the Russian conflict looks like it could create a good catalyst to purchase BP. Nerves about how Russian sanctions could affect BP have sent the shares dipping over the last three months. The company's relationship with Rosneft (OTC:RNFTF) (Russia's leading petrol company) has the potential to be "materially affected" according to BP, which owns about 20% of the Russian giant. If you believe we'll eventually get out of this European mess at some point, BP may be one you want to consider for the long-term dividend payers in your portfolio.
Yes, curbed A/R from Rosneft to BP could possibly put downside pressure on the stock, notes Chris Lau. But like Mr. Lau, we believe that such a move could present an even more attractive buying opportunity.
The stock is trading at a price that's attractive relative to the $53 level it was at near the beginning of July. This three month chart shows that the oil company is far off of its highs and should be considered here.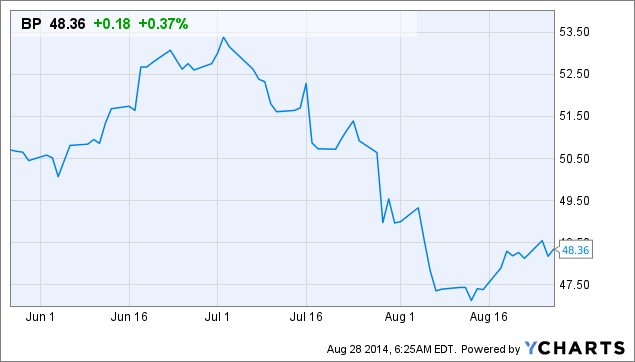 While we feel that BP is a good buy, we have always considered the potential downside risk, as we try and do for any equity.
Aside from the legal ramifications still up in the air regarding the 2010 oil spill (BP is still jousting with a judge over how much total remuneration it's going to cost them), the most recent ugly headline occurred this morning.
Reuters reported this morning that an explosion occurred at one of BP's Indiana refineries. It's the biggest refinery for BP in the U.S. The article concluded:
There were reports from local media that at least one person was taken to an area hospital. Other reports said no injuries had been reported in the blaze.

Whiting city firefighters were asked by BP to be ready to assist the refinery's firefighting force in battling the blaze, but were not called in to the plant, a fire department spokesman said.

The 413,500 barrels-per-day (bpd) Whiting refinery is BP's largest in the United States and is the centerpiece of the company's shift over the past two years to emphasize using cheaper, heavy crude oil from Canada's tar sands fields in Alberta.

In November, BP completed a $4 billion revamp of the Whiting refinery to boost its intake of Canadian crude oil from 85,000 bpd to 350,000 bpd.

On July 29, BP's Chief Executive Bob Dudley said during a conference call that Whiting refinery had been running 270,000 bpd in heavy crude oil could likely run up to 300,000 bpd. (Reporting by Kristen Hays and Debasis Mohapatra in Bangalore, additional reporting by Erwin Seba in Houston and Eric Johnson in Seattle; Editing by Prateek Chatterjee and Gopakumar Warrier)
While there's going to be many that instantly equate this to another "screw up" on BP's end, I realize that's a bit of a stretch. Having worked in several plants during my younger years back in the UK, I realize that these kinds of "events" are a part of life (especially when dealing with volatile chemicals). The fact that just one person was injured means that this event was likely not material, business as usual has probably already continued, and that we can expect a company statement to "put out the fire" this morning.
We will keep an eye on this as new information becomes available.

The Peel's Feel:
What we like about BP is the fact that big risks still continue to be priced in, regardless of whether or not they continue to hold water. The company, when compared to Exxon Mobil (NYSE:XOM) and Chevron (NYSE:CVX), trades at a far lower multiple while offering a significantly larger dividend.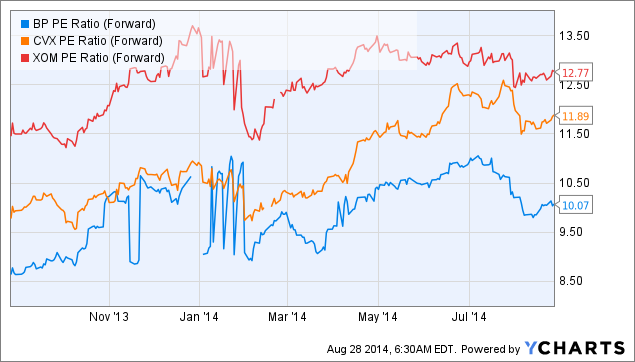 BP PE Ratio (Forward) data by YCharts
As you can see, the trailing 12 month dividend yield is far higher than other oil companies, coming in at a whopping 4.8% now that the stock has pulled back. The yield, combined with the fact that the stock is underpriced, makes for a very attractive combination.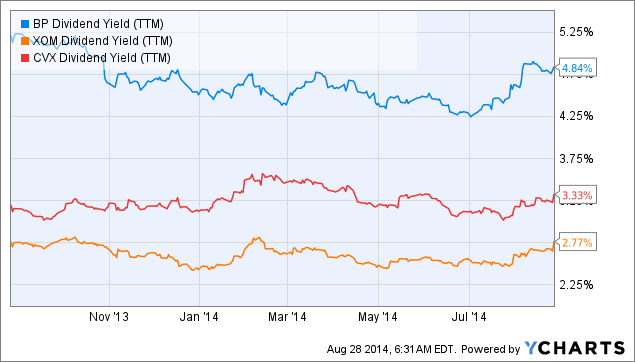 BP Dividend Yield (NYSE:TTM) data by YCharts
We don't own BP yet, but we're currently rating it as JUICY (BUY). We think this unique opportunity to own an underpriced BP presents a great play for those looking to move towards value stocks and perhaps bolster the long-term dividend payer portion of their portfolio.
Disclosure: The author has no positions in any stocks mentioned, and no plans to initiate any positions within the next 72 hours.
The author wrote this article themselves, and it expresses their own opinions. The author is not receiving compensation for it (other than from Seeking Alpha). The author has no business relationship with any company whose stock is mentioned in this article.
Editor's Note: This article discusses one or more securities that do not trade on a major U.S. exchange. Please be aware of the risks associated with these stocks.