An emerging independent oil major that can still grow its 500,000+ BOE/d production base by double digits offers investors a good chance at making money. EOG Resources (NYSE:EOG) grew its production levels by 17% year-over-year, with both company wide and oil/condensate production numbers surpassing internal guidance.
Leading the charge was one of EOG Resources' best assets, its Eagle Ford position down in South Texas. Last quarter, EOG pumped out 253,000 BOE/d from the play, with a production mix weighted with 78% crude and 10% NGLs. EOG's Eagle Ford oil production rose by 46% year-over-year, which played an instrumental part in growing its North American crude/condensate output by 33% year-over-year.
Focusing on crude production has yielded tremendous results for EOG's cash margins. In 2010, EOG generated a $20.04 per BOE cash margin from its operations, which grew to $40.14 per BOE in 2013. The trend hasn't stopped this year, with 2014 YTD cash margins coming in at $43.31 per BOE.
The growth story doesn't end there, as EOG Resources still has plenty to offer investors as it pushes into the Permian Basin. EOG Resources has been able to successfully complete several wells tapping into the second Bone Spring interval. Based off of early results, management thinks the Bone Spring can produce wells that yield 100% ATROR.
Permian expansion
The Permian Basin is home to numerous stacked hydrocarbon producing intervals. EOG has been targeting the second Bone Spring formation, which offers huge amounts of upside.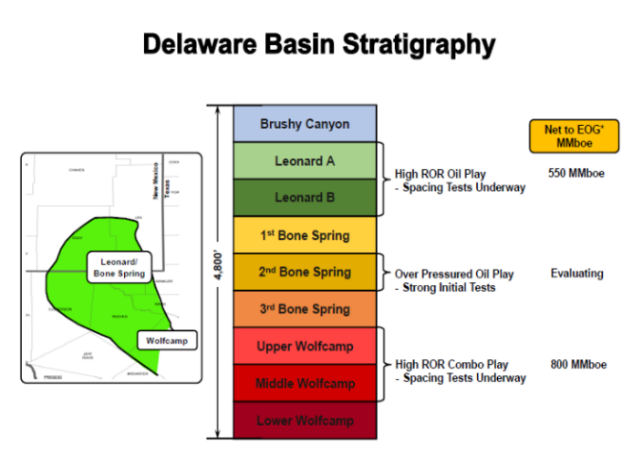 Source: EOG Presentation
Two of EOG's Bone Spring wells;

Source: EOG Presentation
Based off of the 16 wells EOG has completed targeting the second Bone Spring, the production mix of the average well is expected to be 70% oil and 14% NGLs. EOG will keep testing out the play throughout the rest of the year, with plans to ramp up drilling activity in 2015 as EOG shifts from the exploration to development stage. The oil weighted nature of the second Bone Spring interval makes EOG's management believe that it can make a 100% ATROR from the play.
Also, as EOG develops the second Bone Spring interval it could add several hundred million BOE to its growth runway. If EOG was able to uncover 1.35 billion BOE from the Leonard and Wolfcamp plays, then it should be able to find a substantial amount of hydrocarbons in a nearby horizon.
Improving operations
As EOG developed the Leonard, it was able to realize plenty of operational efficiencies. From 2011 to 2014, the average oil IP rate jumped from 691 bopd to 1,263 bopd as well completion costs fell to $5 million from $6.9 million. Wells became more productive even as the spacing between wells was cut down from 1,032 feet to 554 feet. Tighter spacing allows EOG to bring more wells online in the same amount of space, meaning EOG was effectively increasing the number of locations it can drill wells that yield a 100% ATROR.
In the Leonard, EOG is simultaneously running an exploration and development program to dig up an estimated 550 million BOE from its 73,000 net acres in the area. With two rigs currently operating in the play, EOG is boosting production by bringing more wells online while also searching for the best zones to drill into. So far EOG has dug up 1,600+ net drilling locations, which should continue to grow as it keeps exploring its acreage.
One big difference that makes the Leonard play special is its production mix. The average Leonard well produces 50% crude, 26% NGLs, and 24% dry gas. EOG's other 100% ATROR areas tend to have a much heavier crude production mix, like 92% in the core Bakken or 78% in the Eagle Ford and Codell formations, yet the Leonard is just as profitable.
On its 134,000 net acres that are capable of accessing the Wolfcamp intervals, EOG expects to make only a 70% ATROR as the production mix is 31% oil, 33% NGLs, and 36% dry gas. That is still a very strong return, but isn't quite in the triple digit sweet spot. Luckily, EOG's Permian operations could receive a major boost from more NGL export capacity.
Pricing upside
Phillips 66 (NYSE:PSX) is building a LPG (liquified petroleum gas) export facility in Freeport, Texas, that will be capable of shipping 4.4 million barrels a month of LPG. The facility is expected to be operation in 2016, and additional demand from foreign buyers could potentially drive up prices and EOG's profit margins.
Another facility is being built at Morgan's Point, Texas, by Enterprise Products Partners L.P. (NYSE:EPD), which will be able to export 6 million barrels of ethane a month. By the third quarter of 2016 the facility should be up and running, providing two new strong sources of demand for NGLs.
Higher natural gas liquid prices would benefit all E&P players in every play, but Permian operators could realize a larger boost due to the production mix being skewed more so towards NGLs. Downward pressure on prices will come from the continued sharp increase in NGLs production, making these export facilities and others a crucial part of a favorable pricing dynamic for EOG.
Trouble abroad
While EOG has had plenty of success pushing into new plays here in the United States, its foray in the United Kingdom has taken an annoying toll. Previously, EOG saw its East Irish Sea operations starting up in late 2014. Now that date has been pushed back to early 2015. The reason why this asset matters is its estimated peak production rate is 20,000 bpd of crude, meaning it would boost crude production by 9% versus the average rate in 2013.
Production should start up within the next nine months, but delays can lead to cost overruns or other problems which wouldn't behoove EOG's stock price or its overall operations.
Final thoughts
The Eagle Ford is still EOG Resources' pride and joy, and its largest asset. Depending on how well EOG is able to crank out more output while also improving well completion techniques and downspacing is what will drive the stock in the short term. In the long term, the ability to move into and monetize new plays is what will really reward shareholders. EOG is immensely successful in the Eagle Ford, and there is no reason to believe it couldn't transfer that success to the Permian Basin. Problems in the UK aside, EOG Resources is quickly becoming an independent oil major and investors should jump into this company.
Disclosure: The author is long EOG. The author wrote this article themselves, and it expresses their own opinions. The author is not receiving compensation for it (other than from Seeking Alpha). The author has no business relationship with any company whose stock is mentioned in this article.