Why property / casualty insurance ?
Property/casualty insurance is a segment which has several attractive features in today's market.
Low beta - generally the key risks run by P&C (re)insurers are related to natural catastrophes, or other insurance events, and thus there is a low correlation with other equity classes.
Low valuations - many companies in the segment are trading at low valuations in comparison to other stocks, with typical price earnings ratios below 10%, and are currently trading at around book value.
Growth opportunities - overall, there is a strong demand for property and casualty insurance, as the cost of natural disasters continues to rise. The following chart shows the increase in insured losses over recent years.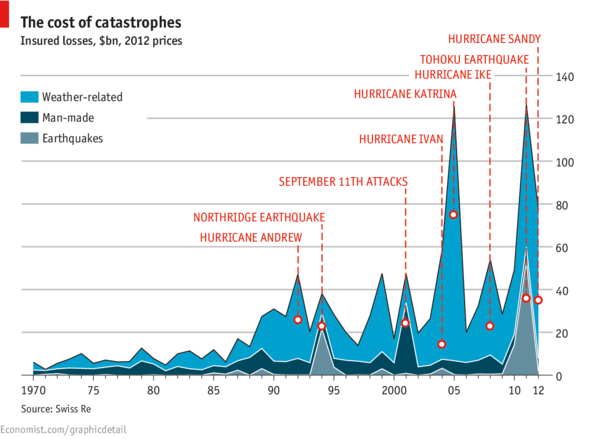 Interest rate rise hedge - insurance is one of the few sectors that stands to benefit from increases in interest rates. This is because they have large long duration liabilities and need to hold assets to cover these. These assets are mainly invested in bonds with durations matching the expected claims payouts - rising interest rates increase the spread that they can earn over their liabilities. As the bonds are held to maturity, the yield is more important than the value of the bond. As interest rates rise, insurers will book mark to market asset value reductions, but will benefit from increased yields on investments held to match new business, increasing their profitability.
Analysis of Property Casualty insurers is complicated by the complexity of their business model, which essentially consists of selling a product for which the cost of production is unknown and fluctuates significantly year on year. Despite improvements in pricing models, insurers do not know what claims will be made, when they will need to be paid, or how these payments will spread over financial years. For a detailed explanation of the complexities of insurance company analysis, see here.
The London insurance market.
London is regarded as the birthplace of the insurance industry, from the days when 'underwriters' gathered at Lloyds coffee house to spread the risk of maritime trading expeditions. Despite the rise of Bermuda as a centre for insurance, London, and Lloyds of London remain as a key global centre for the industry.
Which insurer to choose.
In this article, I will compare two of the major companies listed on the LSE, Amlin, (OTC:APLCF) and Catlin (OTCPK:CNGRY). Both are accessible to US investors under the tickers shown. Unless stated otherwise, information is taken from their respective 2013 annual reports - see here for Amlin, and here for Catlin.
Amlin and Catlin are both diversified London market insurance and reinsurance underwriting companies which have grown from traditional Lloyds based businesses to more global players operating in multiple regions.
They are comparable in size, with Catlin the larger, writing Gross premiums (premium before reinsurance expenses) of USD 5.3bn compared to Amlin's USD 4.1bn in 2013.
Data sourced from FT.com shows the following as at August 15th.
Amlin data from FT.com - Price 447.4 pence(USD 7.40), 8.9% below its 52 week high, a 5.8% yield and a trailing p/e of 7.57 indicating good value relative to the LSE and P&C industry. Amlin has a 5 year dividend growth rate of 8.9% with a payout ratio of 43%. Balance sheet is in decent shape, with a debt to capital ratio of just under 19%. As an insurance stock, Amlin has a low beta of 0.79.
FT.com records that of the 32 analysts covering Amlin, the consensus recommendation is "Hold".
Catlin analysis on FT.com - Price 515 pence (USD 8.54), 13.2% below the 52 week high, yields 6.12% and a trailing p/e of 8.46%. Catlin's 5 year dividend growth rate is a slightly more modest 5.6%, but with a payout ratio of under 15% offers more dividend security. Catlin uses almost no debt, with a debt to capital ratio of 2.4%. Beta at 0.79 is identical to Amlin's.
FT.com polled 51 analysts covering Catlin, with a consensus recommendation also of "Hold".
Superficial analysis therefore, shows little to choose between the two companies - so we need to turn to the information in their respective annual reports to form a clearer view of which represents a better investment proposition.
Key performance indicators.
A deeper view of the respective performance shows up over the previous 5 years:
Amlin 5 year view
2012

2012

2011

2010

2009

Gross Premium

4095.22

3992.3

3824.64

3605.52

2561.38

Pretax profit

540.66

438.57

-321.71

430.27

845.11

Combined ratio

86%

89%

108%

89%

73%

ROE

19.80%

17.40%

-8.60%

13.90%

37%

Net investment return

265.6

273.9

67.23

290.5

344.45

Inv. return % profit

49%

62%

-21%

68%

41%

Inv return % prem

6.5%

6.9%

1.8%

8.1%

13.4%

Source Amlin 2013 annual report
Catlin 5 year view
Gross Premium

5309

4972

4513

4065

3715

Pretax profit

432

339

71

406

603

Combined ratio

85.60%

90%

102.60%

89.80%

89.10%

ROE

13.40%

11.30%

1.30%

12.50%

24.30%

Net Investment return

124

158

248

205

414

Inv. return % profit

29%

47%

349%

50%

69%

Inv return % prem

2.3%

3.2%

5.5%

5.0%

11.1%

Source Catlin 2013 annual report
Over the longer period, we see some differentiation emerge, with the impact of the 2011 year falling much more heavily on Amlin, which recorded a significant loss in that year, compared to Catlin, who in 2011 generated a modest profit. 2011 was a bad year for Property Reinsurance business, as the year was impacted by several major natural disasters in Asia Pacific - Flooding in Thailand, and Earthquakes in New Zealand and Japan.
It is also interesting to note the heavier reliance of the Amlin profits to investment earnings. Both of these elements can be explained by the type of business written - companies that specialise in shorter duration risks such as property reinsurance tend to see higher volatility in their results, and higher overall margins, those weighted towards longer duration business tend to have lower underwriting margins and more investment margin as a result of the higher insurance 'float'.
Business mix.
Different classes of insurance business have very different characteristics - in terms of complexity, volatility, competition, and earnings patterns. Both companies have a strategy to develop diverse business profiles to reduce volatility.
Amlin

Catlin

Reinsurance

40%

Reinsurance

34.8%

Marine insurance

6%

Energy/Marine

15.7%

Property insurance

16%

Property

11.8%

Motor

8%

Aerospace

6.7%

Liability

5%

Casualty

22.0%

Others

15%

Specialty/War

8.9%
While each company has different descriptors, I have tried to group the classes that are most equivalent.
Amlin has a business profile which is biased towards the shorter tail classes, and specifically property insurance and property reinsurance, whereas Catlin, as a lead market for longer tail Casualty (liability) business, derives 22% of its income from that class, compared to just 5% from Amlin.
This does explain why the impact of the 2011 year was more significant for Amlin's profitability, as Catlin benefits from its better risk diversification. However, one would expect a portfolio with a longer "tail" to generate more of its profit from investment income, whereas this seems inverted for the two companies.
Of specific note is the dependence of each company on reinsurance, especially property reinsurance. This sector has been a highly profitable, if volatile, segment for the last decade, especially the period between 2005, when hurricane Katrina hit the US, and 2011, which as mentioned above had several losses in Asia Pacific. The current low yield environment has seen an increase in risk appetite from hedge funds and pension funds, which have started to invest in alternative reinsurance vehicles such as catastrophe bonds and sidecars. This has significantly reduced prices for property reinsurance, and thus creates headwinds for companies active in this field. AM Best recently downgraded the entire sector, as explained in this report. While both companies are exposed to this, Amlin has the greater proportion of its premiums in the catastrophe reinsurance field.
Asset allocation.
As with any investor, asset allocation for insurance companies is critical. Not only does asset diversification reduce volatility, but as assets are held against claims eventually expected from policyholders, an insurer's investment policy is critical to the sustainability of its business.
Compare the asset allocations from the respective annual reports:
Asset Allocation

Amlin

Catlin

Bonds

74.50%

66%

Cash

12.80%

27%

Equities

8.50%

7%

Property

4.20%

100.00%

100%
While insurers typically invest conservatively, and thus bonds make up a significant portion of their assets, it is interesting to see that Catlin is holding a larger proportion of cash, a conservative strategy which keeps its exposure to rising interest rates down, while sacrificing some current yield. Catlin's annual report also provides a detailed breakdown of the fixed income portfolio, which shows the mix between more secure and riskier bonds, while Amlin provides only a broad overview.
Amlin's return on invested assets was 3.6%, compared to just 1.5% for Catlin, which indicates that the Amlin investment profile is higher risk than Catlin's - this would normally be a positive, but could reduce the diversification impact of investing in Amlin for investors seeking a lower correlation to their overall portfolio.
Risk Management.
As risk management is the core business of insurance companies, a high level of sophistication in risk management processes is expected of insurers, by regulators and investors alike. Both companies provide details of these processes in their annual reports, and cover much the same ground. The Enterprise Risk Management framework of each firm has been assessed by S&P - with both scoring a "Very Strong" rating.
Reinsurance protections.
Although both Amlin and Catlin are in the business of accepting risks from their clients, they still purchase their own reinsurance to reduce the capital required to run their business, and also manage the volatility of their results. This can be a significant cost for an insurance company. Indeed, Amlin spent 14.6% of its gross premium on reinsurance in FY 2013. Catlin is even more conservative, with 24% of its incoming premiums spent on reinsurance protection. This could be one explanation for the lower annual volatility of its underwriting results. As the business mix above shows, Catlin has a larger proportion of its business in the longer duration liability class - where the key business risk is in the adequacy of the reserves held against future liabilities. The CEO section of the annual report explains that Catlin buy a reinsurance to protect this risk as well - an "Adverse Development Cover" which pays out if the eventual losses paid from prior business are worse than currently estimated.
So which company is a better investment?
Catlin wins my vote for the following reasons:
In a highly volatile business segment, Catlin has a much more consistent track record of operating profitability. I put this down to an innate conservative bias which shows through in the details of their operating report. Catlin has lower debt, lower asset risk, more comprehensive reinsurance protection, a lower dividend payout ratio. Its risk management framework is independently rated as "Very strong" by S&P, which Amlin has only recently matched.
Catlin is also strategically better placed, with a more diversified portfolio. It has lower exposure to the property reinsurance segment, is a recognised leader in casualty classes. This reduces the impact of the current reinsurance price war on its earnings potential, and also increases the upside from future interest rate rises.
I believe that Catlin offers good potential for sustainable long-term dividend growth, and plenty of share price upside.
Postscript:
Interim results for Q2 2014 support Catlin's case. Catlin reported a lower combined ratio, significantly increased profit before tax, resulting in a better return on equity and slightly higher dividend increase than Amlin.
Disclosure: The author has no positions in any stocks mentioned, and no plans to initiate any positions within the next 72 hours.
The author wrote this article themselves, and it expresses their own opinions. The author is not receiving compensation for it (other than from Seeking Alpha). The author has no business relationship with any company whose stock is mentioned in this article.
Additional disclosure: The author is a private investor and not an investment advisor. My analysis is shared for the interest of readers and should not be considered or used as investment advice. Readers should always consult an investment advisor before making any investment decisions.
Editor's Note: This article discusses one or more securities that do not trade on a major U.S. exchange. Please be aware of the risks associated with these stocks.