Jiayuan (NASDAQ:DATE) reported Q2 non-GAAP EPS of RMB0.47 that missed consensus with consolidated revenue of RMB145m (+21% y/y) that was in-line. While the core online services segment continues to face ARPU pressure and mid-single digit MAU growth, the higher margin personalized service saw an ongoing acceleration (+241% y/y) to reach RMB33m in sales for the quarter. My thesis on the stock remains that personalized services will drive its future growth by leveraging Jiayuan's rich database and expertise in matchmaking. Guidance of RMB155-157m for Q3 was also in-line with consensus.
Core business in slow gear
Jiayuan's core online service segment is stuck in a lower gear with rising competition from Zhenai.com or Baihe.com that offer comparable online match making services. Given the lack of differentiating points, Jiayuan's core online service segment has been witnessing stagnating revenue growth over the past several quarters.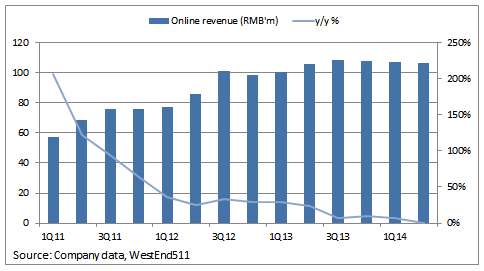 In order to increase monthly active users and generate organic traffic to the site, it appears that Jiayuan has been aggressively promoting its product to lure the users. I note that ARPU has declined considerably despite the increasing number of monthly paying users.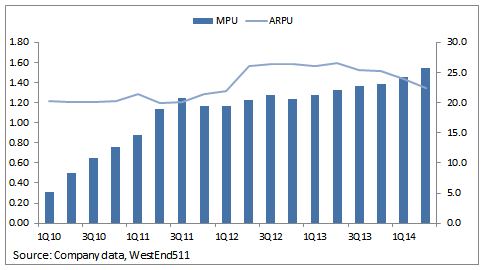 That said, I expect the core business to continue to be in slow gears in the next several quarters but Jiayuan's promising growth lies in its customized event planning and personalized services which I believe can differentiate from its competitors. The segments certainly gained meaningful traction as revenue from online declined and has seen accelerating for several quarters.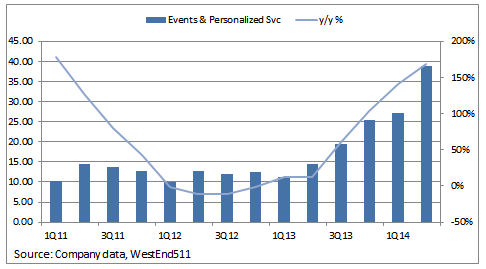 My view is that Jiayuan can differentiate by leveraging its rich database and proven track record in matchmaking. To maintain its momentum, I believe Jiayuan should pursue even more specialized matchmaking (i.e. dedicated experts focused on specific industry - financials, IT, government workers) to further carve out its niche.
With RMB500m in cash and free cash positive, Jiayuan looks attractive at 19x forward earnings.
Disclosure: The author has no positions in any stocks mentioned, and no plans to initiate any positions within the next 72 hours.
The author wrote this article themselves, and it expresses their own opinions. The author is not receiving compensation for it (other than from Seeking Alpha). The author has no business relationship with any company whose stock is mentioned in this article.