Recent Financial News
Last week, struggling teen clothing retailer Aeropostale (NYSE:ARO) delivered another overall disappointing quarter. In their second quarter earnings for fiscal 2014, Aeropostale saw revenues fall another 13% to $396.2 million as same-store sales, which included online sales, were also down 13%. Net losses for the quarter ended up at $63.8 million.
Aeropostale has been struggling the past several quarters and, despite revealing strategies each earnings report on how they plan to turn the company around, top and bottom line results for the company continue to trend in the wrong direction as shown below.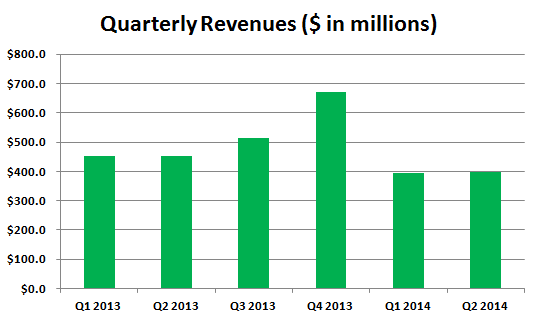 (Source: Aeropostale quarterly reports)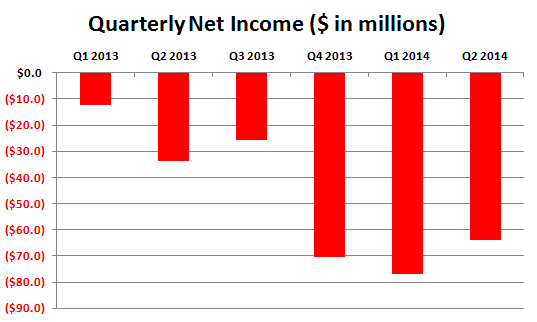 (Source: Aeropostale quarterly reports)
While Aeropostale has been one of the worst performing companies of this retail sector, The Gap (NYSE:GPS) has been one of the best. In The Gap's second quarter earnings for fiscal 2014, revenues climbed 3% to $3.98 billion. Despite Gap Global stores falling 5% in same-store sales for the quarter, Banana Republic's same-store sales were flat while Old Navy was the bright spot seeing their same-store sales rise 4%. Overall, the company had same-store sales that came up flat. Nevertheless, driven by improved company efficiencies and controlled costs, net income jumped 9.6% to $332 million.
The name of the game has been consistency for The Gap as Aeropostale consistently struggles. Since The Gap is much larger than Aeropostale both in store count and in sales, a better comparison of the companies is in their quarterly revenue growth as shown below.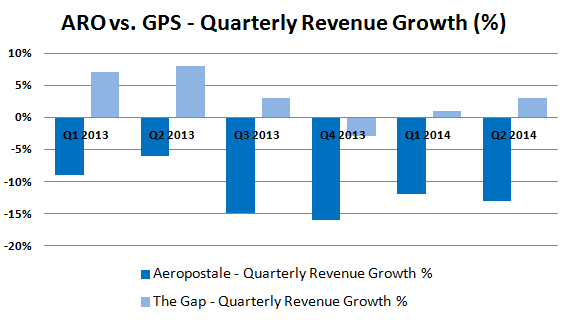 (Source: Aeropostale and The Gap quarterly reports)
It should be expected that Aeropostale in the short-term will attract more and more stock traders looking to make quick gains on speculation and possible pops given any positive news. In fact, in the past month the stock is up nearly 30%. However, in the long-term both stock traders and investors alike should be cautious because no clothing retailer is immune from going completely under at any given moment.
Why Aeropostale Can Fall Even Lower in Share Price
Last week's conference call should be a warning sign to all new Aeropostale investors. Management revealed that the e-commerce business was down 15%. By comparison, The Gap's online sales business rose 11% to $515 million. Up to the quarter, The Gap's online business had grown at a compound annual rate of 17% in the past five years.
Making Aeropostale's e-commerce results even worse is that just a year ago the company reported a 22% increase in e-commerce sales.
Other issues revealed during the conference call were the girls or guys businesses had sales that were down 12% and 15%, respectively, transactions for the quarter that fell 14%, and third quarter outlook by the company that estimates a loss between $33 and $37 million, which assumes another quarter of double-digit same-store sales decline.
Aeropostale also continues to fail to address quarter after quarter their promotions strategy. Frequent and extreme promotions have been both a gift and a curse for the company. It once attracted shoppers looking for the best deals and the biggest savings. Now the same strategy looks like it is leading to weaker and weaker gross margins.
In the second quarter, Aeropostale saw gross margins fall to 15.8% from 17.9%. By comparison, The Gap's gross margins fell 110 basis points, yet they still came out at 39.4%.
The overall promotional retail environment has caught up to Aeropostale as many shoppers are opting for higher-end brands since prices are generally lower across the industry. Furthermore, clearance stores like those owned by Ross Stores (NASDAQ:ROST) and The TJX Companies (NYSE:TJX) are finding that their customer bases continue to grow thus showing the preference of shoppers aiming for more premium brands instead of Aeropostale.
Then there is the lack of new ideas that are coming from Aeropostale's management. While competing retailers have seen success in implementing new ordering options like The Gap's five-pieces-of-merchandise program, Aeropostale still struggles in e-commerce growth.
Aeropostale has also failed to capitalize on new trends. The Gap's Athleta stores are expected to hit 100 locations by the end of this year and have already made big strides in attacking the $11.5 billion women's activewear U.S. market.
The lack of new ideas may also originate to personnel at the store level. Aeropostale has been trying to get early lease buyouts to accelerate store closures with long-term goals of closing 175 Aeropostale stores and 125 PS from Aeropostale mall-based stores.
This is in stark contrast to The Gap which earlier this year announced plans to increase hourly wages to $10 by 2015 and which saw employment applications to its store concepts recently surge by over 10%. More applications equal a better selection of potential workers. Shrinking outfits on the other hand tend to result in lower employee morale and a workforce that slowly stops caring.
At a minimum, the current store closings have affected Aeropostale's total assets the past 18 months as shown below. Additionally, the company has most recently added $133.6 million in long-term debt.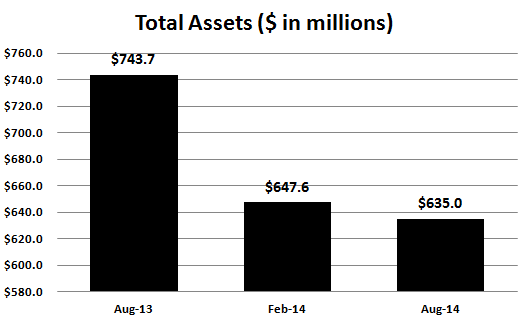 (Source: Aeropostale quarterly reports)
It also looks like Aeropostale at some point overestimated its customer base. Principally targeting 14 to 17 year-old teens, Aeropostale is at a relatively large disadvantage compared to diverse clothing companies like The Gap which recently held Banana Republic promotions aimed at the mostly employed 25 to 44 year-old customer base.
The problem with Aeropostale's target customer base is the job market and spending capacity. Younger targeted customer bases like those of Children's Place (NASDAQ:PLCE) stores or older targeted customer bases like those of The Gap stores can rely on parents' income or their own incomes to buy clothing and accessories. Teens on the other hand are at the mercy of allowances and limited incomes from part-time jobs.
This is further supported by a recent Piper Jaffray survey which showed that for the first time in the survey's history, food (20.8%) edged out clothing (20.7%) for the biggest share in teen spending. Teens aren't just investing in food more either. They are shifting their tastes in which brand of clothing they prefer. In the same study, Aeropostale was the overwhelming favorite for brands that teen girls said they no longer wear as it was chosen by 32% of survey participants.
Another way to look at where the popularity is going is to look at EV/EBITDA (TTM) values for Aeropostale, The Gap, and several industry peers. Using this metric, Aeropostale doesn't even appear to be capable of covering its interest and tax payments with its operating profits besides the obvious fact that its enterprise multiple is well-outside the range of its peers.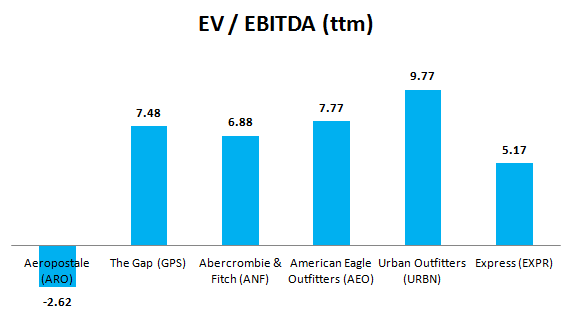 (Source: Latest EV and EBITDA values taken from Yahoo Finance and YCharts)
Lastly, Aeropostale appears to have no ability to expand its global footprint like its rivals in the sector can. The Gap recently announced plans to reduce its dependence on the North American market which currently generates over 75% of overall sales. Given that Aeropostale's first priority is reducing cash burn, it is unlikely that they will be seeking to expand in more overseas locations until they fix the problems in the U.S. market.
Conclusion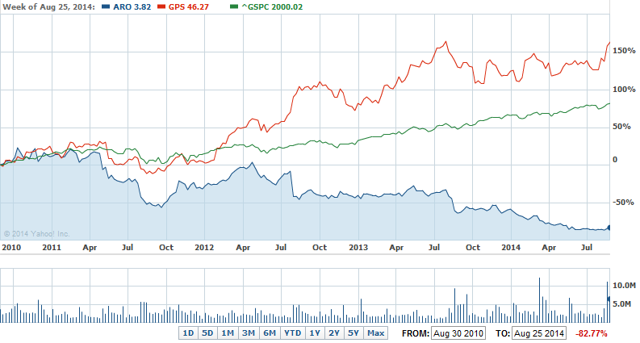 (Source: Yahoo Finance)
Aeropostale wasn't a buy in 2010 when it was in the $20/share range nor was it a buy in 2012 when it was in the teens. It still isn't a buy now that it is below $5/share in 2014.
Aeropostale reminds me of Steve & Barry's, which was a popular discount retailer a decade ago where their extreme and frequent sales would produce heavy store traffic. Steve & Barry's eventually went bankrupt in late-2008 after annual sales of $656.6 million and same-store sales rose 15%.
The fact that Julian R. Geiger has recently rejoined the company as CEO shouldn't make new investors believe in a turnaround all of a sudden. The brand has been severely damaged by the promotional environment, competition, and shifting popularities, among other reasons.
Julian Geiger mentioned that Aeropostale once had 14 straight years of positive same-store sales in last week's conference call. However, that is the past and it is unlikely at this point that that record ever is approached again by this company.
Disclosure: The author has no positions in any stocks mentioned, and no plans to initiate any positions within the next 72 hours.
The author wrote this article themselves, and it expresses their own opinions. The author is not receiving compensation for it (other than from Seeking Alpha). The author has no business relationship with any company whose stock is mentioned in this article.