Wal-Mart (NYSE: WMT) is the world's largest retailer. WMT serves customers and members more than 200 million times per week at more than 8,613 retail units under 55 different banners in 15 countries, and employs 2 million people worldwide.
EPS, Dividends, FCF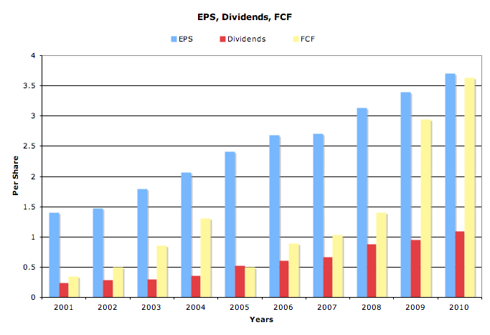 Click to enlarge
click to enlarge
WMT expects earnings for fy 2011 of 4.05 followed by fy 2012 of 4.45. Free cash flow has shown strong growth, averaging 29.4% over the past 10 years.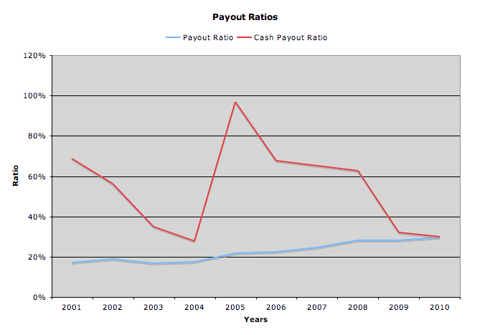 Click to enlarge
Even though I graph both payout ratios based on earnings and free cash flow, I generally consider fcf to be the more important metric. As shown, WMT's payout ratio based on earnings has been climbing, but still sits under 30%. The cash payout ratio however, has seen some years of near 100% payout, namely 2005. Since then it has been lowered considerably, and as of fy 2010, the dividend was only 30.05% of fcf, leaving plenty of room for growth.
Revenue and Margins
| Years | Revenue (in millions) |
| --- | --- |
| 2001 | 193,295 |
| 2002 | 205,823 |
| 2003 | 231,577 |
| 2004 | 258,681 |
| 2005 | 288,132 |
| 2006 | 312.101 |
| 2007 | 348,650 |
| 2008 | 377,023 |
| 2009 | 404,374 |
| 2010 | 408,214 |
Revenue has grown by an average of 8.5% for the past 10 years.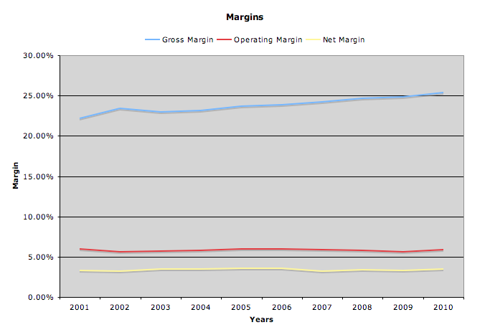 Click to enlarge
All margins have remained steady over the years, and gross margin has even grown slightly. Though low, these margins are normal for retail businesses.
Balance Sheet
WMT's debt is slightly higher than many other top quality dividend companies, but this should not be a problem. In October of this past year, they actually sold 5 billion dollars worth of bonds at some of the lowest yields ever. I believe the 30 year bond only paid about 5.1%. This was a great move by Wal-Mart, taking advantage of yield hungry investors to lock in great interest rates. They can use this money to build up international operations, such as their recent attempt to acquire a majority stake in South Africa's Massmart.
WMT has a current ratio of 0.8
Returns
WMT has shown a stable return on equity of around 20% for the past decade.
Stock Price Valuations

current price -54.77
p/e (ttm) -14.80
p/e (forward) -13.52
p/cash flow -15.08
peg -1.36
dividend yield -2.21%
Conclusion
Wal-Mart has all the makings of a dividend king. A long history of increasing dividends, a double-digit growth rate, and family wealth that is heavily invested in the company stock. They are aggressively pursuing international growth in many of the BRIC countries, though they did just close their Moscow office.
The yield is slightly lower than I look for, but their stellar dividend growth rate should compensate for this if you plan on holding for the long term.
Disclosure: I am long WMT.