After a two-year slump, IPOs are coming back. If you're not comfortable picking out individual initial public offerings, there's an easier way to get exposure via ETFs.
According to Yahoo! Finance, TV ratings company Nielsen Holdings and Internet companies like LinkedIn, Groupon, Facebook, Zynga and Twitter are just some of the successful new players that the markets are waiting to start trading.
Currently, more than 130 companies are waiting to go public, and almost twice that are watching and waiting.
Why are IPOs suddenly so hot?
IPO research and management firm Renaissance Capital stated that "U.S. IPOs will step up in activity due to recent clarity on tax rates, the Federal Reserve's QE2 effort to push investors into the equity market and the prospects of a more business-friendly federal government."
Companies are feeling more optimistic about their business and growth prospects, as well. Little wonder, since they're sitting on a record amount of cash that has yet to be deployed.
You can get exposure to IPOs via First Trust IPOX-100 Index Fund (FPX), which adds stocks on their seventh day of trading in order to miss the wild swings that accompany a new issue. If you're hard-pressed to guess which IPOs will perform the best, consider this fund as a diversified play. It's done decently in the last six months, too, gaining 20.9%.
Click to enlarge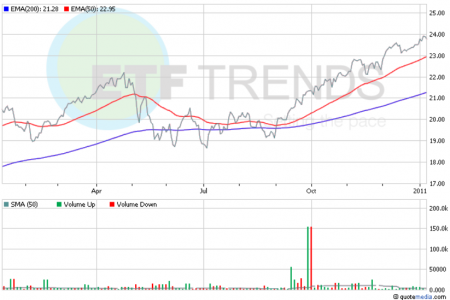 Max Chen contributed to this article.

Disclosure: None