Avago technologies (NASDAQ: AVGO) is the ninth largest semiconductor company, and it belongs to the industry of broad line semiconductors. The company is headquartered in San Jose, California and Singapore. Avago designs, develops, and supplies semiconductor devices; primarily III-V based products. III-V refers to elements of third and fifth group of the periodic table. These elements have higher electric conductivity than silicon, which results in better performance characteristics in radio frequency and opto-electronic applications. So, primarily, the company serves radio frequency market and optical connectivity market. However, with the acquisition of LSI, the company now serves four markets including enterprise storage, wireless communications, wired infrastructure, and industrial & other.
The wireless communication segment offers radio frequency products including power amplifiers, frond end RF modules and FBAR filters for smartphones and tablets. It also offers low noise amplifiers, or LNAs, and driver amplifiers for wireless telecom base-stations. Avago generated 50% of its revenue from this segment in second-quarter of fiscal year 2014. Including LSI's result, revenue of this segment amounted to 25% of the total revenue during fiscal year-ended 2013. Significant customers of wireless communication include Samsung (OTC:SSNLF), LG (LG), HTC (OTC:HTCCY) and Huawei. Samsung accounted for 26% of wireless communication revenue. Apple (NASDAQ: AAPL) is also a customer of Avago technologies.
Wired infrastructure segment offers solutions that enable bandwidth expansion. Key technologies and products include high speed ASIC SerDes, parallel optics and comm processors. These technologies and products have their application in data centers, wire connected infrastructures, and LTE infrastructures. Avago generated 31% of its revenue from this segment during second-quarter of fiscal 2014. Accounting for LSI's revenue, wired infrastructure revenue was 23% during the fiscal year-ended 2013. Significant customers of this segment include ZTE (OTCPK:ZTCOF), NSN (NYSE:NOK), Juniper (NYSE:JNPR), Alcatel (ALU), IBM (NYSE:IBM) and Hewlett-Packard (NYSE:HPQ) etc.
Enterprise Storage segment offers products related to optical sensing and storage connectivity. Acquisition of LSI brings server storage products and hard disk component products to the portfolio. Avago sold flash storage segment of LSI to Seagate. Enterprise storage's share of revenue was around 38% for the year-ended 2013 (Avago, LSI combined). This percentage will reduce in current year because of the sale of flash storage segment. Significant customers of this segment include Western digital (NYSE:WDC), Seagate (NASDAQ:STX), and Oracle (NASDAQ:ORCL) etc.
Industrial and other segment is primarily involved in the provision of power generation and factory automation products. They include Optocouplers, plastic fiber optics, optical encoders and specialized LEDs etc. Avago generated 19% of its revenue from this segment during second quarter of fiscal 2014. Significant customers include ABB and Siemens.

Source: SEC filings and investor presentation
Industry prospects
Portable connected devices are affecting the technology sector in a lot of ways. Almost every technology company is affected by the smartphone/tablet revolution. Growth of connected devices is increasing data storage and data-access needs, which is affecting network performance and capacity of service providers. To cater these needs, new network technologies like CDMA, LTE/LTE-A are being implemented for wireless communication. Global LTE adoption stood at 25% by the end of 2013. Moreover, LTE-A is also being adopted by network providers in several regions.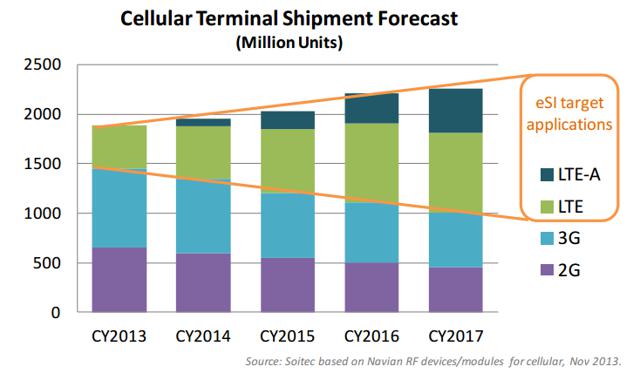 According to IDC, the adoption of smartphones will grow at CAGR of 12.3% (2013-2018). It seems that more network standards, more bands are driving the growth of RF content in smart devices. TechNavio forecasts that global RF power amplifier market is set to grow at CAGR of 22.35% (2013-2018). Another report mentions that handset RF front-end market will double to $10 billion by 2017. It expands by pointing out that RF components in a typical smartphone will grow from $6 to $10 in the next five years, thanks to multi-mode, multi-band handset. Overall, wireless industry holds growth promise for the wireless segment of Avago technologies.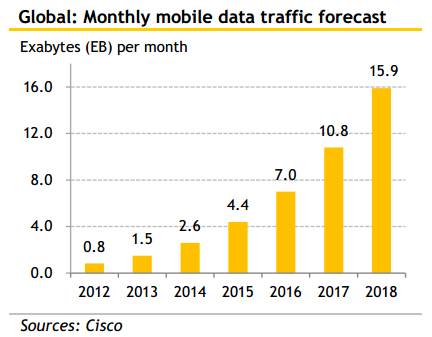 Global digitization of content, thanks to smart devices, is driving data, storage, and networking needs. This is creating demand for high speed fiber optics to facilitate the need for faster data among storage and servers. Data and high definition videos are straining network providers for performance and capacity, resulting in infrastructure upgrade expenditures. All in all, the need for data will drive growth of wired infrastructure segment and storage segment of Avago technologies.
Thesis and catalysts
As evident from above presented facts and figures, Avago belongs to an industry that is set to grow in next five year or so. RF content per device is increasing; Avago offers range of RF products. The need for fast data and more capacity is elevating; Avago offers optical fiber solutions to address this need. Well, more specifically, there are several reasons that bolster the bull case for Avago.
FBAR opportunity
For starters, Avago's film bulk acoustic resonator, or FBAR, is gaining traction. As number of bands operating in same frequency are increasing (think cellular, WiFi, Bluetooth), this creates overlap of networks. Minimizing interference is becoming crucial, creating demand for FBAR filters. According to a research, Avago's FBAR offers superior noise reduction and lower signal loss, which translates into better call and data quality. UBS analyst Steven Chin believes that FBAR family of chips will add to Avago's growth as more and more LTE chips are shipped. China also holds promise for FBAR segment. According to Chin,
While market assumptions for China Mobile's TDLTE handset shipments vary greatly, we believe Avago's FBAR filters being showcased in reference designs and offering compelling performance despite a price premium is a positive and encouraging sign for future adoption
Sterne Agee analyst Vijay Rakesh believes that Avago is seeing broad uptake in China with film bulk acoustic resonator.
As FBAR, according to UBS, made up around 71% of segment revenue during 2013, its growth will be material to the top-line growth of the Avago.
Rising content hints competitive advantage
Not only Avago is a supplier to the world's leading OEMs like Apple and Samsung, its content per device is increasing. Avago's components are being featured in Apple, Samsung, HTC, LG, and Huawei smartphones. Flagships like iPhone 5S, Samsung S5, HTC M8 and LG G3 feature Avago's components. But more importantly, content per device is increasing.
Tear-down of iPhone 5s revealed two Avago components as compared to a single component in iPhone 4s.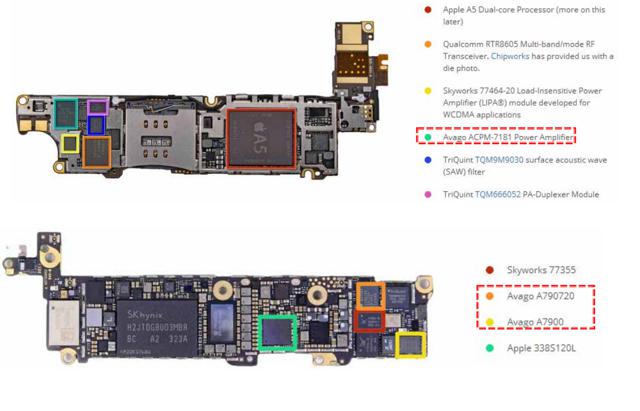 Source: ifixit.com
Apple is releasing two models of iPhone in September. Avago's RF and FBAR component business will grow as a result of new launches. iPad air also featured two Avago's RP amplifiers. Samsung teardown also shows a similar trend. Galaxy S4 didn't feature Avago's silicon but S5 includes multimode RF front-end.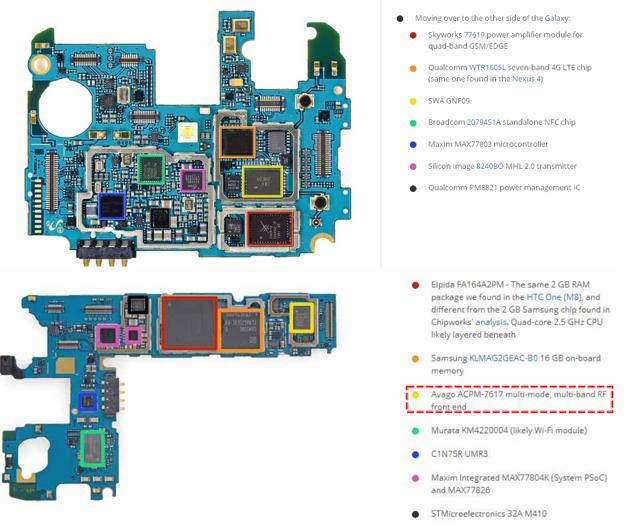 Source: Samsung S4 and Samsung S5 iFixit tear down
Another significant design win was LG G3. Avago's chips were absent in LG G2 but G3 includes power amplifier module of Avago. Now G3 is expected to be the highest selling smartphone LG ever made. According to LG, G3 will be the first LG smartphone to surpass 10 million unit sales. This bode well for Avago. Most of Avago's wireless sales came from Samsung in the past but the company is now set to ride on G3's popularity. Revenue contribution from LG will most probably be the reason for this quarter's revenue beat. EPS will be more in line with analysts' estimates amid restructuring costs relating to recent acquisitions.
Acquisition of LSI can result in synergistic benefits
There are several technology and cost benefits that will arise as a result of this acquisition. There is some product overlap including some overlap in ASIC and SerDes. As a result, duplication of functions can be removed to save costs. Workforce can also be cut down due to this overlap. The company is aiming to save $200 million in SG&A expenses. Regarding technology, both entities have expertise in ASIC, and hence IP base of the combined company is expanded. EETimes notes that,
The two companies could see synergies by increasing collaboration with shared customers in datacenter, carrier, and business network systems
Based on the above presented analysis, LSI acquisition can bring technology and cost benefits for the combined entity. However, short-term bottom line will not be affected much due to restructuring costs related to several acquisitions by Avago technologies.
Investment value and final thoughts
By analyzing metrics like PE and PEG, it can be seen that Avago is trading cheaply on a forward earning basis. Forward PE stand at around 14.53 while industry average is around 22.63. PEG of Avago is 0.69 reflecting healthy growth of the company relative to its PE ratio. A price target for Avago is calculated using PE of 17 as a multiplier. Note that Avago's growth rate is higher than that of industry's growth rate. Therefore using PE of 17 to drive price target for Avago is a very prudent approach.

Focus equity estimates
Price target reveals an upside of around 17%. Potential upside is probably more than that because a quite conservative PE estimate is used to calculate price target. Anyhow, the price target is in line with Avago's growth prospects in FBAR, optical fiber, and storage. I believe that growth of RF content per device, synergistic benefits of LSI acquisition, and supply relations with leading OEMs will drive the growth story of Avago, and this company is certainly a "BUY". Note that increasing content within smartphones, and design win with LG G3 will help the company beat revenue estimates this quarter.
Disclosure: The author has no positions in any stocks mentioned, and no plans to initiate any positions within the next 72 hours.
The author wrote this article themselves, and it expresses their own opinions. The author is not receiving compensation for it (other than from Seeking Alpha). The author has no business relationship with any company whose stock is mentioned in this article.