Introduction
Early Thursday morning, Frontline (NYSE:FRO) reported earnings; not only disappointing shareholders but delivering news that sent market participants rowing for shore. Overall, the company reported a significant loss, tempered expectation for the second half, and warned of restructuring, asset sales, and possible equity dilution.
This article will summarize the results, compare existing rates to break-even costs, the outlook for fleet growth, and will highlight the dire warnings presented by the company. In short, Frontline is not a company to go long now and shareholders should consider cutting their losses before the storm front hits.
The Company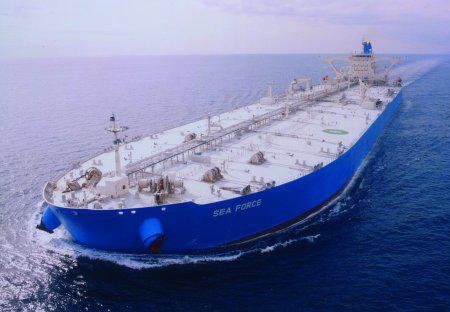 Frontline, the "World's Largest Tanker Company" maintains a fleet of 17 Suezmax double hulled carriers and 28 double hull Very Large Crude Carriers (VLCCs). The company recently took delivery of the Frontline UII Suezmax carrier and expects delivery of another Suezmax carrier on the second half.
Frontline has partially financed these newbuilds using a $60M term loan facility and issued 2.8MM shares in the second quarter. Results for the second quarter were less than appealing.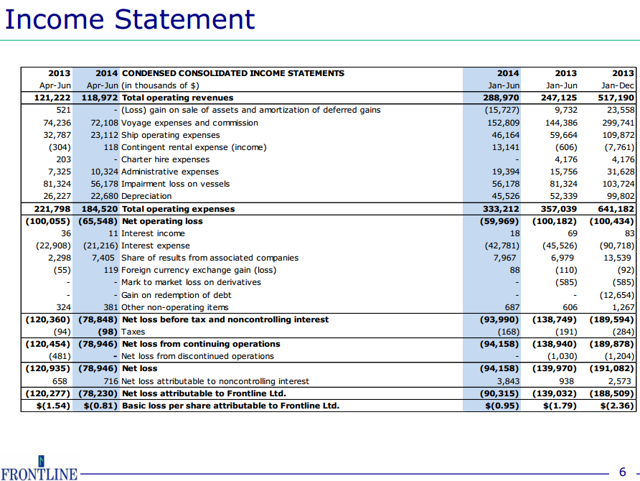 The company reported a loss of $22.1m ($0.23 per share) and an impairment loss of $56.2m for net loss of $78.2m or $0.81 per share. This did beat estimates by $0.05 but it brings the overall loss for the first half to $90.3m.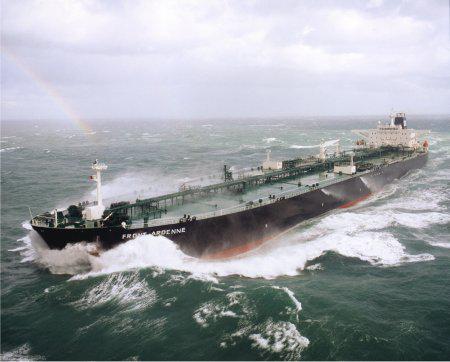 This is despite the company only having one ship in drydock and only 62 days off hire in the second quarter. This compares to no vessels in drydock and only 22 days off hire in Q1, but both the last two quarters have been serious outliers with respect to drydocks and days off hire.
Frontline also announced that the company terminated an agreement with Ship Finance (NYSE:SFL) for the long term charter of VLCCs Front Opalia, Front Comanche and Front Commerce. Ship Finance subsequently sold the vessels to unrelated third parties. All three of these ships were 1999 builds, so they do have some age on them, but fleet wide, the sale of VLCCs certainly doesn't mean scrapping.
Overall Fleet Outlook
Worldwide, VLCCs new builds and deliveries are expected to be the lowest in years, but the overall outlook is not promising. With a current double hulled fleet of 628 carriers and an additional 20 expected deliveries before the end of the year, the recent increased prices seen in the market could soon reverse. Throw in a net 6 deliveries for 2015 and 31 for 2016, and one gets the uneasy feeling that daily rates will soon peak.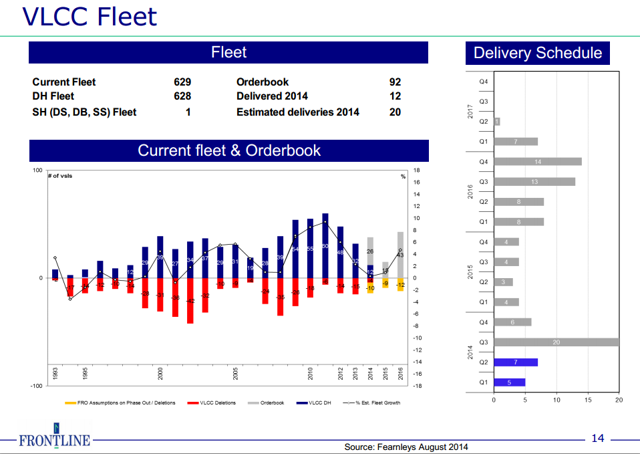 Suezmax new builds and outlook is a bit better. With the number of scraps that are planned over the next two years, there will be a net decline in the worldwide fleet. This should have the marginal effect of supporting or increasing current day rates.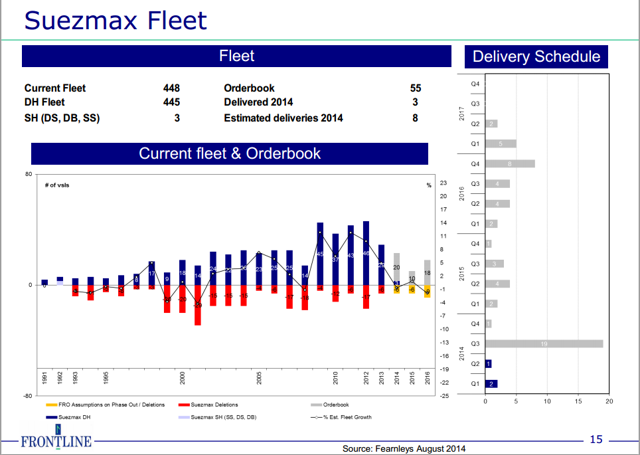 Here, we should take a quick break to review the recent movement in day rates for both VLCCs and Suezmax. Since the beginning of the third quarter, day rates for both carrier sizes have been on an increase, but Suezmax rates seem to have topped and turned.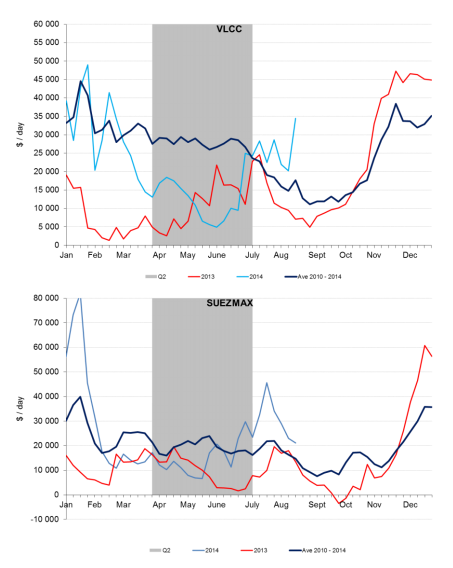 The company reported the average market earnings for VLCCs were $12,000/day as compared to $27,500/day in Q1. Therefore we could expect an increase in Q3 relative to Q2. Suezmax earnings were reported to be $15,500/day as compared to $27,500/day in Q1. However, unless rates turn back up, there is little hope for much of a Q3 rebound.
All of this is while keeping in mind that IEA global oil demand reportedly has increased by 0.2 mb/d while the worldwide fleet size of both VLCCs and Suezmax have remained largely unchanged. From the company's investors presentation we find that five VLCCs and one Suezmax were delivered during the quarter while three VLCCs and two Suezmaxes were removed from service (scrapped) for the quarter.
So, although we can expect some positive rate development in Q3, it begs the question of whether the company will be able to meet break even costs. Reportedly, Frontline needs $24,000 daily for VLCCs and $17,800 daily for Suezmax.
Now we can get into the really bad news. Rather than summarize, I'd rather just quote the company:
Despite the improved tanker market so far in the third quarter, the Company is in a challenging situation with $1.031 million in debt and lease obligations as of June 30, 2014.

Based on the current outlook for the tanker market, it is doubtful if the Company can generate sufficient cash from operations to repay the $190 million convertible bond loan with maturity in April 2015.

The Board is considering various financing alternatives such as raising equity or selling assets, establish new loans or refinance existing arrangements to raise sufficient cash to repay the $190 million convertible bond loan.

A full restructuring of the company, including lease obligations and debt agreements might be the only alternative.
Conclusion
Obviously, things are not looking good. Long shareholders should consider hedging their position or getting out altogether. More risk tolerant investors could consider speculating in long dated put contracts or even taking a short position in the stock, since there is no expectation of dividends in the foreseeable future.
At best, long shareholders can expect significant dilution or a sale of multiple vessels. At worst; well ... you're sunk.
In a Final Note
One has to respect the straightforward communication of management. Jensen and Klemp could have beaten around the bush, trying to paint things in a rosy hue, or worked accounting magic to make things appear better than they really are, but they did not. Bravo Zulu Messrs. Jensen and Klemp. You have my respect.
Disclosure: The author is long SFL.
The author wrote this article themselves, and it expresses their own opinions. The author is not receiving compensation for it (other than from Seeking Alpha). The author has no business relationship with any company whose stock is mentioned in this article.