By Chris McKhann
Shares of India's ICICI Bank (NYSE:IBN) are down 22 percent in the last two months, and institutional option trading this morning is looking for the stock to be down another 30 percent.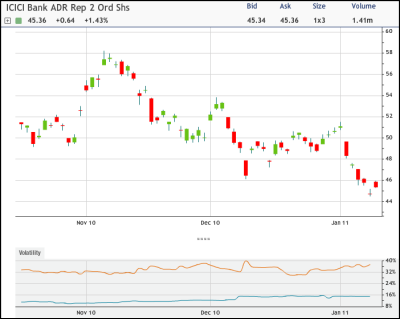 IBN is trading at $45.36 this morning, up 1.43 percent, after seeing its lowest close since early September yesterday. The shares had traded above $58 in early November but have been trending lower ahead of its earnings release on Jan. 20.
The June puts dominate the option activity this morning. A trader bought 5,000 of the June 40 puts, most for $2.43, and sold about the same number of June 30 puts for $0.43. The volume was more than 5 times the open interest at both strikes.
Given the range of this trade it appears to be a bet that IBN is set to continue to plunge in the next five months. The maximum profit of $8 will come if the stock is below $30, a level that IBN hasn't seen since August 2009.

Disclosure: No position