Earlier in the year I performed a market survey on Chico's FAS (NYSE:CHS) brands and published my results in this article.
I wanted to include a summary of that article, just in case you don't have time to read it.
My Chico's brand survey showed an elderly perception of the Chico's brand. Other brands such as Soma and White House Black Market performed well.
Margins faced continued pressure from high inventory, lower revenue, and a highly competitive environment.
Revenue growth year over year is negative from double-digit gains two years ago.
Revenue And Earnings
Let's fast forward to the second quarter earnings results.
Year over year revenue growth has moved back to the positive. Not by much, but as CEO Dyer stated "celebrate victory wherever we can get it". To me those are words of someone trying very hard to do the right thing for the company, but facing continuing challenges.
Let's look at visual of revenues and earnings below.

Chart obtained from Charles Schwab.

Chart obtained from Charles Schwab.
The majority of revenue increases continue to come from the opening of new stores and not comparable same store sales. I am pleased with the company's efforts in Canada and Mexico. However, given economic conditions I would like to see same store sale comps return to the mid-single digits.
Inventory
In my last article we touched on the amount of inventory on hand. This was of particular concern to me because of the pressure it puts on margins. Per the conference call, excess inventory is still $5-10 million. I continue to see this as having a slightly negative effect on margins in the third quarter.
The company refers to the promotional environment as "staying competitive". I disagree and think that Chico's brands need to adjust their selling price points. The company openly states that promotions confuse their customers. If this is the case then a lower price point is needed instead. Why continue to have a highly promotional environment if your core customers don't like promotions?
I was extremely pleased to hear CFO Vogensen comment on the inventory plan going forward. Last spring the company was overly aggressive on purchasing inventory. That has put undue pressure on the company to move through dated inventory and roll out new products. Going forward the company has a plan to ensure inventory is tightly maintained up to a sales drop of $80 million.
I see the theory here and support the company. Not to play devil's advocate or the Monday morning quarterback, I would like to know how this inventory plan would affect sales if comparable store sales were to rise into the mid-single digits. Mr. Vogensen addressed that they will manage inventory growth in response to sales growth. Through supply chain management I assume this to mean the company can more rapidly adjust to changing conditions both positive and negative. I don't want to see the company running short on inventory should growth return and vice versa.
Omni-channel
SG&A expenses continue to increase year over year. However, I understand the investments the company is making. The omni-channel is either the best thing that will ever happen to Chico's or will end up being a waste of time and capital. I am predicting a success.
The company has spent a lot time and capital ensuring that it gets the omni-channel correct. I admire Chico's for always taking the time to focus on quality over quantity. Through international expansion, capital expenditures, all the way down to their products, the company has chosen quality over quantity.
Omni-channel provides two main benefits to the company in my opinion as an investor:
1. It connects customers to all four Chico's brands without having to leave their home or the store. This equals more opportunities for cross selling, inventory management, retail square footage, and product selection.
2. It presents more opportunities for Chico's to have a conversation with their customers. Personal service, style, and selection through a Chico's representative. Chico's target customer is someone who expects and rewards good personal service.
Analysis
The current retail environment remains a challenge. Consumers are spending money on cars and homes while cutting back on discretionary purchases. Retail is one of the worst performing segments in the market this year. Chico's can only focus on being the best house in the worst neighborhood. Discretionary retail will eventually come back.
The investments that Chico's has made in distribution, omni-channel, and expansion outside of the United States will pay dividends well into the future once that discretionary spending returns.
Commitment To Investors
Some have started to question Chico's commitment to investors. This is normal. You will always have those who demand more and more of a company to the point the company is not able to function as it should financially. I don't see Chico's taking advantage of its shareholders. If you look at the dividend and buyback history below, you will see a clear trend.

Chart obtained from Charles Schwab.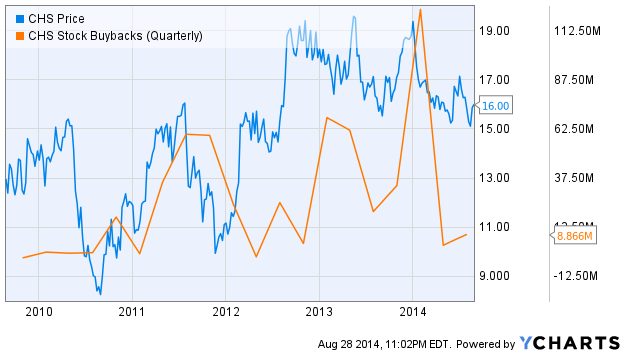 The company has increased their dividends over the last five years and also repurchased a significant amount shares.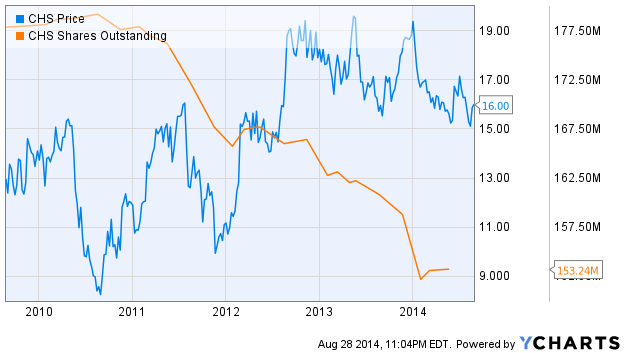 This, in my opinion, proves overall company commitment to its investors.
Boston Proper
The company has stated they are going back to the original bread and butter fashions with this brand. I certainly hope it works. As I stated before I believe there was a lot of potential with this brand and it is not living up to the initial investment. It will be a wait and see next couple of quarters for Boston Proper. I hope the brand is able to live up to its full potential with substantial growth through omni-channel and brick and mortar locations. So far, I have been disappointed with the Boston Proper results.
Going Private
Shortly after publishing my last article, news reports started to come out about Chico's potentially going private. The news has subsided and it was not mentioned on the conference call.
If this does come to fruition then I would value Chico's well above its current share price.
On a proposed private offer, I would estimate the company at $21 per share.
Here's why:
Significant investments in store quality, distribution channels, and brand value. There is no denying that Chico's has a core following that support much of its sales.
Chico's is in a very healthy financial position with no long-term debt. The company would benefit tremendously if it could reinvest what it currently pays in dividends and share repurchases. Using those funds for expansion could give the private firm a much greater return on investment.
I also would not expect shareholders to approve any offer less than $20-$21 per share.
I personally think this is a great opportunity for Chico's to grow and implement the changes they want for their brands without investors breathing down their neck. The benefits of reinvesting funds currently used for dividend payments and share repurchases far outweigh the premium to the current share price.
Conclusion
In my last update I assigned a target price of $16 per share and a hold rating. I am sticking with my hold rating and increasing my target share price to $17.50. I would reiterate from my last piece that 2014 is going to be a consolidating year for the company. I believe we will begin to see positive momentum towards the end of this year and into 2015. Chico's has intrinsic value and has proven its commitment to shareholders. Now the focus will turn to unlocking the extrinsic value for investors.
I would also like to point out that I believe in the executive team at Chico's and believe they are making the correct strategic investments that will move the company into the future. Quality over quantity, unit cost reductions, omni-channel, and smart expansion are all positive to long-term sustainable growth.
Thank you for reading, I sincerely appreciate it!
Please keep any and all comments professional and I will be happy to respond. Follow me on SeekingAlpha for more in-depth coverage of publicly traded companies and volatility ETPs.
Disclosure: The author has no positions in any stocks mentioned, and no plans to initiate any positions within the next 72 hours.
The author wrote this article themselves, and it expresses their own opinions. The author is not receiving compensation for it (other than from Seeking Alpha). The author has no business relationship with any company whose stock is mentioned in this article.