A busy week is about to come to an end, but not before we have learned a lot about the strength of this market and just how resilient it is. Some will point to the weak volume over the past few sessions, but that is to be expected this time of year. Factoring in that volatility is low and one can assume that the machines have slowed their trading as the business of penny mining other people's trades has slowed. While it would be easy for readers to declare victory after yesterday's strong finish after the weak opening, we feel that an attitude such as that could be detrimental to one's portfolio.
Investors need to remain engaged and continue to buy dips and sell short-term rips. Taking profits on recent winning investments, especially those centered in speculative areas, is always wise and in the current environment of rotating leadership in the market it is that much more important.
Chart of the Day:
The German stock market found support at the 9,000 point level and has since recovered, but if there are to be another wave of economic sanctions against Russia then we could see Germany retest support.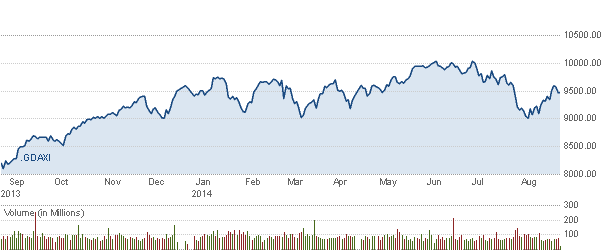 Source: CNBC
We have economic news today, and it is as follows:
Personal Income (8:30 a.m. EST): Est.: 0.3%
Personal Spending (8:30 a.m. EST): Est.: 0.1%
PCE Prices - Core (8:30 a.m. EST): Est.: 0.1%
Chicago PMI (9:45 a.m. EST): Est.: 54.8
Michigan Sentiment - Final (9:55 a.m. EST): Est.: 80.0
The Asian markets are mostly lower today:
All Ordinaries - up 0.03%
Shanghai Composite - up 0.97%
Nikkei 225 - down 0.23%
NZSE 50 - down 0.27%
Seoul Composite - down 0.35%
In Europe, the markets are higher this morning:
CAC 40 - up 0.18%
DAX - up 0.03%
FTSE 100 - up 0.14%
OSE - up 0.28%
Red Hot Biotech
Over the last year we have been proponents of adding exposure to biotech on various pullbacks. With the way investors have sought to add yield to their portfolios, some of the big biotech names show considerable value when compared to their "Big Pharma" peers. While we highlighted individual names early on such as Amgen (NASDAQ:AMGN), Celgene (NASDAQ:CELG) and Gilead Sciences (NASDAQ:GILD), which continue to hit fresh 52-week highs, we also advised clients with smaller portfolios and others who wanted to diversify to use the iShares Nasdaq Biotechnology ETF (NASDAQ:IBB). Another name we have favorably mentioned is Biogen Idec (NASDAQ:BIIB), and although the shares have rebounded strongly they have not quite made it back to previous highs set this year. All have been strong performers and while we do expect continued strength we also believe that taking some profits for those who added to positions previously established would be prudent. Investors are rotating in and out of hot areas of the market faster than ever these days, so investors need to take profits when they can.
Biotech is back, led by the large caps which have solid drug portfolios and strong growth in the years ahead.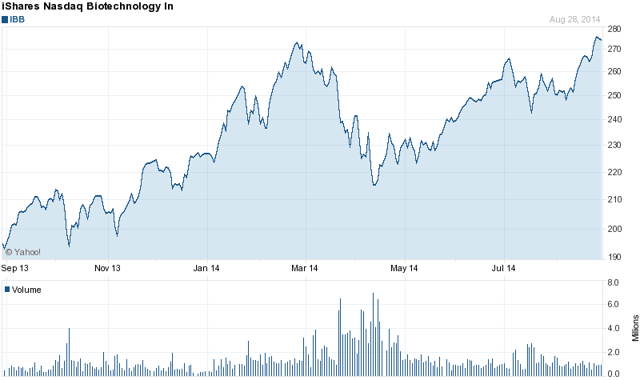 Click to enlarge
Source: Yahoo Finance
While there are a number of ETFs and mutual funds out there for investors to utilize in order to gain exposure to biotech names, our preference is always to bet on the larger names which is why we generally choose the iShares Nasdaq Biotechnology ETF, which is heavily weighted towards the larger market capitalization names, over other vehicles such as the SPDR S&P Biotech ETF (NYSEARCA:XBI), which favors smaller names.
Investors Betting On Pfizer Bid
With the mandated cool down period drawing to a close, investors are betting that Pfizer (NYSE:PFE) will come back to the bargaining table to bid for AstraZeneca (NYSE:AZN) sooner rather than later. AstraZeneca shares are up nearly 9% in August and gaining momentum as the speculation grows. Investors know that if Pfizer wants AstraZeneca, it is simply a matter of stepping up to the plate and offering the correct price. AstraZeneca's shareholders have essentially put the company up for sale and if management fights a deal one can expect things to get rather ugly quickly.
In our opinion it is no longer a question of whether a transaction can be done, but when a transaction gets done. Pfizer dropped the ball during the last round of negotiations, but do not expect the same unprofessionalism should another bid be placed. The political environment in the US has quickly shifted and now many look down upon companies attempting to close transactions which are aimed at enabling the acquiring company to perform a tax inversion.
Disclosure: The author has no positions in any stocks mentioned, and no plans to initiate any positions within the next 72 hours.
The author wrote this article themselves, and it expresses their own opinions. The author is not receiving compensation for it (other than from Seeking Alpha). The author has no business relationship with any company whose stock is mentioned in this article.