By David Russell
HSBC Holdings (HBC) gapped higher at the open today, and the bulls are looking for more gains into the spring.
optionMONSTER's Heat Seeker tracking system detected the purchase of 5,972 June 57.50 calls for $1.58 to $1.62 against open interest of just 1,133 contracts. Overall option volume in the name was more than twice the average level.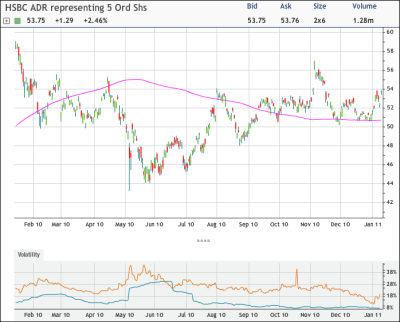 HBC rose 2.46 percent to $53.75 in morning trading. The U.K.-based global megabank has been grinding sideways since August 2009 but in the last two months has started finding support above its 200-day moving average.
Some chart watchers may consider that evidence that the shares are finally ready to break free of their recent range and to push upward. HBC has also been making higher lows since May, another potentially bullish pattern.
Today's call buying reflects a belief that the shares will rally at least 10 percent by June expiration, climbing back to levels last seen in January 2010.
Calls outnumber puts by 12 to 1 in HBC today, which reflects the positive sentiment toward the stock.
The bullish activity in HBC followed call buying in Spain's Banco Santander (STD) yesterday, another European bank with large emerging-market exposure.

Disclosure: No position