First Solar (NASDAQ:FSLR) managed to post 2Q earnings that missed expectations by nearly 90%. But given the nature of the solar industry, the market overlooked this. Sales missed consensus by over 30%.
The key is that there's a lot of variations in quarterly revenues given the timing of projects. During 2Q, there were issues related to its Desert Sunlight project, which delayed recognition of revenues.
Shares are still up 30% year-to-date.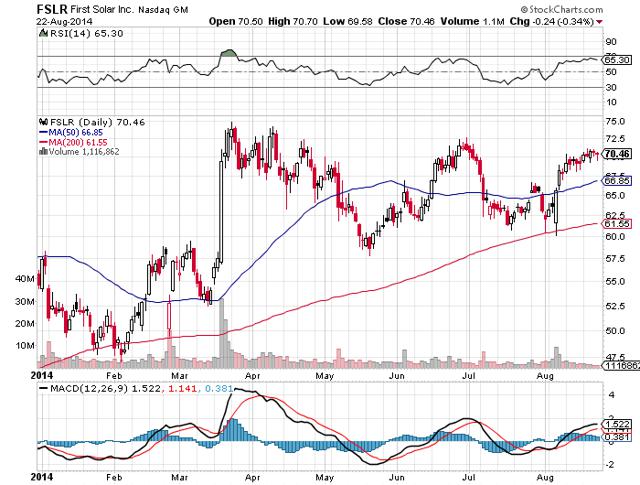 The company's technology is proving to be better than its competitors. During 2Q, its average increase in fleet efficiency recorded the biggest increase in history from 13.5% (1Q) to 14% (2Q). The company is set to increase efficiency to 14.6% by the end of the third quarter. This type of improvement remains unrivaled in the solar power industry.
The company continues to show strong pipeline opportunity growth. The order backlog grew from 2.7 GW to 3.2 GW last quarter. The company managed to book 100 MWs in Q2 and another 700 MWs after the end of 2Q -- bringing the total to 1.2 GW for year-to-date.
Some points of concern: Management continues to note that it has yet to see any material benefits from the tariff rulings by the Department of Commerce. It also expects the Chinese to quickly work around any tariff restrictions. Understandably, the company remains disappointed that it has been unable to benefit from the short-term disruptions in supply. Its 80% capacity utilization during 2Q reiterates its inability to generate short-term business to utilize spare capacity.
The YieldCo potential
First Solar is also a leading candidate to spinoff what's known as a yield company or YieldCo. These are being spun out of renewable energy companies, offering high dividend yields.
Many of the renewable energy projects do not produce taxable income for long periods of time given the large depreciation charges. However, despite the absence of profits and earnings, the distribution of cash flows and dividends are considered to be returns of capital to investors which are not taxable and taxes can be deferred for as long as 20 years.
For example, SunEdison (SUNE) spun off a YieldCo called TerraForm Power (NASDAQ:TERP) in an IPO last month, which gained 35% on the first day of trading. SunEdison shareholders retain a roughly 67% stake in TerraForm Power while TerraForm Power was able to raise capital significantly cheaper than what SunEdison could have. Meanwhile shareholders of both companies benefit from the dividend payout. The other key for YieldCos is that they are taxed like corporations, rather than a pass-through entity like REITs or MLPs. This could be attractive for certain investors not wanting to deal with K-1s (tax form), but it's also attractive for mutual funds.
Bottom line
First Solar currently trades at a P/E multiple of just over 18x, compared to an industry average of over 23x. Its P/S multiple is 1.9x, against the industry average of 3.9x. It's expected to grow earnings by nearly 80% y/y for 2015, compared to an industry average of just 27%. First Solar is at the forefront of the industry and should capitalize on the fact that utility companies are looking to generate more power from renewable sources. Look for demand to pick up even more as companies look to get projects underway before the 30% Solar Investment Tax Credit expires in 2016.
The solar company has a solid balance sheet -- with over a billion dollars in net cash, which covers over 14% of its market cap. For investors that can stomach the volatility, First Solar is an intriguing long-term play on the constantly evolving energy space.
Disclosure: The author has no positions in any stocks mentioned, and no plans to initiate any positions within the next 72 hours.
The author wrote this article themselves, and it expresses their own opinions. The author is not receiving compensation for it (other than from Seeking Alpha). The author has no business relationship with any company whose stock is mentioned in this article.