By Patrick Crutcher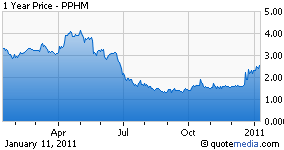 Recently, Peregrine Pharmaceuticals, Inc. (NASDAQ:PPHM) announced that it has initiated several trials in oncology and viral infections. They seem poised to garner attention from the Street over the coming months.
Yesterday, we just got news they started another trial, this one is a Phase II clinical trial in patients with previously untreated genotype-1 hepatitis C virus (HCV) infection. Just days earlier, PPHM announced that it has initiated a randomized Phase 2 trial in patients with previously untreated stage IV pancreatic cancer. This is the second trial that PPHM has started since December, the other being a Phase I/II in advanced liver cancer. We like their approach and diversification. We believe this could be a top stock to follow in 2011.
Bavituximab is an extremely interesting molecule which has created a lot of buzz over the past two years; not just in oncology but also as a potent anti-viral. As PPHM's novel anti-phosphatidylserine (anti-PS) antibody candidate, bavituximab has shown considerable promise in preclinical animal models showing it can cure lethal virus infections. It is a broad-spectrum drug, which means it could potentially be used to treat many different viruses. This is because it improves the cell's defense against all viruses rather than attacking a specific type of virus directly.
Today's trial news builds on this antiviral research. This open-label Phase 2 trial will determine the early virologic response rate of patients after 12 weeks of therapy with Bavituximab, in combination with the antiviral drug ribavirin versus standard of care, pegylated interferon alpha 2a and ribavirin. PPHM also announced they expect to complete enrollment soon in an ongoing Phase Ib HCV trial and report data by mid-year.
Both trials in liver and pancreatic cancer are being conducted in combination with other chemotherapy agents in hopes of synergistic activity between the two to produce better results. This trial is being conducted in combination with the chemotherapeutic agent gemcitabine versus gemcitabine monotherapy. Prior research has shown that "combining the PS-targeting antibody bavituximab with gemcitabine (shown to increase PS exposure on tumor blood vessels) enhances anti-tumor effects and controls metastatic growth without added toxicity over gemcitabine alone in animal models of pancreatic cancer." In the liver cancer trial, they are hopeful that the "growth-blocking mechanisms of sorafenib with the vascular-targeting and immune-reactivation mechanisms of bavituximab offers additive anti-tumor effects for patients with HCC."
They are also investigating bavituximab in 2 Phase IIb clinical trials in non-small cell lung cancer (NSCLC), one of which is looking at the front-line setting with interim data expected sometime in mid-2011. Recently, they also announced that the last patient had been treated in their Phase 2 trial using Cotara in brain cancer (GBM). Cotara has been granted orphan drug status and fast track designation for the treatment of GBM and anaplastic astrocytoma by the U.S. Food and Drug Administration.
Joseph S. Shan, VP of clinical and regulatory affairs at Peregrine said, "We expect top-line data to be available by mid-year 2011 and plan to meet with the FDA to define the optimal registration pathway for Cotara." To us, it sounds like PPHM will have something in store for investors at ASCO 2011, on both the GBM and NSCLC fronts.
We also like their other business venture into bioprocessing, in which they just recently secured a development agreement for in the biosimilars arena. They also have a government contract to evaluate its phosphatidylserine-targeting antibodies for viral hemorrhagic fever which "provides up to $24.7 million in funding for the base period ending March 2011 for a total of up to $36.3 million in funding during the five-year potential duration of the contract," according to the company. Peregrine seems to have a highly diversified pipeline that is utilising external funding sources to help validate and explore some of their clinical candidates.
Roth Capital has high expectations for PPHM in 2011, with several upcoming data releases (Cotara and NSCLC Phase 2 results) as catalysts for partnering talks. Roth has them rated as a "BUY" with a $10 price target. At the end of 2010, PPHM entered into an At Market Issuance Agreement with MLV to the tune of $75 million. We view this deal positively, since it allows them to raise capital as share price increases and it is not selling them at a discount to a fund.They have one of the best unpartnered pipelines amongst small-cap biotechs and we are excited about the potential over at Peregrine.
Disclosure: Long PPHM
Related: