The news that Japan will buy 20% of the EFSF debt gave the markets warm fuzzy feelings for risk. However, upon further inspection we are not convinced that the euphoria is justified.
As the ubiquitous U.S. television commercials for FreeCreditReport.com suggest, it is always best to check your partner's credit before getting hitched. With a debt to GDP ratio of almost 200% and 242 trillion Yen to refinance this year, Japan is not the most credit worthy White Night. The markets appear to agree with us as Japanese CDS have reached 4 month highs.
Japan 5yr Credit Default Swaps (Click to enlarge)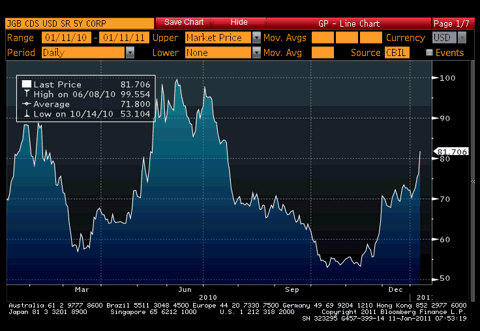 No Euro Impact
The Euro received a bid when the Japanese news broke. Alas, it was short lived when quick draw traders actually read the entire story. Japan is planning on using existing Euro reserves to buy the EFSF debt… thus no open market Euro buying. Don't fret, a weaker Euro is actually good for the region as it boosts global competitiveness.
The EFSF is Flawed
In our view, the entire structure of the EFSF is flawed. The fund does not "solve" the debt crisis, it simply uses the credit rating of the strongest countries to borrow money for the weakest countries. The flaw in this structure is that by supporting the weak, the strong get weaker at the exact time they need their strength.
The EFSF is structured so that when a country needs financial aid, it no longer contributes to the pool of money supporting the EFSF. The orginal amount of the fund was EUR440b. However, removing Greece, Portugal, Ireland, Belgium and Spain leaves the original fund at ~EUR340b. Moreover. ~EUR300b of the total is expected to come from Germany, France and Italy. Of these three countries only Germany and France are AAA rated, which leaves only ~EUR200b of AAA rated support.
Unfortunately, the markets are not that keen on France's ability to support at debt to GDP ratio of 80%. French 5 yr CDS are at record highs.
France 5 Yr CDS (Click to enlarge)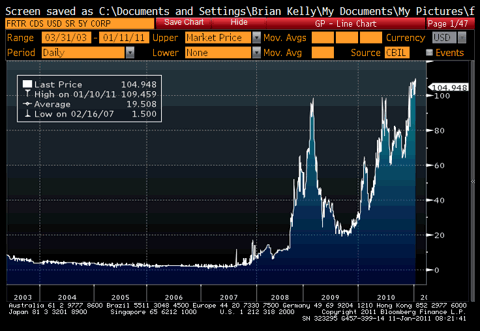 Based on current market sentiment we would not expect France to keep its AAA rating if Germany and France were the sole supporters of the EU. In this case, Germany remains the last AAA standing with an anticipated contribution to the EFSF of ~EUR120b… which has almost already been spent.
In our view, China remains the "White Knight", but that support will come with serious conditions. We expect China to support the Eurozone with the IMF, but only if China gains significant voting power within the IMF.
And since the biggest member of the IMF chooses the location of the headquarters, it would be a nice cherry on top if China moved the IMF headquarters from Washington to Beijing!
Disclosure: Accounts managed by Kanundrum Capital are short Euro and Yen.