Microsoft (NASDAQ:MSFT) intends to end mainstream support for several key Windows products such as Windows Server 2003, Windows 7 and Office 2010 Service Pack 1 among others. The Redmond giant intends to stop providing mainstream support for Windows 7 from January 14, 2015, and place it under extended support thereafter. Here are a few terms used by Microsoft whose definitions are worth knowing:
Mainstream support - This refers to a five-year period during which Microsoft offers free security updates as well as free security patches and fixes for its products on a frequent basis.
Extended support - Once the period for mainstream support is over, Microsoft places products on extended support for another five years or so. During this time, the company continues providing free security fixes for its products. Users are, however, required to pay for other types of updates. This means that come Jan. 14, 2015, Microsoft will still continue to provide free security updates for Windows 7, but requires users to pay for other types of updates.
End of support - This is the period when Microsoft stops providing any kind of support whatsoever for its products (such as what happened with Windows XP in April).
What in effect this means is that Microsoft will no longer continue developing new service packs or adding new features to Windows 7 after Jan. 13, 2015. Windows XP enjoyed three major service packs during its lifetime compared to only one for Windows 7. That seems like a raw deal for the venerable OS.
Significance of Windows Ecosystem
More than half the world's PCs run on Windows 7, more than double the number running on Windows XP, another highly popular OS.
| | |
| --- | --- |
| PC Operating System | Market Share % |
| Windows 7 | 51.22 |
| Windows 8 | 5.92% |
| Windows XP | 24.82 |
| Windows 8.1 | 6.56 |
| Windows Vista | 3.05 |
| Mac OS X 10.9 | 4.12 |
| Linux | 1.68 |
| Others | 2.65 |
Source: NetMarketShare
Microsoft made some big missteps during the advent of the mobile revolution and has never fully recovered. Windows OS has a mere 3% mobile market share compared to around 90% for Android and iOS combined. Microsoft, however, still rules the desktop with all Windows OSes enjoying a combined market share north of 90%.
The Windows ecosystem is extremely important to Microsoft. The company generated revenue of $19.23 billion in fiscal 2013 from its huge installed Windows user-base of operating systems, Microsoft Office and Windows Server technologies. That was about 24.7% of the company's overall revenue.
A study done by Tech Pro Research late last year found that a majority of Windows XP users planned to shift to Windows 7 more than any other Windows operating system after Microsoft withdrew support for the OS.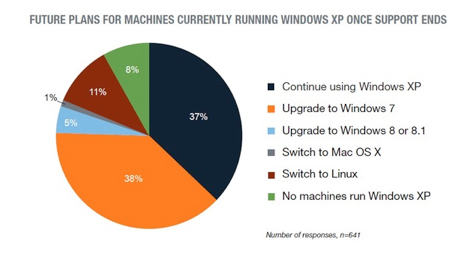 Source: Tech Pro Research
Although there are still plenty of users who are still stuck with Windows XP, a closer look at how the market shares of Windows 7 and Windows XP have been trending over the last 12 months seems to suggest that the Tech Pro study was actually spot on. Windows XP had a 33.66% market share back in August 2013, while Windows 7 had a 45.63% market share. One year later, Windows XP's share of the market has steadily declined to 24.82% while that of Windows 7 has shot up to 51.22%. It therefore appears that Windows XP users have gradually been decamping to Windows 7. Another interesting thing to note is that Apple's (NASDAQ: AAPL) Mac OS X 10.9 has seen its market share climb from less than 1% a year ago to 4.12% currently, suggesting that some Windows XP users could be moving to the Mac camp as well.
A full 12% of respondents of the study said they intended to shift to a rival OS such as Linux and Mac OS X, with only 5% saying they planned to upgrade to Windows 8 or Windows 8.1. That says volumes about the unpopularity of the Windows 8 operating systems. The withdrawal of mainstream support for Windows 7 is likely to cause some jitters for migrating Windows XP users, and probably force them to look elsewhere.
If something like 20% of the remaining Windows XP users decide to jump ship and join enemy camps, then Microsoft might be looking at an attrition of about 5% of Windows users. This is a high level of customer churn, and would in turn mean Microsoft losing about $1 billion in potential revenue from the Windows ecosystem.
Microsoft loses about $400 million in Surface sales every year, and more than $1 billion on Xbox sales every year. The company normally uses profits from its lucrative Android portfolio to support these loss-making divisions. It's estimated that Microsoft makes about $2 billion from its Android patents. This revenue source is however now under threat after the Chinese government revealed details of the patents.
Microsoft can therefore hardly afford to lose such a huge chunk of its Windows revenue, at least not at this time. The company should first develop another OS that will gain wide acceptance before withdrawing support for Windows 7. From the way things are looking, Windows 8 or 8.1 just won't cut it for most Windows XP users and they might simply end up shifting to rival camps.
Perhaps the company should delay withdrawing its support until it first releases Windows 9. Indications are that Microsoft has learned from its mistakes with Windows 8 and will use the lessons to develop Windows 9 into a much better OS.
Disclosure: The author is long AAPL.
The author wrote this article themselves, and it expresses their own opinions. The author is not receiving compensation for it (other than from Seeking Alpha). The author has no business relationship with any company whose stock is mentioned in this article.