It may not be obvious or readily apparent on the surface, but watching and contemplating many of the things Amazon (NASDAQ:AMZN) has been doing over the last year suggests to me that most of its acquisition decisions and internal strategies are being centered around building up its Amazon Prime brand.
Some of this is more obvious than others, as evidenced by the new batch of TV shows for children the company is introducing, which is a nod toward making the service stickier for parents of the children, after the children get hooked on the shows and wouldn't put up with them being cancelled.
Other not-so-obvious strategies would include the recent acquisition of streaming gaming site Twitch, which has a number of things Amazon could do to make Amazon Prime appealing to a demographic base it doesn't have a lot of inroads into, i.e., young males.
That's not to say every acquisition, new initiative, product or service will be solely for that purpose, but I think at least a part of it will be, such as offering something from Twitch that only Amazon Prime members could participate in or buy.
Amazon doesn't break out its Prime numbers in comparison to its regular customers, but several estimates have Prime members spending anywhere from 50% to 100% more than non-Prime members.
To make Prime more compelling and grow it out is an attempt it has to make as the low-end retail market is increasingly becoming commoditized.
(click to enlarge) source: StockCharts.com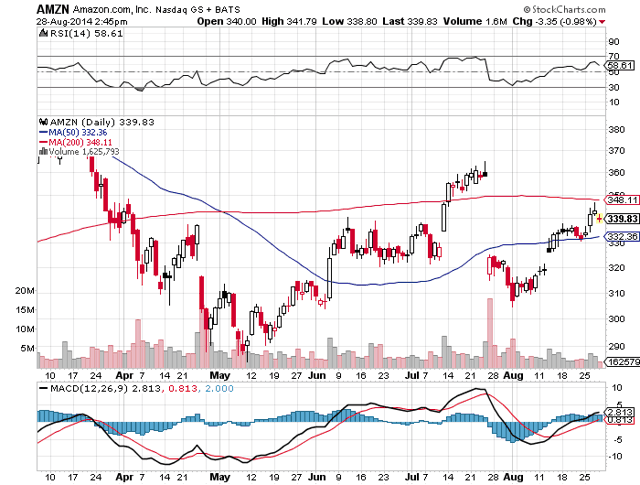 Click to enlarge
TV Strategy
Some financial journalists have pointed to Netflix (NASDAQ:NFLX) being ahead of Amazon in the branding game concerning shows developed in-house or acquired, yet I don't even see that being relevant because the strategies are completely different.
For Amazon, its major purpose for television is to make the program more sticky. I see nothing more to it than that. It's the reason it is introducing so many children's shows, as it attracts kids while making it difficult for parents or grandparents to abandon Prime if the children are hooked on a show.
It also can be part of family TV viewing, which makes it harder to abandon membership.
There are several parts to the TV strategy of Amazon, including its own productions, which this season will debut six children's shows, including "Sara Solves It," "Just Add Magic," "Niko and the Sword of Light," "The Stinky & Dirty Show," "Buddy: Tech Detective" and "Table 58."
Over the next couple of months it will also be releasing new episodes from existing children's series.
Also available through Amazon Prime are a bunch of shows from Viacom's Nickelodeon and others from DreamWorks, although the latter so far only has "Turbo FAST" for customers to view.
This of course improves the stickiness of the service beyond just offering the types of movies and shows that can be seen anywhere. Again, Amazon is tackling the retail commoditization issue with the children's shows, and that is what to primarily watch for with its TV strategy.
It may go after some general films and TV shows, and has in the past, but that's only so it can offer those options to shoppers. What will differentiate and keep customers signing up for Amazon Prime year-after-year, as far as TV goes, is the children's shows.
That's why all the hoopla surrounding awards shows for original programming is irrelevant to Amazon. With Netflix being shut out at the recent Emmys, it does generate questions as to the viability and usefulness of pushing its series to win awards in order to generate buzz and attract more viewers. It will be interesting to see if Netflix suffers viewership declines this season as a result of that with its original series.
Amazon Local Register
How about Amazon's recent foray into mobile point-of-sale with its Amazon Local Register? Does that or can it have any relationship to Amazon Prime?
In my view, as it is, no. But, the company could easily develop an Amazon Prime type of service for business, which would lean toward a wholesaling relationship with small businesses. That would be a major revenue generator if it went in that direction.
I believe Amazon has something much more in mind with its Amazon Local Register than getting a small piece of each transaction from businesses. Now that will produce some decent revenue and earnings, but not the type the company needs.
To me it looks like this is just the first step by Amazon to gain a much bigger footprint in small business, which from there it will likely roll out new products and services to grow market share.
So while it's not a direct connection to Amazon Prime, it has the potential to evolve into a similar type of service for businesses. Maybe Amazon Business Prime would be what it would operate under.
I included this section to show how investors should think about various businesses of Amazon and potential relationships to Amazon Prime.
Twitch Acquisition
I mentioned earlier about the gaming company Twitch which Amazon recently acquired, and that company has all sorts of potential to incorporate some of it under the Amazon Prime umbrella, where those who are members would have access to some elements that are premium services.
Not only would that open the door to the highly sought after young male demographic, but it would offer stickiness to existing customers who are more casual gamers. While the thrust of Twitch is for serious gamers, there are parts of it that offer games that cater to the less serious gaming community, which would represent the more general population.
That means it would have the potential to grow its Amazon Prime memberships significantly, while providing another reason for existing members to stay with it. Since it's likely Amazon will have to boost its membership price occasionally, adding more perks will give members a reason to stick with them even if costs rise over time.
That's the strategy of Amazon for Amazon Prime, and we'll continually see new products and services added as benefits in order to convince members to continue using it.
Beyond Amazon Prime Shipping and Video Benefits
Amazon doesn't reveal how many people join Amazon Prime, but last quarter the company said it had more Prime members than it did a year ago.
Even though there is strong loyalty from members, Amazon is acting pre-emptively to ensure it doesn't have a strong drop-off in users. Free two-day shipping and streaming videos probably won't be enough to maintain stickiness, so it is going to add more perks in order to keep members believing they're getting a super deal, which in my opinion they are.
This is why we will see new additions to Amazon Prime which will add value to the membership and lower resistance when it has to occasionally raise prices to keep up with the costs of free delivery.
Amazon will have to continue to boost the perceived value of memberships in order to keep attrition at a minimum and to grow the business.
Conclusion
I see Amazon Prime as the core foundation to Amazon's business and everything the company does needs to be first filtered through that segment to see if there are parts of a new acquisition, project or service which could be added to Prime to make it more appealing to existing and potentially new members.
When I say core foundation, I mean that it will generate predictable earnings and revenue for the company while it expands into many new markets. For that reason I see it as the priority for the company, and many actions it takes will at least have the possibility it will do something to enhance its Prime members.
Investors need to consider this for each new endeavor the company engages in, as it will give some clues as to the direction of Amazon Prime and how well it will be able to maintain stickiness and predictability in an increasingly commoditized retail market.
It doesn't mean everything related to a new acquisition or project will be fully integrated into Amazon Prime, just that it has potential for adapting some of them, as we'll likely see with the gaming business (Twitch) it just acquired.
Disclosure: The author has no positions in any stocks mentioned, and no plans to initiate any positions within the next 72 hours.
The author wrote this article themselves, and it expresses their own opinions. The author is not receiving compensation for it (other than from Seeking Alpha). The author has no business relationship with any company whose stock is mentioned in this article.