Sam Antar, an expert at detecting white-collar fraud, did a forensic analysis of Nu Skin's (NYSE:NUS) 10-Q filing for Q1 2014. His article, aptly titled, Why Nu Skin Must Come Clean on Troubling Inventory Red Flags, concluded the following:
..if Nu Skin has hit the wall in getting customers hooked on buying overpriced weight loss pills direct from your neighbor, then the first place you would see the flashing reds lights warning of trouble ahead would be in the inventory buildup. We have shown how it is extremely likely - given the growth in future purchasing obligations - that the inventory buildup is most likely affecting China the most. Providing shareholders with a detailed breakdown of where the inventory is located and what it's comprised of is the only way these nagging issues can be laid to rest.
In the second quarter, Nu Skin not only missed its own operating revenue and earnings guidance, but also took a charge for $50 million in an inventory writedown. Though the Q2 inventory writedown by Nu Skin is much less than Antar has analyzed it to be, he was spot on. When the Q2 earnings were announced, the stock promptly tanked. Still, the company's Q2 balance sheet or conference call or subsequent SEC filings have not addressed several of inventory red flags identified by Antar.
Nu Skin Borrowing From Peter to Pay Paul
When Nu Skin filed its 10-Q for Q2 on Aug. 12, my Twitter buddy Marc Cohodes immediately tweeted, "Nu Skin is insolvent. You heard it here first." Almost at the same time, Antar also tweeted, "Nu Skin is borrowing from Peter to Pay Paul." These two gentlemen have more experience in digging through balance sheets and SEC filings. I teach Engineering Economics and have a good grasp of cash flow, discounting and most finance terms. However, digging deeper into balance sheets is not my cup of tea.
After reading the latest Nu Skin's 10-Q myself, I posted the following on my Instablog:
… It is a very convoluted write up about violating borrowing terms and later making an amendment to the terms, which underscores one thing: The dividends will have to be cut (as also suggested by Marc Cohodes) effective this quarter.

... "Material weakness in our internal control over financial reporting..."

"...there is a reasonable possibility that a material misstatement of the annual or interim financial statements will not be prevented..."

My translation: Nu Skin is a going to restate their prior quarter results and revise revenues and profits down.

For 6 months ending June 30, 2014 - Nu Skin has a negative cash-flow of $184 million (vs. a positive $188 million for the same period in 2013).
On Aug. 20, Nu Skin filed form 8-K in which they reported an amended agreement for their credit line with Bank of America. This reinforced my belief that Nu Skin is cash strapped. I was also very convinced that they are going to cut dividend sooner than later.
Contrary to my expectations, Nu Skin declared quarterly divided of 34.5 cents/share on Aug. 19, which arguably doesn't necessarily indicate the actions of a company which is insolvent. I thought I might have made a mistake in reading their financial condition correctly. Though I trusted the judgment of Marc Cohodes more than my own instincts, I decided to dig deeper into their borrowing and put some pieces of the puzzle together.
The following section from the latest 10-Q, filed by Nu Skin on Aug. 12 (for quarter ending June 2014), is relevant: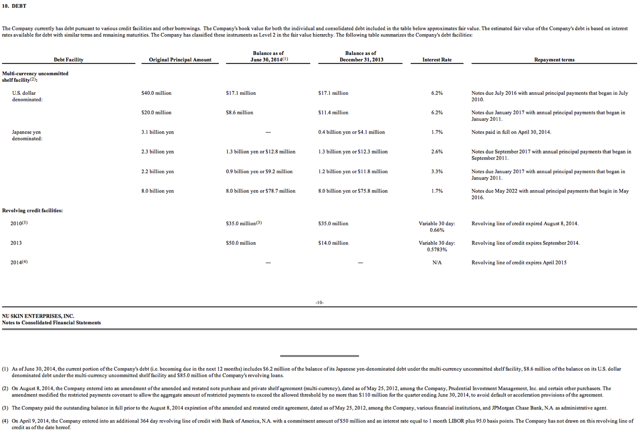 On Aug. 20, 2014 Nu Skin filed an 8-K report, which outlined amendments to the loan agreement in Exhibit 10.1 Relevant section of the 8-K report is given below:
Item 1.01 Entry into a Material Definitive Agreement.
Item 2.03 Creation of a Direct Financial Obligation.

On Aug. 15, 2014, Nu Skin Enterprises, Inc. (the 'Company') entered into an amendment (the 'Amendment') of the Company's loan agreement with Bank of America, N.A., dated as of Sept. 5, 2013 (the 'Agreement'). The Amendment extended the term of the Agreement from Sept. 4, 2014, to Dec. 3, 2014, and changed the applicable interest rate from LIBOR plus 0.425% to LIBOR plus 0.95%. All other terms and conditions of the Agreement were unchanged by the Amendment. Bank of America, N.A. currently provides other banking services to the Company, including an additional revolving line of credit.
Based on the above-mentioned relevant sections of Nu Skin's SEC filings, I have reconstructed the following table, which gives a closer look at the company's credit line maneuvers.

Here are my observations based on the above Nu Skin SEC filings:
As of Aug. 12, 2014, the company said that it has not yet borrowed from CL #3 (10-Q2-2014)
As of June 30, 2014, bankers led by JPMorgan walked away from extending credit to Nu Skin
Notice that the terms of CL #3 by Bank of America, issued in April 2014, are beyond junk status - a 100% jump over the spread in CL #2
The company seems to have paid CL #1 by borrowing against CL #2, which they later got extended by 3 months (see below)
Just four months after getting CL #3, the company went to Bank of America to amend CL #2 terms. Bank of America gave a 90-day extension again with a 100% increase in spread
Not sure what interest rate terms are for the subsidiaries in Japan and S. Korea
In the recent 10-Q, the company stated that $80 million in debt payments are due in September (Likely the combined balance on CL #2 and CL #4)
By amending CL #2, company bought more time for the $50 million due in September 2014. However, after recent negotiations with B of A, this payment is now due by Dec. 3, 2014, merely a 90-day extension at an additional interest due to higher spreads
By September 2014, the company has to pay back $30 million under CL #4; I speculate that the company will borrow against CL #3 to pay CL #4
I wonder if Japanese and Korean bankers in CL #4 and #5 can be suckered by the company into extending credit or time or both
The financial situation of Nu Skin looks so bad that you can almost see through the eyes of their bankers. One banker (JPMorgan) walked away recently and another banker (Bank of America) almost became a loan shark and demanded a 100% jump in the spread over LIBOR. Keep in mind that bankers get to see a company's financials much more closely than what shows up in obfuscated SEC filings. Given this, one wonders about the legitimacy of cash and equivalents of $219.5 million (as of June 2014) reported by Nu Skin in their earnings statement.
Given all this, I am very puzzled by Nu Skin's decision not to suspend dividends even under such dire financial conditions. Maybe they have another source of financing lined up or maybe it is hubris on the part of management to declare dividends. Regardless, at the current rate of 34.5 cents/share, every quarter dividends drain nearly $32 million in cash for the company. If in the next few months no financier comes forward and cash flow doesn't turn around, the company may be headed in the default route.
It is also important to note that all this scrambling for cash is akin to digging a new hole to fill an old hole, not to mention the extra cash drain due to higher interest cost. Nu Skin is not using that cash from credit lines for business. Worse, they are using it to pay dividends.
To put it in Antar's words: "Nu Skin is borrowing from Paul to pay Peter." Now ask yourself this question: "Who makes such maneuvers with short-term credit at higher and higher rates?" My succinct answers to this question is: Only those who are teetering on the edge of insolvency.
Violation of Debt Covenants
The following is from Nu Skin's 10-Q for the quarter ending June 2014 (emphasis mine):
As of June 30, 2014, the Company was in violation of its restricted payments covenant under its amended and restated note purchase and private shelf agreement (multi-currency), dated as of May 25, 2012, among the Company, Prudential Investment Management, Inc. and certain other purchasers, as amended (the "Prudential Agreement") and the amended and restated credit agreement, dated as of May 25, 2012, among the Company, various financial institutions, and JPMorgan Chase Bank, N.A. as administrative agent (the 'JPMC Agreement'), which restricts the Company from making dividend payments or stock repurchases to the extent the aggregate amount of such payments exceed $100 million plus the cumulative cash flow from operations less capital investments since June 30, 2012.

Effective Aug. 8, 2014, the Company entered into an amendment of the Prudential Agreement that allows the aggregate amount of restricted payments to exceed the allowed threshold by no more than $110 million for the quarter ending June 30, 2014, and $50 million for the quarter ending Sept. 30, 2014, to avoid default or acceleration provisions of the Prudential Agreement. The JPMC Agreement expired pursuant to its terms on Aug. 8, 2014, prior to which all amounts outstanding thereunder were repaid in full.
The essence of this convoluted write up is that the cumulative payments as dividends or share repurchases or other qualified items from June 30, 2012, should not exceed $100 million (or $110 million -- as amended on June 30, 2014). However, a closer look at dividend payments, stock repurchases and other relevant items indicate that the company may still be under violation of even the revised debt covenants under the Prudential Agreement.
The latest dividend payment raises another question. How will the payment of a dividend to the tune of $32 million in the current quarter ending Sept. 30, 2014, square with the above amended covenants, which restricts total payments to $ 50 million?
Paving the Way for Possible Future Revisions to Earnings
The following language buried in the same 10-Q filing piqued my interest (emphasis mine):
(Item 4) In connection with the preparation of financial statements for the period ending June 30, 2014, management identified a material weakness in our internal control over financial reporting. A material weakness is a deficiency, or a combination of deficiencies, in internal control over financial reporting, such that there is a reasonable possibility that a material misstatement of the annual or interim financial statements will not be prevented or detected on a timely basis.

Management did not maintain effective controls over the presentation and disclosure of hyper-inflationary accounting for its Venezuela subsidiary. Specifically, the Company's controls to evaluate and implement hyper-inflationary accounting for its Venezuela subsidiary when it became material did not operate at the appropriate level of precision. Formal documentation of management's conclusions regarding hyper-inflationary accounting for its Venezuela subsidiary also needed improvement. This material weakness resulted in hyper-inflationary currency translation adjustments for Venezuela being incorrectly recorded as adjustments to Accumulated Other Comprehensive Loss rather than as charges to Other Income (Expense). As a result, management restated its Consolidated Financial Statements for the period ended March 31, 2014. Additionally, this material weakness could result in a further misstatement of account balances or disclosures with respect to the consolidated financial statements that would result in a material misstatement to the annual or interim consolidated financial statements that would not be prevented or detected.
Though Venezuelan currency conversion is mentioned alongside the identified "material weakness" in internal control, the language doesn't preclude the possibility of any future restatements to just Venezuelan situation.
The company has already restated their financials for the fiscal first quarter of 2014 with an amended 10-Q. Conflating this "weakness" with unexplained overhang of inventory red flags identified by Antar, one would wonder if there will be no more future restatements.
Is Another Chinese Government Agency Still Probing Nu Skin?
I read through the class action suit filed against Nu Skin. Here is a quote from that suit:
17. Ultimately, Nu Skin was fined by one branch of the Chinese government, forced to retrain its sales representatives in China and required to shutter certain 'working studios' improperly used by the Company's sales representatives in China to recruit new distributors and direct sellers. Further, based upon information and belief, at least one investigation by Chinese authorities regarding Nu Skin's business is ongoing as of June 2014.
If another Chinese government investigation of consequence is still under way, I am sure that the plaintiffs will be able to prove that the company executives have withheld material information from shareholders. I find this very credible, for the following two reasons:
On the earnings call, the executives were very evasive in answering questions about when and how they expect to engineer a recovery in Chinese sales.
Take a look at inventories related to China -- there is considerable obfuscation.
Given all this, I wondered if at all any activity is happening currently in China for Nu Skin. I do not have the resources to hire an investigator in China. So I looked at some publicly available sources to cross-verify company claims.
The website "MLM Rankings" regularly publishes statistics related to public interest in dozens, if not hundreds, of MLM companies. The site describes MLM Ranking Opportunities as follows:
Ever wonder how a given MLM Opportunity really stacks up against the competition? Once you get past the MLM hype, the MLM marketing sites, and the MLM reps themselves telling you about the company popularity?

MLM Rankings gives you a crystal clear perspective into the world of MLM and Home Based Business Opportunities by compiling an MLM directory based purely on public interest.

MLM Rankings updates occur monthly and are reflected as soon as new metrics and data become available.
I do not know how the data are gathered, but the trend charts published by this site appear to correlate well with business activity at various MLM companies. The following is the latest MLM Activity Trend Chart for Nu SKin provided by this site. (The chart has been reoriented and annotated for easier reading.)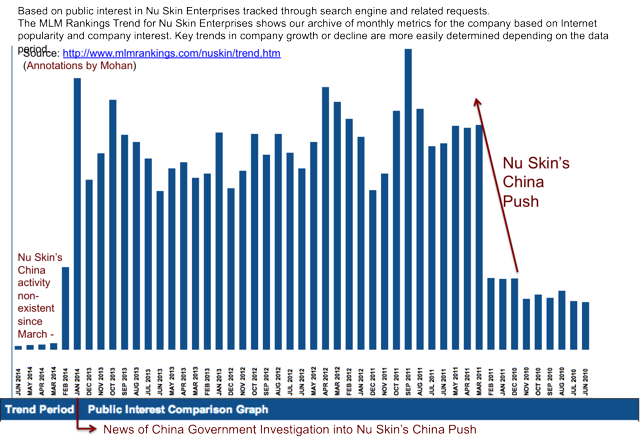 Notice that Nu Skin's activity since March of 2014 is all but non-existing. The "Star Trek" buff I am, I could not resist the urge to quote the venerable Dr. McCoy: "It's dead, Jim."
From the above activity chart, it is not clear what the vertical axis really represents (perhaps an index of an activity). However, the length of the bars appears to have a correlation with an interest in Nu Skin's products and/or the "business opportunity." Though no correlation analysis has been done, the "activity" also appears to correlate with Nu Skin's revenues for the last three fiscal years:

Notice the sudden reduction in activity for February 2014, which followed the reports of investigation by Chinese government in January. It is followed by almost no activity during the March-June 2014 period. Furthermore, activity in this period is much lower than the activity prior to the big push in to China that began in the first quarter of 2011. For nearly four and a half months out of the first six months of 2014, Nu Skin's activity is also less than or almost equal to the levels in 2008.
According to company filings, the 2008 revenues are $1.25 billion. For the first six months of 2014, Nu Skin reported $1.32 billion ($2.64 billion annualized). Essentially, 2014 revenues doubled from 2008 revenues for the same level of activity. Something here is not right. I would like to know the reasons for this discrepancy. Of course, two possibilities are:
The activity report by MLM Rankings could be incorrect and doesn't accurately reflect Nu Skin's business (and Nu Skin earnings reports are accurately reported), and
even if MLM Rankings is accurate, it does not have any bearing on Nu Skin's businesses.
There is a reason to believe that currently Nu Skin is generating insignificant revenues from operations in China. With ample qualification, I would like to state that company is not being forthright about their business activity -- especially in China.
The chart below shows that Nu Skin is forming a bear flag on the weekly, with the next support at 40.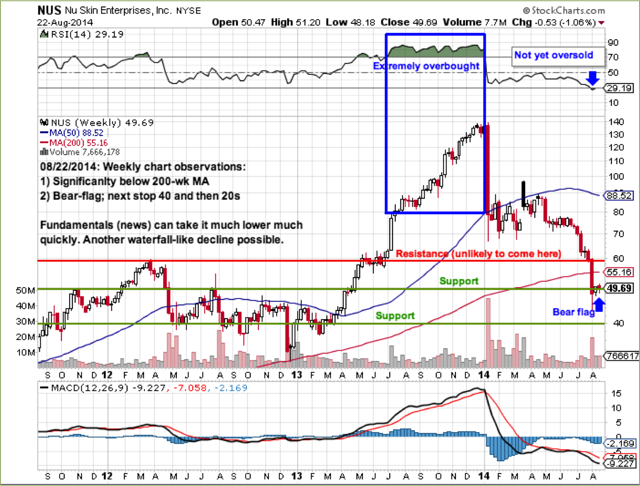 Conclusions
Nu Skin inventories are (still) very high, and most of the red flags identified in Antar's article after the Q1 report still remain unanswered. A closer look at Nu Skin's scramble for and shuffle of credit lines indicate that the company is on the verge of insolvency and is literally on borrowed time. Furthermore, bankers' actions indicate that Nu Skin's financial condition may be more precarious than what we can reconstruct from SEC filings.
The company admitted to being in violation of debt covenants under the Prudential Agreement. One would want to know if the company in compliance with the amended Agreement. Why are the inventories still so high? Has there been materially significant deterioration in activity/interest in company's products and "business opportunity" -- especially in China?
Finally, the company financials are clearly a mess. What will be the next shoe to drop? When that happens, and I don't know when, I am also expecting the stock to implode to multi-year lows.
Disclosure: The author is short NUS.
The author wrote this article themselves, and it expresses their own opinions. The author is not receiving compensation for it (other than from Seeking Alpha). The author has no business relationship with any company whose stock is mentioned in this article.