San Francisco-based game developer Glu Mobile (NASDAQ: GLUU) posted strong quarterly results on 30 July, and raised its full-year revenue guidance to $232 million. But its acquisition of Cie Games - causing a substantial equity dilution - wasn't received well by the investing community. As a result, its shares have plunged almost 30% over the last month. To have a better understanding of where its shares might be headed next, let's take a look at the game developer's short interest data.
Restraining the bulls
Quick recap. Short interest is the aggregate number of short positions that are yet to be covered. The data is released on a bi-monthly basis and indicates the general market sentiment. For instance, a sharp rise in a company's short interest suggests that traders are betting on its stock price to plunge. In contrast, a sharp decline in short interest highlights bullish market sentiment.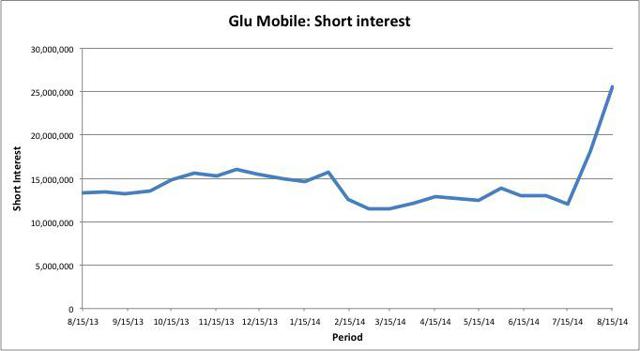 Click to enlarge
(Source: NASDAQ, Updated for August 15)
As illustrated in the chart above, Glu Mobile's short interest has dramatically doubled over the last few weeks, reaching its four-month high. There has been a net addition of 13.48 million short positions during this brief period of time. This radical rise has, in turn, pushed its percentage of shares float to a high 23%. Ordinarily, this would suggest that the market has grown extremely bearish on the stock.
However, simply looking at the rising short interest data doesn't always reveal the full picture. A short squeeze in the making - bullish in nature - also has a high short interest ratio. So we need to look at the average trading volume as well. High trading volume would allow traders to unwind their short positions without having a substantial impact on the company's share price. But amid low trading volumes, covering short positions in large quantities can push stock price higher - something that's commonly referred to as the short squeeze.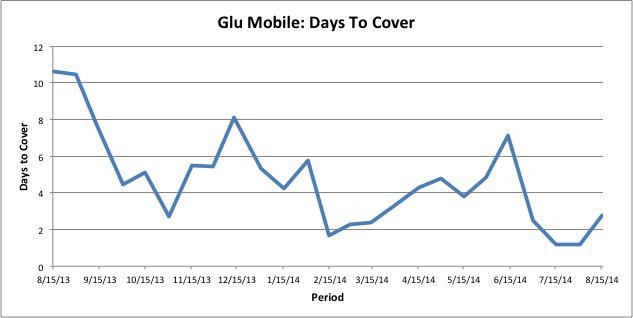 (Source: NASDAQ, Updated for August 15)
In Glu Mobile's case, all the open short positions on August 15 could be covered comfortably within 2.78 days. Also, the aforementioned metric value isn't anywhere near its historic or prominent highs. For a short squeeze to occur, the days to cover metric needs to be over 8 days at least. This rules out the possibility of a short squeeze in Glu's case, and thus, its high short interest ratio should be construed by investors and traders as a bearish warning sign.
Looking ahead
Markets are driven by investment sentiment, and that keeps changing quite frequently. Glu Mobile has become a heavily shorted stock because traders and investors have the following concerns:
High acquisition price paid for Cie Games
Management's guidance is overly optimistic and unachievable
Growth can slowdown in the fourth quarter
Until there's data to disprove any of the aforementioned bearish statements, Glu's high short interest ratio will most likely put pressure on its share price over the short-term period. Hence, short term long-side traders and investors should consider unwinding their positions. However, long-term investors might want to keep a close eye on Glu's short interest and game-specific operational data to accordingly time their long positions at low valuations going forward.
Disclosure: The author has no positions in any stocks mentioned, and no plans to initiate any positions within the next 72 hours.
The author wrote this article themselves, and it expresses their own opinions. The author is not receiving compensation for it (other than from Seeking Alpha). The author has no business relationship with any company whose stock is mentioned in this article.