WPX Energy (NYSE:WPX) has struggled with profitability and production growth on the back of a tough pricing environment in the natural gas market. But this could change in the future on the back of increasing oil production in the near term and higher gas production in the long term.
WPX Energy is an independent natural gas focused exploration and production company formed about two years ago from a spinoff of the pipeline operator Williams Cos (NYSE:WMB). Since its birth, the natural gas prices have improved from less than $3/MBtu in early 2012 to nearly $4/MBtu in mid-2014 but have largely remained below $5/MBtu since 2011.
WPX Energy has significant operations at Colorado's Piceance Basin, North Dakota's Williston Basin in the larger Bakken formation and New Mexico's San Juan Basin.
No Production Growth
WPX Energy has not reported any meaningful increase in production over the last several quarters. Since the beginning of 2013, the company's total output has hovered between 1,230 mmcfe/d and 1,268 mmcfe/d.
WPX Energy's gas production has fallen from 1,007 mmcf/d in Q2-2013 to 965 mmcf/d in Q2-2014. However, the company's gas production from Piceance Basin has been largely flat from last year. Amid the weak pricing environment in the natural gas market, WPX Energy has turned towards oil.
The company's oil production increased from 21,200 bbl/d to 29,000 bbl/d in the corresponding period. As a result, its total production has largely remained unchanged at nearly 1,250 mmcfe/d. This increase came on the back of 53% higher output from Williston Basin. WPX Energy holds more than 88,600 net acres in Williston Basin with proved reserves of 105 million barrels of oil equivalents. It is one of the few liquids weighted assets in WPX Energy's portfolio.
WPX Energy has largely focused on producing oil and gas from Piceance and Williston Basins. On an average, in 2014, the company operated 9 rigs at Piceance, 7 at Williston and the remaining 2 rigs at San Juan Basin.
More Oil
To further strengthen its growth of oil production, WPX Energy has added 200 drilling locations to its inventory at Williston Basin, mainly in Middle Bakken and Upper Three Forks. The company has forecast 55% increase in oil production from its domestic assets, particularly Williston Basin.
Moreover, the company has upped its San Juan drilling program, without increasing its number of rigs. Buoyed by strong well results, WPX Energy has said that it is going to spud 40 wells at San Juan's Gallup oil play in 2014, up from its initial plan of 29 wells.
Consequently, WPX Energy's oil production will continue growing at a robust pace.
That said, WPX Energy is a natural gas focused company that gets more than 77% of its output as gas. The company isn't looking at any meaningful increase in gas production in the current year. Overall, for 2014, WPX Energy has forecast production of between 1,209 mmcfe/d and 1,256 mmcfe/d.
The guidance clearly shows that like last year, the company's total production will continue to hover around mid-to-low 1,200s mmcfe/d due to the weakness in natural gas production, which will be partly offset by the increasing oil production.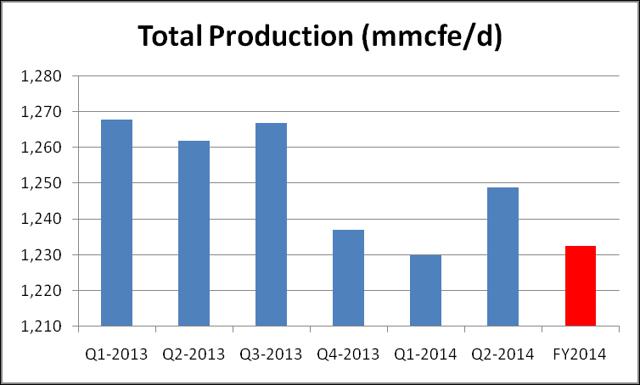 Trail Ridge Update
That said, WPX Energy is gearing up to develop hundreds of new wells at its core asset in the coming years which could allow it to capitalize on the increasing gas prices in the long run.
Yesterday, WPX Energy announced that it will start developing its Trail Ridge asset in the natural gas and NGL weighted Piceance Basin with a subsidiary of Houston-based G2X Energy. As part of the deal, WPX Energy has sold 49% of its working interest in Trail Ridge which represents 27 bcfe of proved reserves to TRDC, a subsidiary of G2X Energy. In return, WPX Energy will receive $40 million cash and will remain the operator. TRDC will also make additional investments of $170 million for its 49% interest.
Additionally, WPX Energy will bear 28% of the development costs and will receive 51% of the production and reserves until TRDC receives funding commitments for the additional investment.
The two companies will develop eight wells this year, 25 wells in 2015, 50 wells in 2016 and 100 wells per year thereafter.
The Piceance Basin assets form the backbone of WPX Energy's operations. Overall, WPX Energy's position at Piceance Basin consists of more than 3,000 bcfe of proved reserves spread over more than 220,000 net acres. The company's Piceance Basin assets represent more than 60% of its total proved reserves and was responsible for more than 60% of its total natural gas production in the previous quarter.
Bottom Line
The increase in crude production in the near term could allow WPX Energy to improve its bottom line. In the long run, the company is gearing up to increase its core natural gas production which will enable it to capitalize on the improvement in the commodity's prices. It appears that WPX Energy, which has been reporting GAAP net losses, is a turnaround story in the making.
WPX Energy's shares have risen by 29.2% this year, currently hovering around $26.30. The shares are priced nearly 40 times the company's earnings estimates for this year, which makes it considerably expensive than most of the other natural gas weighted E&P companies such as Chesapeake Energy (NYSE:CHK), EQT Corp (NYSE:EQT) and Rice Energy (NYSE:RICE). Nonetheless, WPX Energy warrants a deeper look on weakness.
Notes:
WPX Energy 2Q 2014 News Release
WPX Energy 2Q 2014 Slide Presentation for Analyst Call
Disclosure: The author has no positions in any stocks mentioned, and no plans to initiate any positions within the next 72 hours.
The author wrote this article themselves, and it expresses their own opinions. The author is not receiving compensation for it (other than from Seeking Alpha). The author has no business relationship with any company whose stock is mentioned in this article.