Introduction
Once an investor enters retirement it is not uncommon that their investment objective turns from total return to a safe income stream. And if they planned and prepared properly, the income they receive from their portfolios can support their families during their remaining so-called Golden years. Icing on the cake would be the potential for their income stream to grow. Although income growth is important to fight the threat of future potential inflation, it might also be wise and prudent to consider it secondary to safety.
In the past, and during normal economic and market environments, bonds and other fixed income instruments could be turned to for their high yield and safety characteristics. However, with interest rates continuing at historic low levels, the typical advantages to fixed income have been greatly reduced. The highest quality bonds available today offer little in the form of yield, and due to the threat of potential future interest rate increases, their typical safety attributes have also been reduced.
Simply stated, if interest rates rise in the near future, the prices of previously purchased bonds will fluctuate downward. Depending on how high and how quickly interest rates rise, the potential volatility of previously issued bond prices could be abnormally high. Moreover, if interest rates were to return to historical norms, the possibility exists that bond prices could fall to the same degree or worse than we saw equity prices fall during the Great Recession. Therefore, I would argue that the only truly safe bonds today are those of very short duration. Unfortunately, high-quality short-term bonds do not pay very much.
This low interest rate environment has motivated many investors to turn to blue-chip dividend paying stocks to provide income for their retirement portfolios. In the general sense, given these conditions, I'm in favor of that action, at least temporarily until interest rates return to more normal levels. And of course, given that investors are careful to only invest when valuation is sound. However, not all dividend paying common stocks are the same. Even the Dividend Champion companies that I am covering in this series possess significantly different characteristics of safety, growth and yield.
AT&T and Consolidated Edison a Tell of 2 Dividend Champions
AT&T (NYSE:T) and Consolidated Edison (NYSE:ED) are both high-quality Dividend Champion companies that currently meet the strictest definition of current fair valuation. Both of these companies have high credit ratings of A- by S&P Capital IQ, and both of these companies have long been considered blue-chip stalwarts.
However, although I consider fair valuation one of the most important metrics for retired investors to consider, it should always be remembered that fair valuation alone does not indicate the opportunity for achieving a high future return. Prospective investors must also take into consideration the growth potential of any company under consideration for investment in order to assess a reasonable expectation of future return.
Conceptually, fair valuation is primarily a characteristic of soundness. Moreover, it should be understood that fair valuation is most relevant in the current time. This is not to say that it has no relevance to future time, because it does. However, future time can only be calculated based on an estimate of what might occur. In contrast, when looked at in current time, the fair valuation calculation is more fact-based. In other words, current fair valuation is primarily calculated on earnings that have already been booked.
To put this into another perspective, current fair valuation reflects soundness based on the earnings yield that the prospective investment currently offers. Earnings yield is simply the inverse of the P/E ratio and can be calculated by dividing earnings by price (E/P= earnings yield). Metaphorically, this simple calculation merely tells you what yield the current earnings of the company would provide you if you owned the whole business and were therefore entitled to all of its profits.
More simply stated, this calculation simply tells you if the company's current profitability provides an adequate enough return on your investment to compensate you adequately for taking the risk of investing in it. This is the essence of what a currently sound investment means. However, as previously stated, it does not simultaneously tell you what your future returns might be. To determine this, you are required to make some rational and reasonable estimate of what the future earnings growth potential of each given company might be.
To summarize, current fair valuation is for the most part a risk assessment. However, once you have determined that a company you are considering for investment is soundly valued, you must then focus on potential future growth in order to assess what your future returns might be. It is only through the combination of current soundness, and future earnings growth potential that you can determine whether the investment in question is potentially capable of meeting your risk tolerance, goals or objectives.
With the above in mind, let's take a deeper look at the Dividend Champions AT&T and Consolidated Edison with the objective of assessing how and where they might or should fit into a retiree's portfolio. A secondary benefit of this exercise is in the realization that all common stocks are not the same. Both of these companies meet the criteria of a Dividend Champion prepared by fellow Seeking Alpha author David Fish that has increased their dividends for at least 25 consecutive years. However, when you compare their operating and/or historical return characteristics with the Dividend Champions that were reviewed in part one of this series found here, you quickly discover more differences than similarities.
There are two primary differences that are worthy of focusing on between these Dividend Champions and the ones I covered previously. Both of these blue chips offer higher current dividend yields than most of their counterparts. On the other hand, both of these blue chips have historical and expected future earnings growth that is significantly lower than their counterparts.
Consequently, I would consider both of these research candidates appropriate for those investors desirous of or in need of a high current yield. However, although neither of these companies is expected to provide high future earnings growth, one of them does offer a reasonable potential to provide a double-digit future total return. Utilizing what has been discussed thus far coupled with a more detailed analysis should provide a clue as to which company offers the highest future total return. But more importantly, will provide insight as to how and where each of these candidates might appropriately fit in a retiree's portfolio.
Consolidated Edison:
Regulated utilities have long been considered conservative income-producing stocks. Much of this view has been predicated on their historical monopolistic and regulated operating environment. However, there are many changes taking place in this industry, and the historical conservative risk profile of utility stocks is likely to change, and in many respects, has already changed.
However, for the most part Consolidated Edison retains these old-fashioned attributes. The majority of the revenues and profits are derived from the delivery of electricity, natural gas and steam to customers in New York City and surrounding areas. For those not familiar with this utility, I offer the following excerpts from their website's corporate profile:
"Corporate Profile

For more than 180 years, Consolidated Edison, Inc. has served the world's most dynamic and demanding marketplace - metropolitan New York.

Con Edison's principal business segments are Consolidated Edison Company of New York's regulated electric, gas and steam utility activities, Orange & Rockland Utilities' (O&R) regulated electric and gas utility activities, and Con Edison's competitive energy businesses...

As a result of our performance, we have been able to increase our dividend each of the past 40 years. Few companies can match that achievement. We remain committed to providing our shareholders a superior, low-risk, long-term total return."
I believe that possessing knowledge about a company's historical operating results and stock performance returns, to include dividends, if any, are important pieces of information to analyze prior to initiating a more comprehensive research effort. Therefore, once a company shows up on my radar screen I typically turn to the F.A.S.T. Graphs™ research tool and run what I call my 15, 10 and 5 calendar year historical analysis and review.
This provides me a look at their historical long-term operating results, intermediate operating results and how they performed on an operating basis more recently (Note: this analysis process over various calendar year time frames include the current year we are in, plus a forecast for next year).
When I run this analysis on Consolidated Edison, important facts are revealed. First, and perhaps foremost, it becomes very clear that this is consistently a low-earnings growth company. Consequently, it becomes clearly evident that high or even above-average capital appreciation is likely not available when investing in this enterprise.
Next, a highly correlated relationship of stock price (the black line on the graph) to operating earnings (the orange line) is clearly revealed. Additionally, periods of overvaluation when price is above earnings, undervaluation when price is below earnings and fair valuation when price is touching earnings is reliably expressed. Consequently, if I have an appropriate reason or desire to invest in this enterprise, I now have a clear perspective of when to buy, sell or hold.
By appropriate, I am referring to the stock filling a need for considerations such as safety, growth or income. In the case of Consolidated Edison, the primary reason I would choose to invest in this company is for its above-average dividend yield, and secondarily for its safety and predictability of price movement. Conversely, if I was looking for high total return or high growth of income, I would not consider this company an appropriate choice.
I will let the following earnings and price correlated graphs followed by their associated performance results provide the evidence of my analysis and support of my above conclusions on Consolidated Edison. When reviewing the associated performance reports I suggest that the reader focus closely on the Dividend Cash Flow Table and the total dividends declared for each time frame graphed. Clearly, the principal reason to invest in this company is for its high current yield and above-average total cumulative dividends paid over each time frame presented below.
However, there is an important caveat that is crucial to successfully investing in a low-growth high-yield stock. The importance of valuation is intensified because there is little margin for error. If you invest in this company when the price is above the orange line, the historical precedent for expected short-term price drops or losses can wipe out years of what the high current dividend yield advantage offers.
15 Calendar Year Earnings and Price
From beginning of 2001 to current time, Consolidated Edison grew operating earnings at the average annual rate of 1.2%.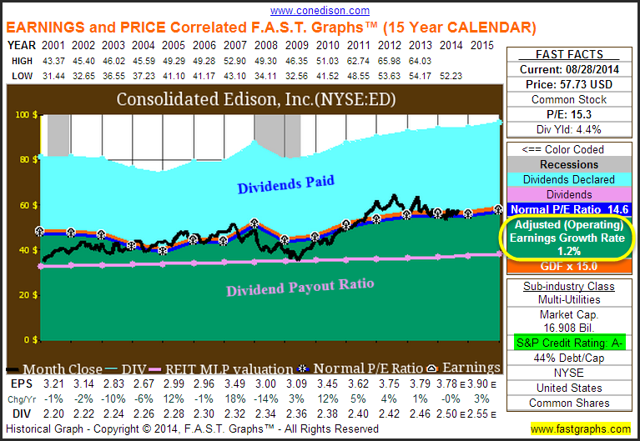 15 Calendar Year Performance
Considering that this was a time when the overall market produced sub-par capital appreciation, Consolidated Edison was able to produce a similar result. However, here we see the advantage that a high-yield dividend growth stock provides. Total dividends declared by Consolidated Edison were approximately three and a half times higher than the S&P 500.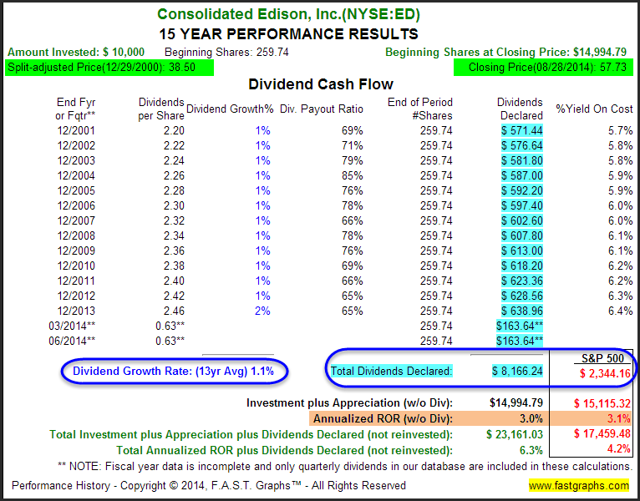 10 Calendar Year Earnings and Price
From beginning of 2006 to current time, Consolidated Edison grew operating earnings at the average annual rate of 2.4%. Although moderately higher than the 15 calendar year time frame, growth over this period of time continues in a range considered low growth.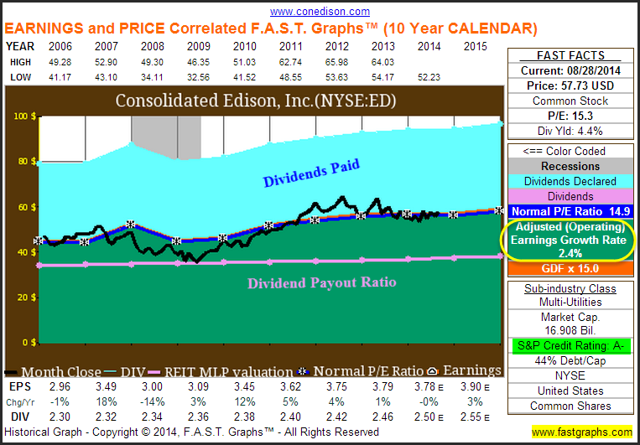 10 Calendar Year Performance
Since 2005 Consolidated Edison's below average earnings growth rate caught up with it as the S&P 500 generated an annual total rate of return approximately twice as high. However, once again, the above average yield of this blue-chip utility produced significantly more total dividends declared. Consequently, Consolidated Edison's total return ended up comparable to the S&P 500.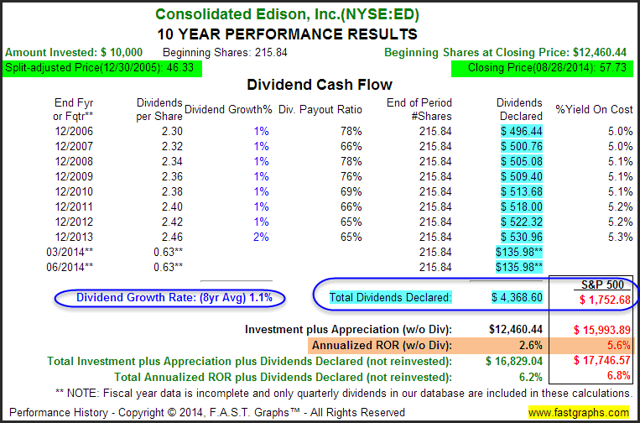 5 Calendar Year Earnings and Price
From beginning of 2011 to current time, Consolidated Edison grew operating earnings at the average annual rate of 2.5%. Although moderately higher than the 15 calendar year time frame, and only slightly above the 10 calendar year time frame, growth over this period of time continues in a range considered low growth.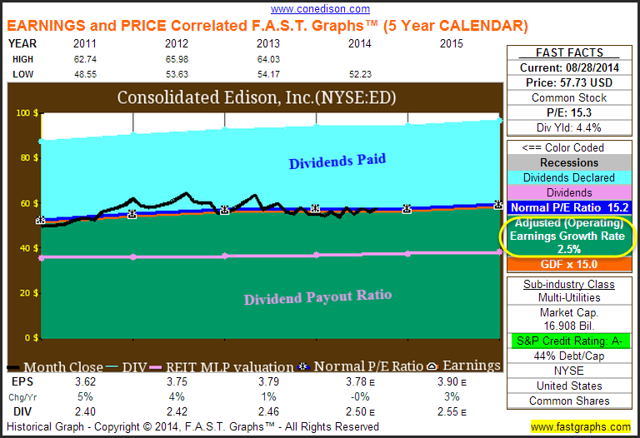 5 Calendar Year Performance
Since the beginning of 2011, Consolidated Edison's capital appreciation results fell significantly behind the S&P 500. However, once again, total dividends declared were significantly higher than the S&P 500, which generated an acceptable total return of 8.3% per annum.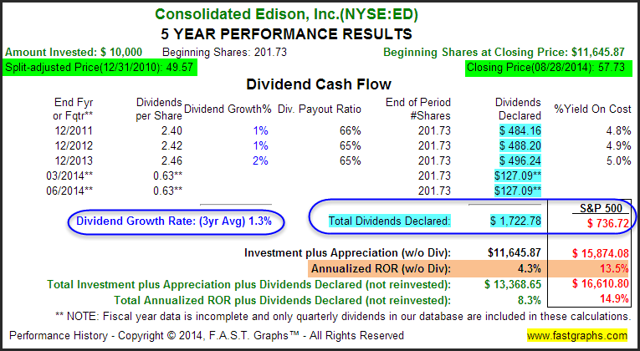 AT&T:
The following very short business description, courtesy of S&P Capital IQ, provides a brief overview of the company's current business. However, the reader should consider that this company has changed and evolved over the years since it was founded in 1885. Today's AT&T began as Southwestern Bell Corporation, which was one of the seven regional Bell operating companies that was created by the federally mandated forced antitrust breakup of the original Ma Bell. In 1995, Southwestern Bell changed its name to SBC Communications, and in 2005 they purchased the former AT&T Corp. and took on their iconic brand and stock symbol.
"AT&T Inc. provides telecommunications services in the United States and internationally. The company offers its services and products to consumers in the U.S. and services and products to businesses and other providers of telecommunications services worldwide.

The services and products that the company offers vary by market, and include wireless communications, local exchange services, long-distance services, data/broadband and Internet services, video services, telecommunications equipment, managed networking, and wholesale services."
Just as I did with Consolidated Edison, the following provides my 15, 10 and 5 calendar year historical analysis and review on AT&T. As the reader reviews the following graphics they should keep the company's recent evolution in the back of their mind, especially when reviewing the longer-term graph. Nevertheless, we once again see a very high correlation between AT&T's stock price and its earnings over time.
However, as you review this series of graphs I draw your attention to the company's current valuation, or more precisely stated - current undervaluation. In contrast to Consolidated Edison, which I consider available at a sound valuation, I believe that AT&T, with a P/E ratio of 13.5 and a current yield of 5.3%, is moderately undervalued. As I will discuss in more detail a little later, this moderate undervaluation makes AT&T the clear winner between these two research candidates presented in this article.
15 Calendar Year Earnings and Price
From beginning of 2001 to current time, AT&T grew operating earnings at the average annual rate of 1.1%. However, I remind the reader of the transformation of AT&T discussed above.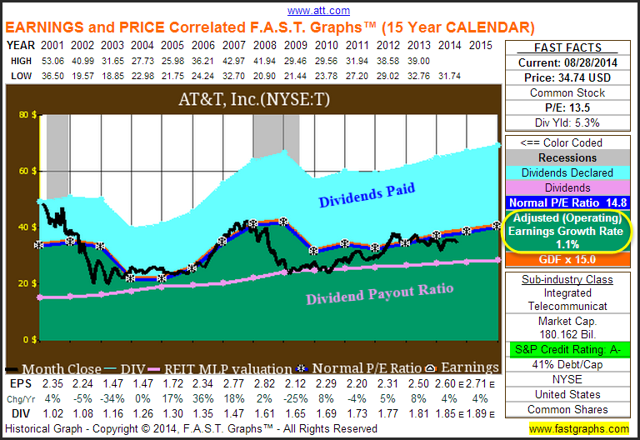 10 Calendar Year Earnings and Price
From beginning of 2006 to current time, AT&T grew operating earnings at the average annual rate of 4.2%. Although higher than the 15 calendar year time frame, growth over this period of time continues in a range considered low growth.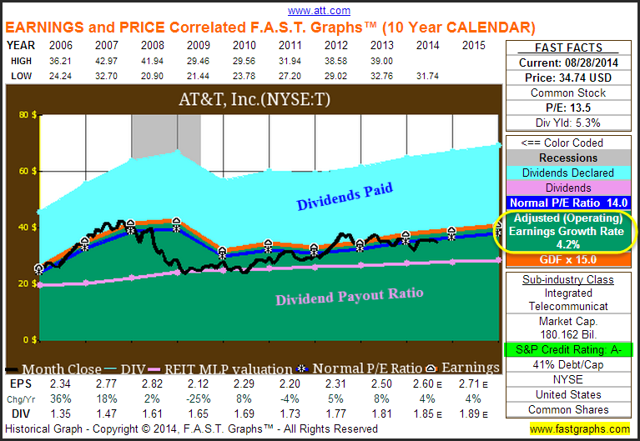 10 Calendar Year Performance
Since 2006 AT&T slightly underperformed the S&P 500 based on capital appreciation. However, the significant yield advantage of AT&T allowed it to generate a total rate of return that was higher than the S&P 500. Dividends matter, and in this case, they matter a lot.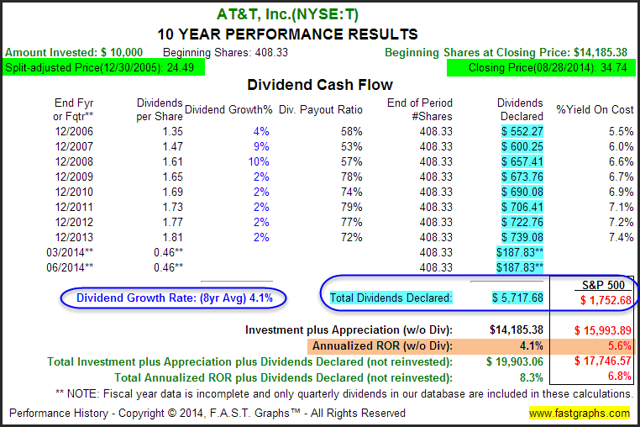 5 Calendar Year Earnings and Price
From beginning of 2011 to current time, AT&T grew operating earnings at the average annual rate of 3.4%. Although higher than the 15 calendar year time frame, and slightly below the 10 calendar year time frame, growth over this period of time continues in a range considered low growth.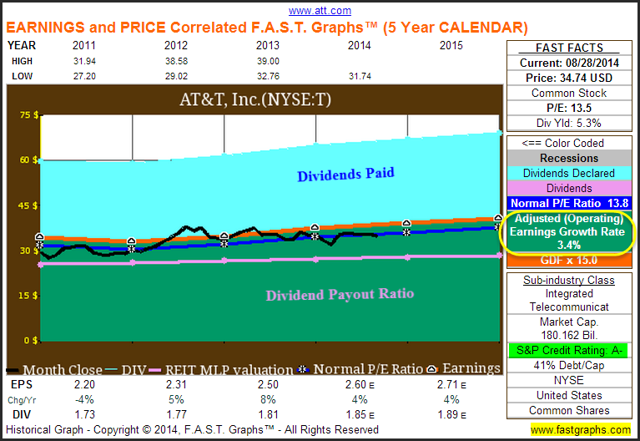 5 Calendar Year Performance
As we saw with Consolidated Edison, AT&T significantly underperformed the S&P 500 based on capital appreciation. However, this high-yielding blue-chip produced almost three times the total dividends compared to the S&P 500. If income is your objective, the dividend difference is significant.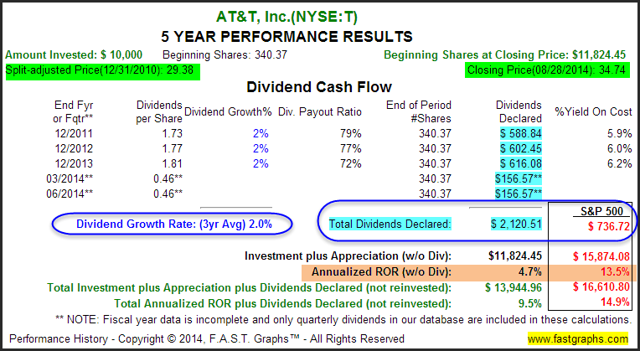 AT&T Earnings Forecast for Fiscal 2014 and 2015
Although the future estimated earnings growth potential of AT&T is better than the expectations for Consolidated Edison, it could be argued that it is only moderately better. Analyst estimates are not always perfect, and the possibility certainly exists that the estimated growth rate of either company covered in this article could come in at plus or minus levels to expectations.
On the other hand, the current estimates for AT&T's future earnings growth are reasonably consistent with what they achieved over the past few years. To be clear, I am referring to the consensus estimates of 31 analysts expecting a 4% growth rate for this fiscal year followed by 32 analysts forecasting earnings growth again at 4% for next fiscal year. This is typically as far out as I am comfortable looking when considering analysts' estimates.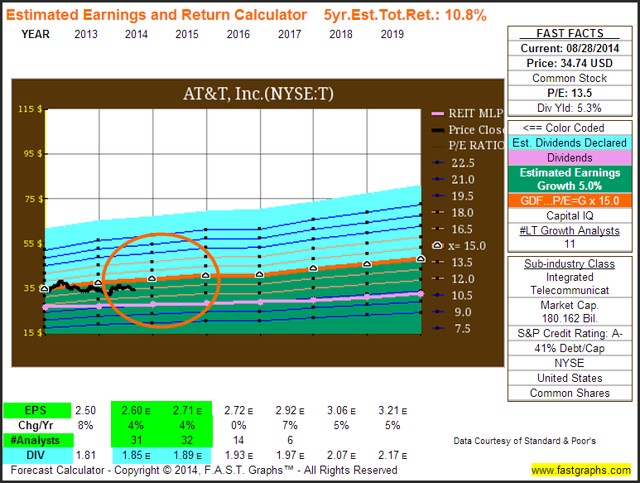 If I Had to Choose One of These Candidates Today It Would Be AT&T
To put these next couple of years' earnings forecasts into perspective regarding the potential total return that AT&T offers investors, I offer the following Earnings Yield Estimates table with estimated target price and total return calculations for fiscal year-end 2015.
If the reasonable assumption that AT&T did achieve the earnings growth to $2.71 by fiscal year-end December 2015, and that their dividend followed suit and increased to $1.89, and further assuming that their P/E ratio reverted to the historical mean of 15, then AT&T's target price would be $40.72 and shareholders could achieve a 20.2% compounded total return. Consequently, I argue that the primary factor that makes AT&T the clear winner in this "Tell of 2 Champions" can be for the most part attributed to its current undervaluation.
10 Year Earnings Yield Estimates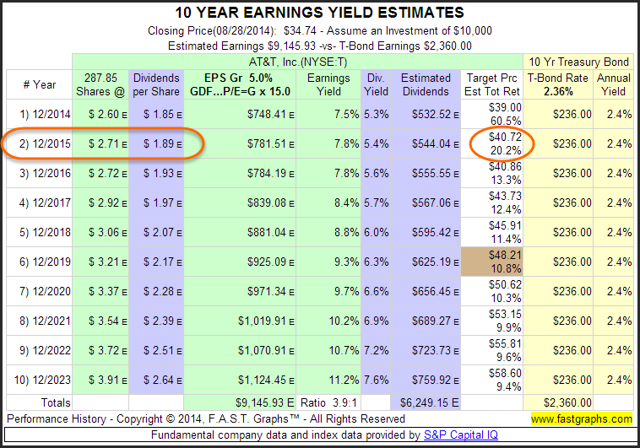 Summary and Conclusions
This series of articles is focused on analyzing blue-chip dividend paying Dividend Champion companies that can be purchased at or close to sound valuation in today's extended market. However, I believe the more important message that this series of articles offers is the reality that there are major differences between individual companies comprising any grouping, including the venerable blue-chip list of Dividend Champions. Not all companies are the same, and it is clearly a market of stocks and not a stock market.
Furthermore, this specific contribution to this series provides additional important messages. Most prominently the notion that individual stocks should be selected based on whether or not their specific attributes meet the specific objectives of the individual investor considering them. In other words, when investing in common stocks it is not always about trying to earn the highest rate of return. There are times when stocks should be selected based on their safety characteristics and/or whether or not they specifically meet the individual investor's current income needs.
I offer that the two companies specifically reviewed in this article are most appropriate for investors requiring the highest current yield possible and the maximum safety available when investing in equities. Either one of these candidates could also be considered by investors looking for a place to prudently park cash over the short to intermediate term. Sound valuation coupled with long histories of dividend increases indicate these companies as appropriate selections because I believe these attributes mitigate risk, at least over the short run.
In Part 4 of this series I will provide a more detailed review of the fairly valued mid-cap and small-cap Dividend Champions introduced in Part 1.
Disclaimer: The opinions in this document are for informational and educational purposes only and should not be construed as a recommendation to buy or sell the stocks mentioned or to solicit transactions or clients. Past performance of the companies discussed may not continue and the companies may not achieve the earnings growth as predicted. The information in this document is believed to be accurate, but under no circumstances should a person act upon the information contained within. We do not recommend that anyone act upon any investment information without first consulting an investment advisor as to the suitability of such investments for his specific situation.
Disclosure: Long ED and T at the time of writing. The author is long ED, T.