Tribute Pharmaceuticals (OTCQX:TBUFF) is a small Canadian specialty pharmaceutical company which in-licenses products for sale in the U.S. and Canada. We think Tribute has been largely overlooked, or is just mostly unknown, by investors - perhaps due to its tiny market capitalization ($26 million). We think the robust revenue growth and improvement towards profitability experienced in the first half of this year will continue with expansion of the company's product portfolio and leveraging off the base of sales/marketing investments the that Tribute has made over the last several periods.
The company has grown revenue from $12.3 million in 2012 to $13.4 million in 2013. Revenue through the first half of 2014 was $7.5 million, up 12% yoy from $6.8 million through the first six months of 2013. Much of this growth has come from the company's strategy to increase their suite of in-licensed products and leverage their sales and marketing infrastructure.
While NeoVisc and Uracyst, the company's proprietary products indicated for joint pain and interstitial cystitis, respectively, have been meaningful contributors to revenue, the company's ever-expanding licensed product portfolio looks to be the long-term driver of the company. Bezalip SR (cholesterol) and Soriatane (psoriasis), which Tribute sells in Canada, have been the primary revenue drivers of the company's portfolio of licensed domestic products, contributing more than 65% of total sales. We think these two products will continue to be catalysts to growth, although more recent additions to the in-licensed portfolio have the potential to steepen the growth curve.
The recent top-line growth has been facilitated by new additions to the company's licensed product portfolio, namely CAMBIA a prescription NSAID indicated for acute treatment of migraines. CAMBIA has quickly become a darling of the company with prescriptions increasing very rapidly (per IMS Health data) since its launch in late 2012.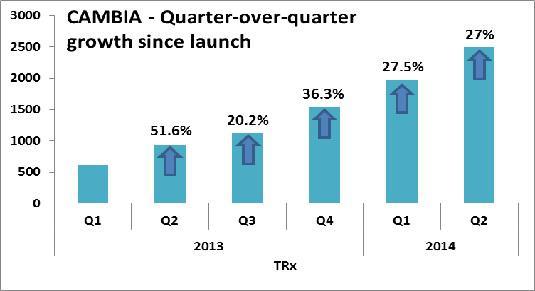 We think CAMBIA can be a real winner for Tribute over the long-term given the fairly sizeable migraine market in Canada and despite the fact that "first-line" treatment is usually done via OTC NSAIDs such as Advil and Aleve. In clinical trials CAMBIA has been shown to have a very rapid onset of action compared to other NSAIDs - a potentially critical benefit to acute migraine sufferers.
Management estimates the prescription migraine market in Canada is valued at about $140 million. An estimated 4 million people suffer from migraine headaches, with approximately 60% of sufferers experiencing two or more attacks per month and 25% having at least one attack per month. For those patients that do seek medical treatment for a migraine attack, most visit their primary care physician (NYSE:PCP), as opposed to a specialist. CAMBIA is the only medication for acute migraines that is actively promoted to physicians in Canada. Tribute has focused most of it's sales efforts at the PCP level, which appears to be paying dividends as evidenced by the rapid uptake in prescriptions.
And while CAMBIA has been the most recent major impetus to revenue growth at Tribute, the company remains aggressive in finding other opportunities to further drive sales and profitability. In May the company gained exclusive Canadian rights to Bilastine, a product awaiting Health Canada approval for the treatment of allergic rhinitis and chronic idiopathic urticaria (i.e. - hives), an annual market the company estimates at approximately $115 million.
Tribute raised just over $30 million in July via the sale of stock (@ $0.70/share) and warrants. With a restocked warchest, the company will almost certainly be on the lookout for other business development opportunities, including additional in-licensing opportunities.
Operating Income, Not Just Revenue Improving…
But while Tribute has had success in growing the top-line, sales and marketing infrastructure investments as well as some moderate upfront in-licensing fees and product launch expenses had swollen operating expenses - that is until lately. These investments pushed operating expenses up to $11.1 million in 2013 from $9.6 million in 2012, resulted in operating loss increasing from $4.4 million in 2012 to $5.1 million in 2013 - despite revenue and gross margin increasing by 9% and 270 basis points over that time.
Fast-forward to the first six months of 2014 and financial improvement can be seen on every major metric. Compared to the year-earlier six month period, revenue is up 12%, gross margin is wider by 320 basis points (50.1% vs. 46.9%) and operating expenses as a percent of revenue are down from 91% to 83%. Furthermore, management has indicated that they expect little to no increase in operating expenses through the remainder of the current year and expect operating leverage to improve from this level going forward. Along with our expectation of continued robust revenue growth, largely related to the company's growing in-licensed product portfolio, we like the company's prospects for rapidly improving profitability.
So while Tribute remains far from a household name and still lingers in the micro-cap space, with continued rapid revenue growth and significant progress towards eventual profitability, we expect the name will command more attention and warrant a higher valuation.
We have constructed a financial model for TBUFF which, based on results through the first six months of 2014, could prove conservative - particularly over the near term.
Our model assumes that Bezalip SR and Soriatane continue to drive the bulk of revenue in Canada and (perhaps conservatively) estimate sales for these two drugs doubling by 2016.
By the end of 2013, CAMBIA had gained more than 1% market share in Canada. We see CAMBIA sales pick up traction as a result of the strategy to launch widely among general practitioners (NYSE:GPS), support from the key opinion leaders as well as improved reimbursement. We think CAMBIA can capture approximately 5% market share by 2016 based on its advantages over other migraine medications.
The recent addition of Bilastine offers another potential potent revenue driver, although will not make a contribution in the very near term as it still awaits Health Canada approval.
We look for more modest growth from Uracyst and NeoVisc, the company's proprietary products, in the near term. However, we see additional revenue opportunities in the future for these products as Tribute looks to expand commercialization in other international territories and potentially, to the U.S.
Tribute is also focused on bringing Bezalip SR to the U.S. market although we do not currently model any U.S.-related revenues for the product as it has yet to gain FDA approval - eventual approval would provide upside to our model.
Valuation:
Using a 10-year DCF model, we derive total equity value of approximately $63 million. We will incorporate the contribution from sales of Bezalip SR in the U.S. as eventual FDA approval becomes more certain. Similarly, we will begin to model sales of Bilastine in Canada as the drug nears Health Canada approval.
Based on our 10-year DCF, we value the company at approximately $1.00/share.
Risks:
We caution that TBUFF is a micro-cap stock and as such, is subject to certain inherent risks including potential for low trading volume, wide bid-ask spreads, and relatively high price volatility.
Risks to our investment thesis include:
Customer concentration risk (over 50% TBUFF's current revenue is generated from just two wholesale customers)
Modeled product revenue could underperform actuals (while we think our estimates are reasonable, if for example, CAMBIA growth stalls our numbers could prove optimistic).
While operating expenses have come down considerably, particularly as a percentage of revenue, the company is still operating at a loss and will need to continue to gain more leverage in operating expenses to eventually turn profitable.

Disclosure: I/we have no positions in any stocks mentioned, and no plans to initiate any positions within the next 72 hours.
Business relationship disclosure: I work as a Consultant Analyst for Zacks Investment Research. The article is written by me and is 100% my opinion. I receive compensation from Zacks for writing equity research reports and providing valuation analysis on this company's stock and expect to do so in the future. Zacks receives compensation from the company. Please see the Zacks Disclaimer for further information: http://scr.zacks.com/Disclaimer/default.aspx
Editor's Note: This article covers one or more stocks trading at less than $1 per share and/or with less than a $100 million market cap. Please be aware of the risks associated with these stocks.