Dunkin' Brands (NASDAQ:DNKN), the parent company of the famous Baskin Robbins and Dunkin' Donuts, may not be an investor's first choice due to a multitude of factors. One of them is that the brand competes with giants like Starbucks (NASDAQ:SBUX). We must admit that Starbucks does look a lot more attractive than Dunkin' Brands.
However, there are a number of factors that need to be considered when determining whether to buy a stock or to sell it. Some analysts might believe that Dunkin' Brands is not in a position to be invested in, but I think otherwise.
It has higher profit margins than competitors.
The brand heavily relies on franchising outlets to explore new markets and grow its business. For the past three years, the company has managed to generate at least 25% cash-on-cash returns per franchise. The company has benefited from relying on franchising. Unlike its competitors, it does not have to face any expenses related to construction and maintaining its stores. This allows the company to have higher profit margins despite lower sales than its competitors. Starbucks has a very impressive profit margin of 58%, but Dunkin' Brands has a higher profit margin of 77%, making it more attractive than Starbucks in terms of profitability.
It has a well-designed expansion plan.
One of the reasons behind selling the stock of a company can be the lack of an expansion plan. Nobody wants stagnant returns; expansion is an absolute necessity for every firm's investors. Currently, Dunkin' Brands' stores are present throughout the Northeast. The West, on the other hand, is a huge untapped market.
The company's management believes that the number of stores in the U.S. can be doubled if this market is tapped. This gives investors all the more reason to believe that the company has a bright future. At the same time, Dunkin' Brands is growing internationally and as a result its sales have been increasing. The methods it uses for expansion allow it to be far more profitable than its competitors.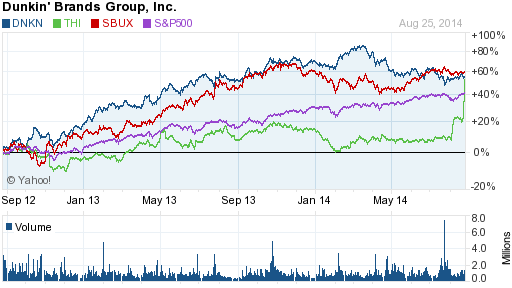 Its revenues and sales have been increasing.
It's true that Dunkin' Brands missed its sales estimates for the second quarter this year. However, this does not imply that the company hasn't managed to increase revenues and sales at all. It reported profits per share of 43 cents -- an increase from last year's 38 cents. At the same time, its revenues rose by 4.6% to $190.9 million. These highly impressive statistics reveal that the company is managing to increase its revenues. This also means that returns to investors are increasing since the overall profits of the company are on the rise.
On another note, the Brazilian coffee production could decline to 18% year to year at the end of the harvesting season. The severe drought in the region has destroyed a large quantity of crops. However, with $2.8 billion in debt and a rising interest rate environment, it is very tough for the Dunkin' management to sustain its current dividend plan.
The company has reliable management.
One major reason behind the fall of a large company is the fact that its management is no longer able to work efficiently. Managerial problems can drive a company to bankruptcy if they aren't taken care of at an early stage. Luckily for Dunkin' Brands, management has never been a source of trouble. CEO Nigel Travis has allowed the firm to develop policies that have added to shareholder value significantly by allowing it to grow internationally as well as domestically. The methods used to train and develop the skills of in-store management teams have been highly successful and the overall performance of the management is worthy of appreciation.
This means the company can remain profitable and is capable of dealing with problems. It is believed that Dunkin' Donuts follows a different geographical strategy than Starbucks. Ironically, California -- a place where cold and wet weather is a rarity -- has proved to be the No. 1 market for Starbucks. The case is the same with Tim Hortons, which has mainly concentrated on the northeastern zone of America. On the other hand, Dunkin' Donuts has also focused on the northeastern zone.

Is Dunkin' Brands a Buy?
I definitely think that Dunkin' Brands is in a fairly strong position and that the stock should be invested in. This conclusion has been reached due to a number of factors. The company is highly profitable and is likely to become more profitable, thanks to its efficient management. Its revenues have been rising and it is in a better position to make returns to its investors. It is true that the company faces some fierce competition, but it also has a plethora of opportunities waiting to be tapped. Expansion into new markets will allow it to grow in size, which will result in an increase in its overall earning levels. In short, Dunkin' Brands is definitely a buy at this point in time.
Disclosure: The author has no positions in any stocks mentioned, and no plans to initiate any positions within the next 72 hours.
The author wrote this article themselves, and it expresses their own opinions. The author is not receiving compensation for it (other than from Seeking Alpha). The author has no business relationship with any company whose stock is mentioned in this article.