By David Russell
TriQuint Semiconductor (TQNT) has returned to a long-term resistance level, and traders apparently think that a top is in.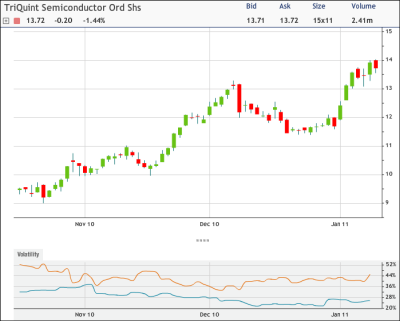 optionMONSTER's tracking systems detected the sale of 2,556 January 14 calls, mostly for $0.20 to $0.30, against open interest of 1,516 contracts. Overall option volume in the chipmaker is 15 times greater than average.
TQNT is down 1.44 percent to $13.72 in afternoon trading but earlier in the session made a nine-year high of $14.03. The stock has rallied 51 percent in the last three months amid frequent call buying as investors priced in strong demand for its semiconductors from the smartphone industry. Its last earnings report on Oct. 27 was better than expected, and management issued bullish guidance.
The shares have now returned to about the same level were they formed a double bottom in 2001, before subsequently collapsing with the rest of the tech sector later that year. Traders often look for such key levels to take profits, causing old support to become new resistance.
Call selling is consistent with such a trend. The trading reflects a similar cooling of enthusiasm in the semiconductor industry as Bryan observed this morning. Other trades in late 2010 also showed that the bullishness was moving to the software sector and away from chips.
Disclosure: No position