We're 7 trading days into the year, and the Russell 3,000 is up 1.10% year to date. The average stock in the index is up 1.66%, and 61% of stocks in the index are in the black for 2011 at the moment.
So how have last year's winners and losers been doing so far this year? We broke the Russell 3,000 into deciles (10 group of 300 stocks) based on stock performance in 2010 and then calculated the average 2011 performance of stocks in each decile.
As shown below, the top 10% of stocks in terms of performance last year have been doing much better than the rest of the index. The stocks in this top decile are up an average of 3.70% year to date. Interestingly, the second best performing decile so far this year is the decile of the worst performing stocks in 2010.
So after 7 trading days, last year's winners have been doing the best, while last year's losers have been outperforming as well. It's the stocks in the middle that are underperforming.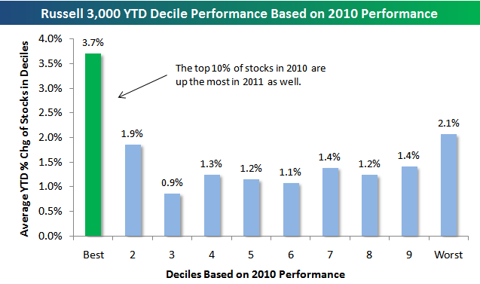 Click to enlarge
At the moment, there are 34 stocks in the Russell 3,000 that are up at least 20% in 2011. Anacor Pharmaceuticals (NASDAQ:ANAC) is up the most with a gain of 61.08%, followed by Zalicus (ZLCS), Lexicon Pharma (NASDAQ:LXRX), Network Engines (NASDAQ:NEI), and Interactive Intelligence (NASDAQ:ININ).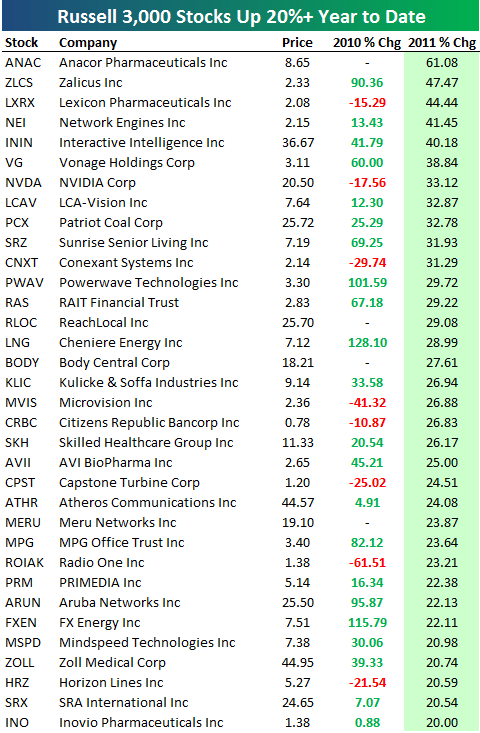 Disclosure: No positions