In the final week of December 2010, I published an article here on SeekingAlpha noting that I believed a correction would occur in January. The primary reason behind this call was deterioration in beta-driven sectors and what appeared to be a bottoming out process in defensive sectors relative to the broader markets. I'm a big believer that successful investing requires an understanding of not just fundamentals and technicals, but also relative strength when compared to other investing alternatives. It is important to realize that while opportunity cost is not easily seen, it is a very real thing to consider. Looking at price ratio charts can give investors a sense of how to minimize that cost.
Sectors lead the market, and not the other way around. As such, let's take a look at the price ratios of high beta sectors relative to the S&P 500 ETF (SPY). The main high-beta sectors are Technology (XLK), Consumer Discretionary (XLY), Industrials (XLI), Energy (XLE), Materials (XLB), and Financials (XLF).
The sector ETFs below are the numerator of the price ratio, while the S&P 500 ETF is the denominator. The idea here is that a rising price ratio indicates the numerator (sector) is outperforming (up more/down less) than the denominator (SPY).

Technology/S&P 500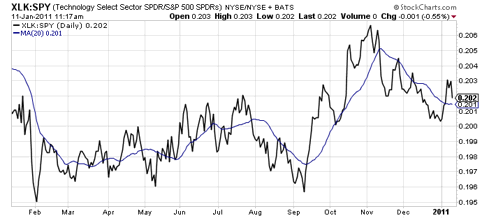 (Click to enlarge)
Comments: Technology's performance has been lackluster since early November, and appears to favor further weakness.

Consumer Discretionary/S&P 500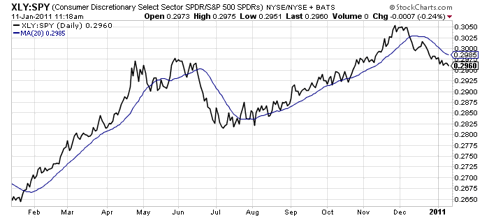 (Click to enlarge)
Comments: Despite strong holiday sales, Discretionary stocks (and most notably retailers) have vastly underperformed broad markets since early December and appear to be continuing their weakness.

Industrials/S&P 500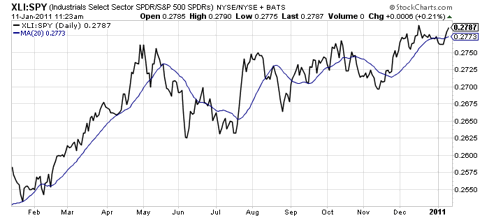 (Click to enlarge)
Comments: While there's a little bit of resurgence, the price ratio is at a relative peak, making continued outperformance potentially difficult.

Energy/S&P 500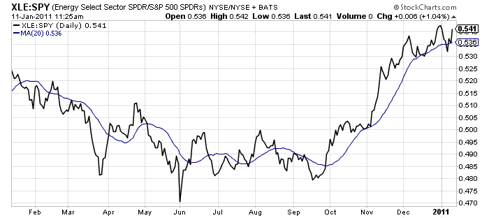 (Click to enlarge)
Comments: Energy was a late leader and strength may continue, but a pause in the near term is probably warranted given the strength that began in October.

Materials/S&P 500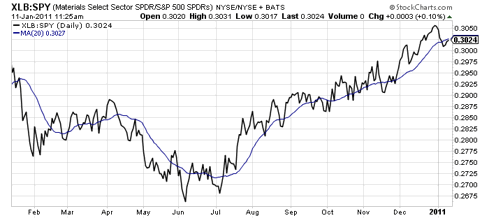 (Click to enlarge)
Comments: The Materials sector appears tired, and may very well pause its overall outperformance in the near-term.
Financials/S&P 500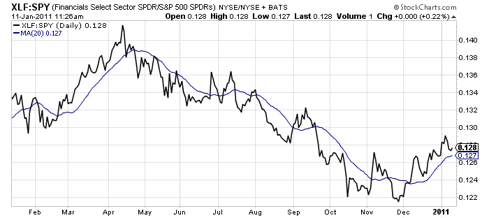 (Click to enlarge)
Comments: Financials have only recently begun to outperform, and continuation of this strength does appear to be likely, particularly given the weakness the group experience last year.
In conclusion: With the exception of the Financials sector, most other aggressive sectors of the market have either already begun to weaken, or are beginning to roll over. In essence, a call on further market gains in the near term is almost exclusively a call on Financials. However, in terms of overall market health, the fact that few sectors are showing strength and that performance has been driven by really only Financials, I continue to believe that a correction is likely to happen sooner than later.

Disclosure: I am long SPY.

Additional disclosure: The author, Pension Partners, LLC, and/or its clients may hold positions in securities mentioned in this article at time of writing.