Molycorp, Inc. (MCP) has raised capital three times in the past 18 months as losses and cash burn amid declining rare earth prices have gone unabated. My original short thesis was that any solution to its cash burn issue would result in dilution to shareholders. After the company announced a $400 million lifeline from Oaktree Capital, short covering sent the stock from $2.00 per share to over $2.30. However, the euphoria over the Oaktree deal may have masked deeper problems at the company; Molycorp's Q2 cash burn of $80 million exceeded my $64 million estimate. My $1.35 per share valuation includes the following cash burn projections: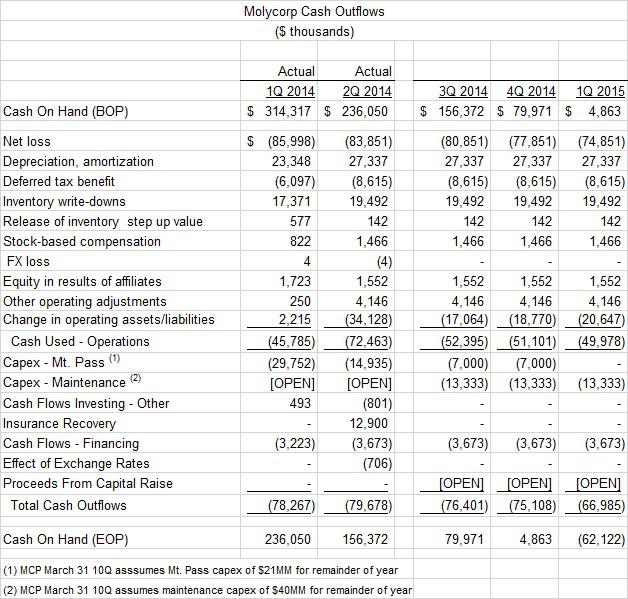 The above chart assumes run-rate cash burn of about $67 million. It does not include the $400 million lifeline from Oaktree, which has not been finalized yet.
CRT Capital Group: Molycorp Could Run Out Of Cash By Q1 2016
I have purposely avoided the terms of the Oaktree lifeline because the deal has not been finalized. However, the proposed terms reflect Molycorp's financial straits. Kevin Starke of CRT Capital Group thinks Molycorp could run out of cash by Q1 2016, and that's after receiving Oaktree's lifeline:
At the current rate of cash burn, factoring in the interest expense from the new debt, Greenwood Village, Colorado-based Molycorp is likely to run out of cash in the first quarter of 2016 if Mountain Pass doesn't go fully online and rare-earths prices don't improve, said Starke.
Longs were assuaged by the financing package. After due diligence, Oaktree had to have known that the company's Q2 cash burn was $80 million; sans a $13 million legal settlement, the cash burn would have been $93 million. That said, Oaktree's loan reflects that of a lender of last resort.
Most Expensive Loan of 2014
According to Bloomberg, Oaktree's 12% interest on its financing package is the highest on a loan made this year. Molycorp has lost money in each of the past 10 quarters and has been unable to pay interest expense from operating cash flow. Interest of 12% (7% cash pay) on an additional $250 million may not help the company's cause; $250 million will be disbursed initially, and an additional $150 will be on the come if the company meets certain operational hurdles. Of the $250 million installment, $110 million will be first-lien debt and the rest structured as a sale-leaseback transaction backed by equipment. The loan will be higher up the capital structure than indebtedness, and carry a higher interest rate than other tranches.
10% Warrants
The financing package also comes with warrants attached. Oaktree will have the option to buy 10% of the company. If Molycorp's share price and business prospects rise, there is potential dilution for longs down the road if Oaktree excerises it warrants. However, if Molycorp were to restructure, Oaktree's senior debt features would position it to control the company. Oaktree may have negotiated the backdoor takeover that Leon Black and Apollo Global (NYSE:APO) attempted a month ago.
Rating Agencies' Reaction
It is unknown how the rating agencies will react to Molycorp's distressed debt financing. Standard & Poor's and Moody's will most likely rate the company's bonds once the transaction is closed and the interest rate, collateral and other terms are finalized.
Conclusion
Oaktree Capital's $400 million lifeline is the most expensive loan of 2014, reflecting Molycorp's distressed status. The deal terms and the company's Q2 cash burn make the stock a sell.
Disclosure: The author is short MCP.
The author wrote this article themselves, and it expresses their own opinions. The author is not receiving compensation for it (other than from Seeking Alpha). The author has no business relationship with any company whose stock is mentioned in this article.
Additional disclosure: I own straddles on Molycorp.