Shares of orthopedic devices major Stryker (NYSE:SYK) rose following the company's upbeat guidance and encouraging fourth-quarter fiscal 2010 revenues, which topped Street expectations. The company is slated to release final results for the quarter and fiscal 2010 on January 25, 2011.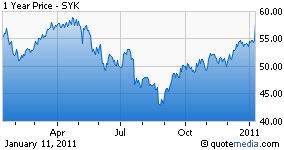 Sales Beat Amid Soft Backdrop
The Michigan-based company stated that its revenues for the fourth quarter clambered 8.8% (8.6% on a constant currency basis) year over year to nearly $2 billion. For the full year, sales rose 8.9% (7.8% on a constant currency basis) to $7.32 billion. The results beat the respective Zacks Consensus Estimates of $1.95 billion and $7.27 billion.
Per the preliminary results, Stryker's domestic sales jumped 11% in both fourth quarter and fiscal 2010 to $1.29 billion and $4.79 billion, respectively. International revenues for the quarter and full-year were $710 million (up 5%) and $2.53 billion (up 5.1%), respectively.
Global Orthopaedic Implants sales grew 4.5% in the fourth quarter to roughly $1.17 billion, reflecting signs of recovery in this business after a meager third quarter growth of 1.2%. Stryker hips, knees and trauma businesses posted growth in the quarter while softness in its spine franchise continues. Worldwide revenues for MedSurg Equipment, Stryker's growth business, surged 15.3% to $829 million in the quarter.
Lifts 2010 Earnings View
Stryker has raised its adjusted earnings guidance for fiscal 2010, which it now envisions would range between $3.31 and $3.33 a share compared with the earlier view of $3.27 and $3.30. The revised guidance represents a 12.2% to 12.9% annualized growth. The forecast compares favorably with the current Zacks Consensus Estimate of $3.31.
The adjusted earnings exclude the charges associated with the company's divestiture of its bone growth product franchise (the "OP-1" product line) to Tokyo-based optical, medical and communication equipment manufacturer Olympus Corporation (OTCPK:OCPNY). Stryker expects to record a charge of roughly $125 million ($77 million net of tax) in connection with the transaction in the fourth quarter.
Initiates a Bright 2011 Outlook
Stryker has unfolded an optimistic outlook for fiscal 2011 with revenues expected to grow 11-13% in constant currency on the back of higher shipments of Orthopaedic Implants and MedSurg Equipment coupled with the contribution from its recently acquired neurovascular business of Boston Scientific (NYSE:BSX). The company expects foreign currency (assuming current exchange rates) to favorably impact sales by roughly 0-1% in first-quarter 2011 and 0.5%-1.5% in full-year 2011.
The company has forecasted adjusted earnings in the range of $3.65 to $3.73 per share for fiscal 2011, representing a 10% to 13% growth over the projected adjusted earnings for fiscal 2010. The adjusted earnings exclude charges associated with the acquisition of the neurovascular business, which the company expects to trim its 2011 earnings per share by roughly 21 cents to 25 cents. The current Zacks Consensus Estimate for fiscal 2011 is $3.68.
Following the announcement of the forecast-beating sales and a buoyant outlook, Stryker's shares rose $1.74 (or 3.2%) to $56.44 in after-hours trading on January 10.
Neutral on Stryker
Stryker remains well positioned for growth across its Orthopedic and MedSurg units driven by new product launches, acquisitions and an improving hospital capital spending backdrop. The company's MedSurg division continues to grow at a double-digit rate, benefiting from the synergies of the acquisition of Ascent Healthcare.
With the sale of OP-1, Stryker plans to redirect a part of the related R&D spending to other internal projects, which it believes has the potential to deliver better returns. Moreover, Stryker remains committed to deliver incremental returns to investors leveraging a solid balance sheet, healthy free cash flow and earnings power.
The company, in December 2010, raised its quarterly dividend by 20% and announced an additional $500 million share repurchase program. Stryker repurchased 6.1 million shares worth $314 million in the fourth quarter, bringing the total repurchases to 8.3 million for fiscal 2010.
However, Stryker faces stiff challenges from Zimmer Holdings (ZMH), Smith & Nephew (NYSE:SNN), CONMED Corp (NASDAQ:CNMD), and Biomet and DePuy, a division of Johnson & Johnson (NYSE:JNJ), in a highly competitive orthopedic industry.
Moreover, Stryker is exposed to pricing and volume pressure in its hip, knee and spine products and a still soft reconstructive implant market, which could potentially dent future earnings.The general sluggishness in the orthopedic market represents a key concern.
We are currently Neutral on Stryker, backed by a short-term Zacks #3 Rank (Hold).