A discussion about investing for income would be incomplete without looking at stocks with high dividend yields. To screen for good candidates, the following criteria were used:
* Current dividend yield over 4%.
* Growth rate of dividends over 3% in the last five years.
* Low or medium fair value uncertainty (as determined by Morningstar's analysts).
I eliminated from the list healthcare companies (since I wrote about them recently), financials (due to lack of transparency and risks that are not easily quantified) and limited partnerships (due to tax issues that can complicate the picture). That does not mean that I think companies in these categories are ill-suited for income investing – only that I wanted to avoid them in this article for the sake of simplicity. Perhaps I will address them later in a separate article. The list of candidates was further trimmed down to what I subjectively consider the best opportunities.
The surviors are two telecoms, AT&T (T) and Verizon (VZ); two consumer goods companies, Kimberly-Clark (KMB) and Pitney Bowes (PBI); and three utilities, Exelon (EXC), PPL Corporation (PPL), and Entergy (ETR).

All of these stocks could have a place in the portfolio of investors looking for income with relatively low risk. Like before, the idea is to get a good return on modest or even no share price appreciation, while being willing to take the risk of the shares moving down strongly. This involves buying shares and selling strangles as described in Part 1.
Judging by options prices, all the stocks are perceived to have roughly equal risk. Implied volatilities for at-the-money options expiring in January 2012 range from 22% to 28%. PBI and PPL do not have traded options further out than July of 2011. Exelon is highlighted here as an interesting trade.
Exelon Corporation (NYSE:EXC)
Exelon, whose 11 nuclear plants in the Midwest and Mid-Atlantic generate 17% of U.S. nuclear power and nearly 4% of all U.S. electricity consumed, is the largest nuclear plant operator in the United States. The company has endured a difficult operating environment in the last couple of years due to weak demand for power and the share price has suffered as a result. Looking ahead, however, the company and its investors should benefit from its strong position as a low-cost producer of electricity with minimal greenhouse gas emissions.
Analysts are on average forecasting just about flat revenue and earnings in 2011 as compared with 2010.
The main reasons this trade would go wrong is if either power prices start falling again or regulatory changes bring on price caps.
Suggested Options Trade
The example assumes that 100 shares are purchased and a put and a call option are sold. For the put option I use the $40 strike price and for the call the $45 strike.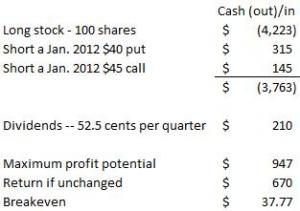 The static return – which assumes no change in the share price – on this trade is $670, which is a 17.8% return on the initial cash outlay or 8.4% taking into account cash to secure the put options sold.
If the share price is above 45 on expiration the shares will be called away, leaving the investor with no position. A 6.6% increase in the share price would give the investor a 25.2% return on the initial cash outlay or a 11.9% return assuming the puts are cash secured.
For this trade to produce a loss, the share price would have the be under 37.77 at expiration, a 10.6% decrease from current prices and a price level only briefly touched in recent years.
Waiting for better timing, and getting paid for it
Many, myself included, are of the opinion that the stock market in general is overextended and due for a pullback. Therefore, now might not seem like the best time to be adding to stock market exposure. One way to approach a trade like the one described above is to establish the initial stock position by selling puts on a monthly basis and selling the strangle later.
For instance, in the case of EXC February puts with a strike of 42 can now be sold for a dollar per share. If you were to sell these puts, five and a half weeks from now you would either find yourself with EXC shares with a cost basis of $41 per share (2.9% under current prices) or you would have collected a dollar per share in premium. If you had the shares put to you, you would then most likely be in a position to collect a higher premium for selling the strangle.
Dislcosure: Author is long EXC and T.