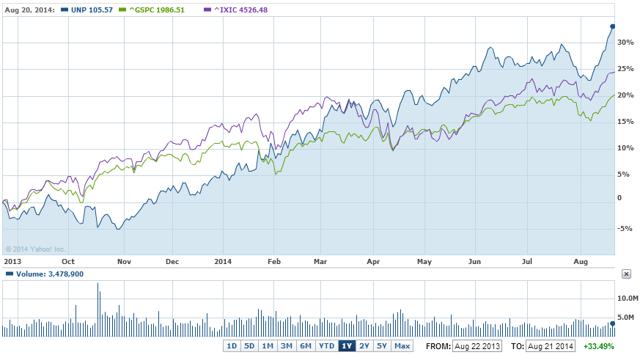 Union Pacific Corporation (NYSE:UNP) transports almost everything that allows the US industry and trade markets to function. In a broad sense, the company transports a wide variety of goods ranging from agricultural products to industrial products, automotive, coal and chemicals. Its crucial role in transportation makes it the backbone of the US economy. UNP's stock gained 33.49% in one year beating the S&P 500 and NASDAQ (shown in the exhibit above).
Investing In the High Moat Railroad Industry
Union Pacific Corporation is an efficient and stable player in the railroad industry. The unique railroad industry has very high moats. Entry barriers are very high as it is very difficult or even impossible to construct new railway lines presently. Existing railway lines were laid decades ago when land was abundant and cheap to acquire. Presently acquiring land to lay one kilometer of rail line would require millions of dollars. Additionally, it would be virtually impossible to persuade all of the land owners of the adjacent land to sell the land needed to lay railway track. Lastly, it is the cheapest and greenest mode of terrestrial transportation. Transportation through airplanes and trucks are expansive compared to railways. All of these features make the railway business very stable. A dynamic company in this stable industry such as UNP that consistently strives to bring efficiency to its operations makes for a very good long-term investment.
Solid Financial Performance and Continued Growth
UNP's historical financial performance in the past decade and continuous growth momentum prove that UNP is a dynamic company with healthy growth potential. An analysis of UNP's stable and consistently improving financial performance in the last decade is given below.
Consistently Growing Top Line
UNP's top line is fueled by the dynamic and resilient US economy. UNP's topline benefits from the growth in trade and businesses in the US. As the railroad provides the cheapest terrestrial transport, UNP and other railway companies manage to increase freights from time to time.

UNP's strength can be seen in its stable and growing top line (shown in the exhibit above). UNP's revenue grew consistently each year in the past ten years, except for 2009,at a CAGRS of 8%.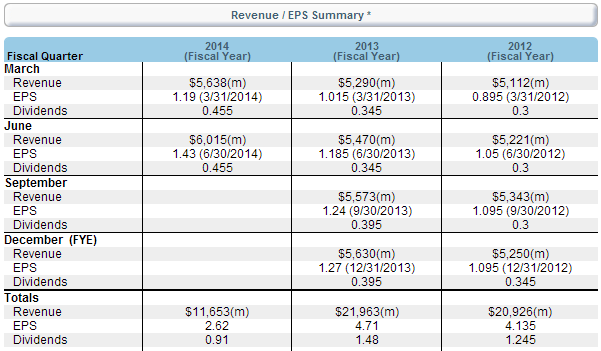 In the 2ndquarter of June 2014, UNP managed to grow its top line by 10% compared to the figure reported in the same quarter last year (shown in the exhibit below). Out of this 10% growth, 8% was contributed to growth in freight volume, 2.5% was contributed by the rise in core price and there was a negative impact of -0.5% from mix drivers.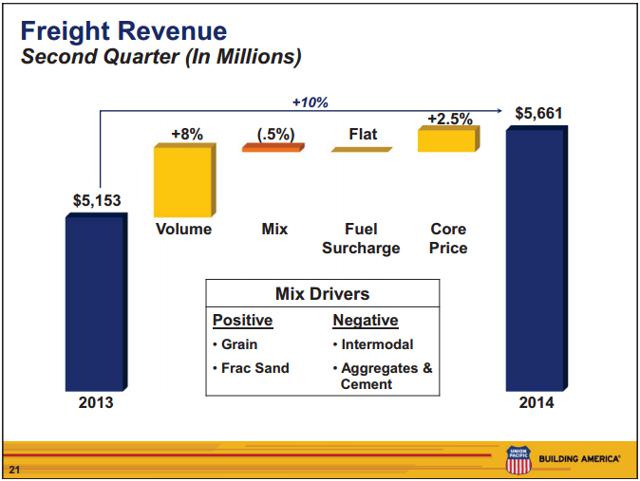 Strong Cash Flow Generation
UNP has a strong capacity to generate stable cash flows that act as the lifeblood for the company. Strong and stable cash generation allowed UNP to invest in its business in order to continue its efficient operations. Operating cash flow increased at a healthy CAGR of 13% in the past decade.

During the first six months of 2014 UNP faced headwinds that hampered its free cash flow growth for 2014. Free cash flow during the first six months remained flat compared to last year and amounted to $3,221 million. UNP directed $776 million to dividend payments and $2178 million towards investing in its business. UNP is expected to continue generating strong cash flows that would help to maintain its smooth and efficient operations and create value for shareholders.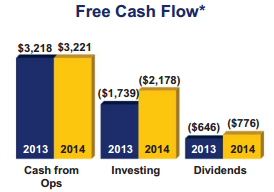 Consistently Improving Operational Efficiency
UNP's gain in efficiency can be seen in its improving margins (given in the exhibit below). Gross margins improved from 59.5% in 2004 to 68.2% in 2013-14. UNP's continuous effort to bring efficiency to its business operations paid off well and the operating margins improved considerably from 10.6% in 2004 to 34.9% in 2013-14. The operating profit increased at a healthy CAGR of 21% during 2004 to 2013.

Sharing Success with Shareholders
UNP rewards its shareholders with generous dividends and share repurchase plans. The dividend increased at a CAGR of 19% in ten years. In the second quarter of 2014 UNP paid a dividend of $0.455 per share which was 32% higher than last year.

During the first half of 2014 UNP repurchased shares worth $1.5 billion. Since 2007 UNP has returned about $10.83 billion by repurchasing a total of 228.4 million shares at an average price of $47.43. UNP's board of directors has authorized a new repurchase of 120 million shares, effective Jan 1, 2014. Dividend and share repurchases make UNP an attractive investment for investors that like to receive regular cash flow from their investment.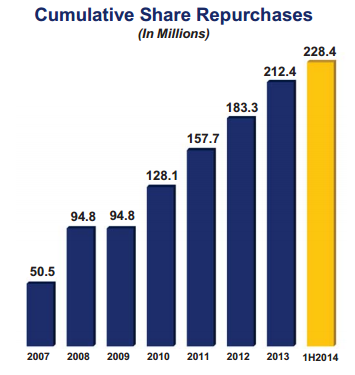 Target Price Presents Upside at its Current Price Level
If we compare the current price with the consensus target price it becomes evident that UNP's stock is underpriced. Target prices polled by Thomson/First Call from 22 brokers are summarized below. The mean target price is $112.34 that presents an upside of 6%. The median target price presents an upside of 8% at its current price of about $105.86. The most optimistic valuation presents an upside of 13% and the most conservative analyst valuation has a downside of 7%. Upside potential revealed by the consensus target price shows that it is an appropriate time for long-term investors to invest in this efficient and proactive player in the stable railroad industry.

Relative Valuation Reveals Undervaluation
UNP is a great business to invest in but it is important to see whether or not its price is attractive at the current level. The price of UNP's stock is about 19 times the earnings and it is lower compared to the industry and sector. It is relatively overvalued compared to the S&P 500. Building the forecasted growth in the P/E ratio, the PEG ratio of 1.29shows that UNP's stock is undervalued compared to the industry and the S&P 500 and properly valued compared to the sector.
Therefore relative valuation measures reveal that UNP's stock is undervalued at its current price level. Investors seeking exposure in the railway industry through this efficient and dynamic player can invest at its current price of about $105.86.

Conclusion
UNP is a good investment candidate that has proven to be financially stable and continuously growing. Investing in the railroad industry is expected to produce consistent and growing returns. UNP is a very good company for investors seeking exposure in the railroad industry. Its operating efficiency has grown over time. It rewards its shareholders with dividends and share repurchases. Its target price presents upward potential and the relative valuation measures confirm the undervaluation of the stock.
Disclosure: The author has no positions in any stocks mentioned, and no plans to initiate any positions within the next 72 hours.
The author wrote this article themselves, and it expresses their own opinions. The author is not receiving compensation for it (other than from Seeking Alpha). The author has no business relationship with any company whose stock is mentioned in this article.