By Tim Gaumer
Telkom SA offers mobile and data communications, but the vast majority of its revenue is generated by traditional fixed-line phone service - making this stock run-up, traditionally reserved for online retailers or biotech companies, even more impressive. Those who have enjoyed the ride may be wondering whether it's time to pull the plug or continue to hold. We can't entirely answer that, but we will share what a couple of StarMine Alpha Models currently show.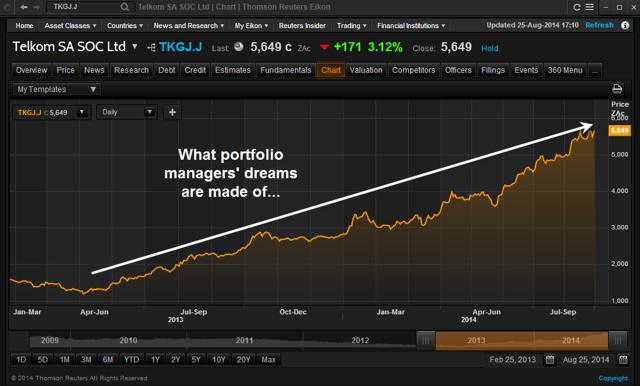 Click to enlarge
Source: Thomson Reuters Eikon
Quantitatively, things look favorable
We'll begin with highlights of the StarMine Alpha Models ranks for Telkom. By these systematic measures, the stock looks undervalued. It has both analyst and market sentiment working in its favor and characteristics that institutional investors, in aggregate, currently hold in their portfolios. Smart Holdings is predictive of what they'll likely see popping up when screening for new ideas.
Combine valuation with Analyst Revisions and Price Momentum, as we do with the StarMine Value-Momentum (Val-Mo) model and Telkom ranks in the top 6% of all stocks in our Emerging Markets region.
This model performs well in South Africa. A portfolio of the top 20 stocks, constructed from a universe of the largest 200 securities in South Africa and rebalanced monthly, would have generated returns of 39.3% over the last 12 months ended July 31st. This compares to the market return of 21.3% for an equal weighted portfolio of all 200, all before transaction fees. Most portfolio managers would get a nice bonus for 1800 basis points of outperformance. With a Val-Mo score of 95, Telkom would currently be one of the top 20 stocks in this hypothetical portfolio.
Of course, like most traditional telecom services companies, it's not terribly surprising that the balance sheet has some debt on it. However, even that has declined in each of the last several years. And, the Text Mining model doesn't seem to like headlines discussing the suspension of the company's CFO. However, accounting treatments had nothing to do with that action.

Source: Thomson Reuters Eikon/StarMine
Ringing up estimates
The Analyst Revisions Model (ARM) is a percentile (1-100) ranking of stocks based on changes in analyst sentiment, with 100 representing the highest rank. This model is highly predictive of both the direction of future revisions and price movement. It looks at revisions in financial estimates, typically EPS, EBITDA and revenue across multiple periods. It also takes advantage of the proprietary StarMine Predicted Surprise, which is the percent difference between the consensus estimate and the SmartEstimate®. We'll look at that in a moment.
Also, the StarMine quant research team examined the predictive power of analyst recommendations, and found that the change in recommendations mattered more than the absolute level, and ARM takes that into account as well. For Telkom, you can see that the data is nearly all positive. Estimates have been raised significantly, and there are large reinforcing positive Predicted Surprise levels in two-thirds of these inputs.

Click to enlarge
Source: Thomson Reuters Eikon/StarMine
The party line
The chart below shows the StarMine SmartEstimate® (in orange) compared the I/B/E/S Mean (blue line). The SmartEstimate® is constructed by placing more weight on the most recent estimates and those of the most accurate analysts. When it differs significantly from consensus, as it does here, the signal gets the direction of future earnings surprises correct roughly 70% of the time. The percent difference is called the Predicted Surprise. For this fiscal year, which ends March 2015, the Predicted Surprise is 5.8%.

Click to enlarge
Source: Thomson Reuters Eikon/StarMine, I/B/E/S
Despite the run-up, shares still appear inexpensive
The StarMine Relative Valuation (RV) model examines six different ratios: Price/Book, P/E, Enterprise Value (NYSE:EV)/Sales, EV/EBITDA and Dividend Yield. Telkom ranks as very or moderately inexpensive across each of these ratios, as shown by the Components matrix below. Overall, the stock has an RV rank among the highest in South Africa.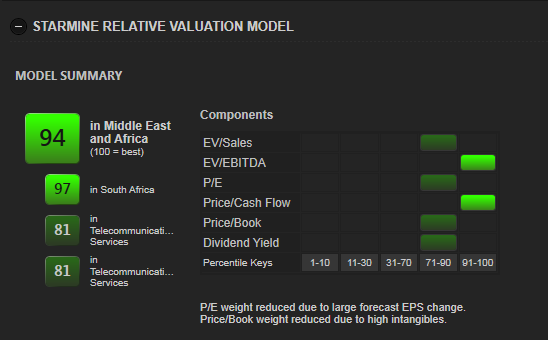 Source: Thomson Reuters Eikon/StarMine
Value signal
By nearly every ratio commonly used to measure valuation, Telkom appears less expensive than both its most direct peers and its industry. While a bit of a vision test in the screenshot below, its forward (next 12 months) enterprise value to sales ratio is 69% below the median value of its peers. It trades at a P/E of just 12.8, versus 13.7 for the peers. And it is priced at a large discount on measures of EV/EBITDA, Price/Cash Flow and Price/Book. The only negative comparison is on dividend yield. But, while lower than its peers, a 3.4% yield is nothing to sneeze at in this low-rate environment.

Click to enlarge
Source: Thomson Reuters Eikon/StarMine, I/B/E/S Estimates
Please remain on the line
Looking at various StarMine quantitative measures suggests that remaining on hold rather than hanging up on Telkom is the way to go. Of course, our models don't consider factors like emerging competitive threats or future regulatory changes. There are still many areas where human analysts add value. We advise readers to conduct their own research, and hope for very few busy signals.
Disclosure: The author has no positions in any stocks mentioned, and no plans to initiate any positions within the next 72 hours.
Business relationship disclosure: Alpha Now at Thomson Reuters is a team of expert analysts that are constantly looking at the financial landscape in order to keep you up to date on the latest movements. This article was written by Tim Gaumer, independent commentator and analyst. We did not receive compensation for this article, and we have no business relationship with any company whose stock is mentioned in this article.