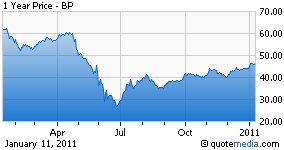 Despite another oil leak, analysts are warming to BP (NYSE:BP) following the release of the U.S. presidential investigative commission's report into last summer's oil spill in the Gulf of Mexico. The oil major has been forced to suspend 95 percent of its production from the North Slope area following a leak in the Trans Alaska Pipeline System.
Analysts said sentiment would hurt BP in the short term, but so far the incident is being downplayed after shares of the oil producer have risen about 20% since the beginning of December, according to Reuters. While a few analysts have already raised their price targets, others seem to be waiting for BP's earnings report due Feb 1.
The mean target price of ten sell-side analysts who have updated their targets in the last 60 days is 539 pence, up from 501 pence in our November prognosis on BP. That would represent a gain of 8.5% from today's closing price of $497.08.
I think if BP had not had the Macondo incident last year then this would have just been a minor operational incident for the company but it's just under scrutiny because it's connected with everything else that BP's connected with.
Peter Hitchens of Panmure Gordon said that it's interesting to people because it's BP, rather than anything else. "This sort of thing happens the whole time and the impact will not be major.""
As for the government investigation committee's report, BP was not singled out as being solely responsible for the oil spill. However, if BP were convicted of gross negligence in a U.S. court, it could face a quadrupling of its estimated $20 billion bill stemming from the spill, said Foreign Policy's Steve LeVine.
Evolution Securities' Richard Griffith, who has a 510 pence price target on BP, said: "We believe it will be hard to prove gross negligence against BP

in which case even if BP assumes 100% liability for Macondo the impact

would be US$25-30 billion and not US$50-60 billion as the shares imply." Evolution said that a rise in oil prices from $70 a barrel to $95 increases BP's cash flow from operations by an estimated $11 billion.
Christine Tiscareno at Standard & Poor's recently set a price target for BP at 610 pence, although she has a Hold rating on the firm's shares. Fred Lucas at JPMorgan Cazenove values BP as Overweight and sees it hitting 550 pence. Earlier this month, Raymond James analysts upgraded BP to Outperform from Market Perform.
Fadel Gheit of Oppenheimer & Co., who reiterated his Outperform rating on BP and raised his price target on BP's NYSE listed stock to $55 from $45, also remain optimistic on oil producers. "Investors are looking (to) take the money off the table…The fundamentals have not really changed. If anything, they are improving," he said.
Gheit also added that if the presidential committee report continues to state that BP was not the only one to blame for the Macondo incident, then, "We think the worst for BP may be over and the upside potential in the stock could be significantly greater than the downside risk."
Disclosure: No position