(NASDAQ:FRGI) has three operations. They have two segments for restaurants and have a nice franchising operation. The company's two brands are Pollo Tropical and Taco Cabana, which serve Caribbean and Mexican cuisine, respectively. As of June 29, 2014 the company owned and operated 112 of the Pollo Tropical restaurants and 166 of the Taco Cabana restaurants. Franchisees owned and operated 35 additional Pollo Tropical restaurants and 7 Taco Cabana restaurants. The company has used their franchising system to gain access to foreign markets with the Pollo Tropical brand which includes locations in the Bahamas, Costa Rica, and Honduras.
In 2014 Q2 the company's total revenues of $154.2 million were up by 9.4% but still missed analyst estimates by $1.3 million. However, the company did beat estimates on EPS by a penny. Analysts projected $.34, actual was $.35. The company has been focused on growing rapidly and they opened seven restaurants in the quarter. Among their new restaurants is a twist on their Taco Cabana format which is called "Cabana Grill". The results on that location, just outside of Atlanta, have been favorable and the company is planning to open another in Jacksonville, FL during the 4th quarter. Of course, that isn't all they plan to open. The company also has 10 other stores set to open in the 3rd quarter.
Growth strategy
FRGI is focusing on growth in Texas and Florida, and has reported improvements in supply chain operations as they grow in those markets and expect marketing efforts to become more efficient from the focused expansions.
While this quarter was brutal to most companies in the food industry, FRGI was an exception. Despite increases in their costs of ingredients, the company managed to reduce cost of sales by 41 basis points. That represents a reduction from 32.31% of their revenue being used on ingredients to 31.89%, if you'll forgive the rounding error.
The margins were improved by a combination of small price increases and what management calls a "favorable sales mix". For anyone that isn't familiar with the terminology, it means customers ordered items that had slightly higher profit margins relative to their normal experiences.
The company did a very solid job in the debt markets. When 2012 ended the company was facing a weighted average interest rate of 8.88%. By the end of 2013 the company had reduced their rate to 2.25% and reduced the amount of debt outstanding.
What to expect for third quarter
In the third quarter the company will focus on the $4.99 price point. The company has been competing on price and winning. Frequently low cost leaders can get a bad rap for having their margins limited as they compete aggressively but the strategy has been effective for FRGI. The company's efforts also included remodeling 30 restaurants during the year; 26 of those remodels are already complete.
Brand margins may improve for Pollo Tropical as the brand's margins were limited in quarter 2 by expenses related to transitioning over to Coke as their beverage provider and rolling out an increase in advertising. However, the company updated guidance in their earnings call that capital expenditures would be about 5 million higher than initially projected. That places total capital expenditures for the year between $65 million and $70 million. The increase is due to opening restaurants earlier in 2015 than expected. Since FRGI is based on growth, that accelerated growth is looking good for investors.
Investment returns
The company's price has been fairly volatile, but the correlation is strange. Take a look at the following chart: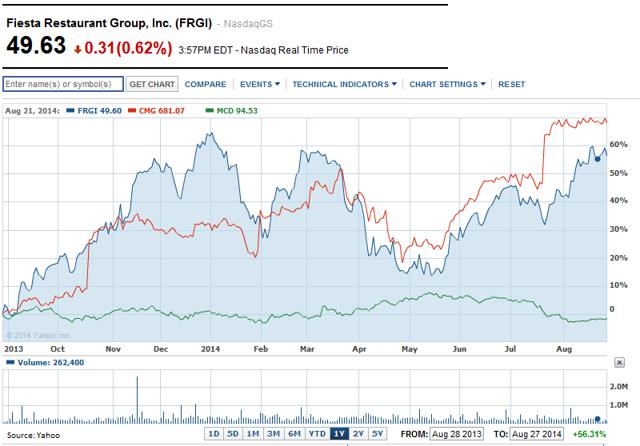 FRGI is operating on a five dollar price point for consumers. That price based competition might make it seem like McDonald's would be the huge gorilla in the room. However, McDonald's, the green line, is not showing a meaningful correlation. While MCD is massively larger and more stable, the price based strategy (from a customer viewpoint, not an investor viewpoint) should make them competitors. In the actions of investors, they are pretty much completely unrelated. Now, Chipotle (NYSE:CMG) is trading in a fairly similar pattern. Chipotle also sells Mexican food, but that's the end of the comparison. Chipotle's value proposition is entirely different. They are selling at a higher price point and using a different marketing approach. Investors in FRGI may want to keep an eye on Chipotle as a much larger company with a high correlation.
While it may still feel natural to see that correlation, remember that 40% of the internally owned stores are serving Caribbean food. For franchisees, that value is 83%. Given the importance of franchising Caribbean restaurants to the growth rate of restaurants, FRGI probably shouldn't have such a high correlation with CMG.
Conclusion
Even though the company's offering for customers are cheap, the company's stock is not. The PEG ratio of 1.88 is neither cheap nor expensive. The enterprise value to EBITDA on the other hand stands at 18.30, which is fairly high for the industry. At the current multiples, I'm not inclined to go long or short.
On the other hand, if the company were to spike down in price with absolutely no news, and the price was matched by a sudden drop in Chipotle for which there was a substantial release of negative information, I would be inclined to assume the market had reacted negatively to the information about Chipotle and would view the drop in FRGI as a buying opportunity, rather than indicative of long term weakness.
Disclosure: The author has no positions in any stocks mentioned, and no plans to initiate any positions within the next 72 hours.
The author wrote this article themselves, and it expresses their own opinions. The author is not receiving compensation for it (other than from Seeking Alpha). The author has no business relationship with any company whose stock is mentioned in this article.
Additional disclosure: Information in this article represents the opinion of the analyst. All statements are represented as opinions, rather than facts, and should not be construed as advice to buy or sell a security. Ratings of "outperform" and "underperform" reflect the analyst's estimation of a divergence between the market value for a security and the price that would be appropriate given the potential for risks and returns relative to other securities. The analyst does not know your particular objectives for returns or constraints upon investing. All investors are encouraged to do their own research before making any investment decision. Information is regularly obtained from either Yahoo Finance or the SEC database. If either of these sources contained faulty information, it could be incorporated in our analysis. The analyst holds a diversified portfolio including mutual funds or index funds which may include a small long exposure to the stock.