By Edward J. Leventhal
With most of my articles generally focused on global events, emerging markets, oil and other energy sectors, and other geopolitical issues, a reader with whom I was having an email discussion was surprised to hear that I had my eye on, and had recently bought, some regional U.S. banks. He wondered if this was veering off of my overall global investment premise which has been to focus on companies and countries that are prospering from a global infrastructure build-up that continues to provide a strong tailwind for resources, machinery, metals and various other business services.
What could U.S. regional banks have to do with this?
The answer is, the banking sector is very much a part of the global landscape of investment choices, and while there is no direct link to the global infrastructure motif, it is a sector that might be poised to benefit from a rebounding U.S. economy.
In the context of full disclosure, other than a meaningful position in Citigroup (NYSE:
C
), I have had minimal exposure in the banking sector. In fact, beyond banking, most of the U.S. companies that I own are of the type that have significant percentages of their businesses in overseas markets, especially in emerging markets. What's changed, and I've written about this in past weeks, is the increasing evidence that the U.S. economy is starting to turn, led mostly by fiscal and monetary support.
In addition, though the jobs situation is still horrific by any measure, there are signs that even on this front things have been turning the corner. The jobs situation could very well improve in the not too distant future as companies are currently operating in a "lean and mean" way and would be expected to start hiring once demand picks up, which it appears to be doing in some sectors.
Taken together, this points to an improving U.S. economy in 2011 and therefore, a need to refocus on where in the portfolio there is direct exposure to a pick up in the U.S. One such area, I believe, could be regional banks. The headwinds that all banks have faced are well known and heavily built into prices ... increased capital requirements, mortgage and foreclosure scrutiny, Congressional review on all of the above plus legislation and regulation that will be byproducts of Dodd-Frank, and more.
Some of the regional banks, however, have weathered the storm in financial markets quite well, coming out of the mess with strong balance sheets (due to the fact they generally know their customers better than larger, more impersonal banks), good earnings prospects and paying hefty dividends. Two such regionals that I own are Hudson City Bancorp (NASDAQ:
HCBK
) and People's United Financial (NASDAQ:
PBCT
). Both have lagged the overall S&P this
past year.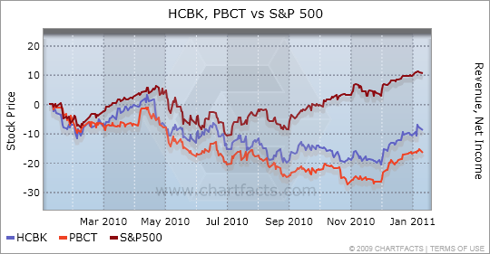 Both, in my opinion, are likely to benefit by an improving U.S. economy, the recent steep yield curve, and strong franchise positions in their respective regional markets. As always, this not to be taken as investment advice. Each investor is required to opine and decide for themselves as to the appropriateness of anything said in this article to their unique financial profile, risk tolerances and portfolio goals. The thoughts overall, and specifically with regard to HCBK and PBCT, are meant to be thought-provoking for investors considering the banking sector in their investment plans.
And there are risks. In Morningstar.com's latest report, it noted the following with regard to HCBK:
A stabilization in home prices and new capital in the financial system could result in increased competition for jumbo loans as the economy improves.
Competition is fierce for Hudson City's affluent customers.
Hudson City's limited offerings may not appeal to customers seeking one-stop financial shopping, but additional products would require unwanted new expenses.
The extremely low interest rate environment has made its core product - jumbo mortgages held on the balance sheet - not very attractive. Consequently, the bank is attempting to keep its balance sheet stable rather than generate growth by adding low-yielding assets.
And with regard to PBCT:
It will take time to fully integrate the numerous banks now under the People's umbrella.
The bank completed a second-step conversion to a savings and loan in 2007, raising $3.4 billion in additional equity from the capital markets. People's management team wasted no time in putting the excess capital to work, acquiring Chittenden Bank shortly thereafter ... The company struck again with a bid for leasing firm Financial Federal Corporation in late 2009, and twice more in mid-2010, purchasing New England lenders Smithtown Bancorp and LSB Corp. We believe People's is still on the hunt, and with a 24% equity/asset ratio as of September 30, 2010, the Connecticut company still has plenty of money to spend on expansion. In fact, we think the biggest risk facing shareholders is the possibility that management will overspend in an attempt to quickly deploy its war chest.
People's current earnings are not covering its dividend; rather, it is a return of the company's excess capital.
For someone (like me) accustomed to assessing risks in emerging markets countries, these cautionary points may not look too bad, but in fact, these are meaningful potholes that could cause a move into regional bank stocks to stumble. On the other hand, if the U.S. economy does in fact start to improve, these two institutions appear to be poised to capture the opportunities in their respective regions.
While these two banks are certainly not right for everyone, and again, each investor must decide that for themselves, in my specific portfolio where U.S. bank risk is generally lacking, I've chosen to bank on them.
(Please note: This article is solely meant to be thought provoking and is not in any way meant to be personal investment advice. Each investor is obligated to opine and decide for themselves as to the appropriateness of anything said in this article to their unique financial profile, risk tolerances and portfolio goals).
Disclaimer: Please read and consider important information related to all communication made by Soos Global on this site by clicking here.
Disclosure: I am long HCBK, PBCT, C. Additional disclosure: Positions may change at any time without notice.