Ramsay Health Care (OTCPK:RMSYF) has showed a superb performance since the start of 2014. The company has more than doubled over the last two years and has increase by 46.73 % in 12 months. Ramsay is backed up by sound fundamentals, showing consistent improvement in revenue and net income. However, the biggest game changer for the company was its acquisition of Generale de Sante, a leading operator of private hospitals in France. Ramsay is also showing great potential for further upward momentum with its promising price action setup.
Fundamental Overview
Ramsay Health Care had continuous growth in revenue since 2009 growing the top line by 5.3%, from 3.97bn to 4.18bn, while net income improved by 9.14%, from 244.11m to 266.40m. Furthermore, both dividends per share and earnings per share had an extraordinary run, increasing 17.05% and 10.74%, respectively. There has also been a substantial improvement in Ramsay's debt to total capital ratio, which has decreased to 45.85% from the previous year's 77.39%.
Acquiring Generale de Sante
Ramsay Health Care is on its way to dominating both Australian and French private health care markets after acquiring France's largest private hospital operator, Generale de Sante. The acquisition came in effect after both Ramsay Health Care limited and Credit Agricole Assurances signed a contract to acquire 83.43% of Generale de Sante. Ramsay will pay $627m for a 57% stake in the company, which will boost the company's total global portfolio to 226 facilities and 25,800 beds.
Generale De Sante will have a profound effect on Ramsay, due to its 75 facilities in the fields of medicine, surgery and rehabilitation. The company also generates $2.25bn in annual revenue and employs around 19,000 people. The overall healthcare system in France is regarded to be one the best in the world. This statistic is aided by Generale, who is currently the leader for providing services to over 1 million patients every year. For Ramsay, the major advantage of the acquisition is the newfound ability to capture the expanding aging population in France, which also exits in Australia. This will help to generate increased demand for healthcare years to come. The transaction is in process of being finalized by French regulators and completion is expected in the last quarter of 2014.
Technical Analysis
It can easily be seen that the share price is in a clear uptrend. Both 50MA and 10MA are clearly showing further momentum. Furthermore, MACD indicator seems to be picking up and shifting to an upward direction. Some might say that it is too late to enter, however that is what brings me to the most important aspect of price action analysis, the breakout. It can be seen that the price just recently broke the $51 level, where it has been in consolidation since March 2014. This provides us with the perfect opportunity to enter long, from both technical and fundamental point of view.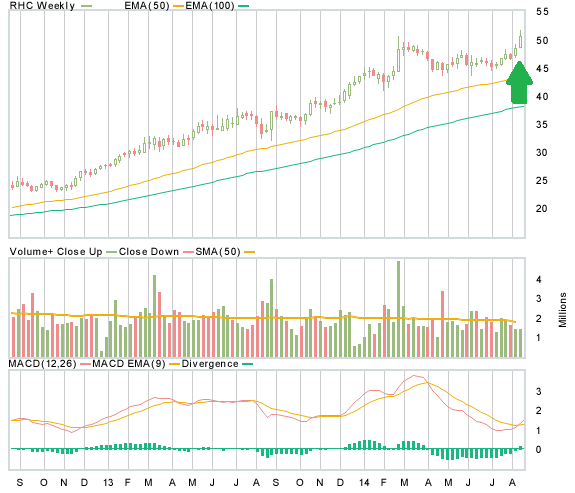 Risks
The biggest risk to the Australian health industry are the regulations put in place by the Australian government. Following the recent budget, the government announced that there will be extra costs associated with health services, such as newly introduced fee for visiting a general practitioner. This could in turn lead to lower demand from people with low socioeconomic status, and may slow down industry growth.
Some concern has also been expressed about Ramsay's high earnings multiple. There is a risk that the company trades too high and an unexpected event could have a powerful impact. The result could be a steady decline. However, the majority of evidence points to further gains.
Final Thoughts
Ramsay Health Care has a very bright future. By the end of 2014, the share price could easily reach $60 mark and head higher. The fundamental data will certainly aid the stock going forward. The acquisition is the biggest factor in terms of contributing to the company's growth. Furthermore, technical analysis proves that the share price has very little place to go but up. There are risks, however they are mostly overshadowed by Ramsay's outstanding performance. Ramsay Health Care still has plenty in store for those who are interested in getting a piece of the healthcare industry.
Disclosure: The author has no positions in any stocks mentioned, and no plans to initiate any positions within the next 72 hours.
The author wrote this article themselves, and it expresses their own opinions. The author is not receiving compensation for it (other than from Seeking Alpha). The author has no business relationship with any company whose stock is mentioned in this article.
Editor's Note: This article discusses one or more securities that do not trade on a major U.S. exchange. Please be aware of the risks associated with these stocks.