We are neutral on Mercury General (MCY), a mid-cap property/casualty insurance institution located in California. MCY's dividend yield of 4.8% is well ahead of other insurance institutions and we have a keen interest in income-oriented investments. However, despite the high-dividend yield on the company, we are neutral on the company due to its recent record of mediocre financial performance. Although the company's dividend yield of 4.8% is enticing, we are neutral on the company for the following reasons:
MCY's share price is at a 38% premium to its book value
MCY's P/B of 1.38X is higher than the 1.2X of its peer group.
MCY had stagnant revenues and volatile profits since 2004 and analysts are projecting future growth for MCY in the low single-digits
We noted that MCY enjoyed improved operating and financial results in H1 2014, we are cautiously optimistic if it continues after FY 2014.
MCY's projected dividend payout ratio is 96% for FY 2014 based on its current dividend of $2.46/share and its FY 2014 projected operating EPS of $2.55 and 94% for FY 2015
COMPANY PROFILE
Mercury General is a mid-cap property/casualty insurance institution primarily engaged in writing personal automobile insurance through 13 subsidiaries in 13 different states, primarily California. MCY also writes homeowners, commercial automobile, commercial property, mechanical breakdown, and umbrella insurance. MCY's headquarters is located in Los Angeles, California and has a dozen branch operations offices located in other cities and towns. MCY has 3,800 employees as of 2013. MCY sells its insurance policies through more than 3,300 independent agents and brokers, of which approximately 1,000 are located in each of California and Florida.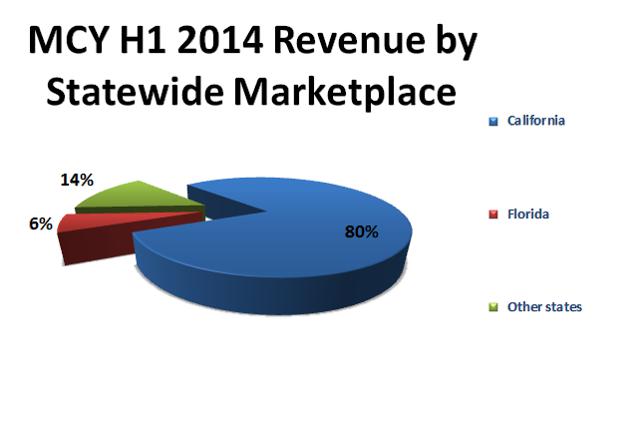 Click to enlarge
Source: Mercury General Q2 2014 Report
Recent Performance
MCY has seen stagnant revenue and volatile profits from 2004 to 2013 but H1 2014's year-over-year results seemed to be encouraging. MCY's revenue inched upwards by 1.35% in FY2013 and it followed that up with 3.22% growth in H1 2014 driven by a 5% increase in net insurance premiums written. MCY's operating expenses increased by 1.54% year-over-year in FY2013 and 1.1% in H1 2014. The company generated a slight underwriting profit in FY 2013 (combined ratio of 99.6%) and followed it up with a 96.3% combined ratio in H1 2014, which was better the small underwriting loss it incurred in 2012 (combined ratio of 102.8%). This helped MCY's EPS increase by 21% on an adjusted operating basis in H1 2014.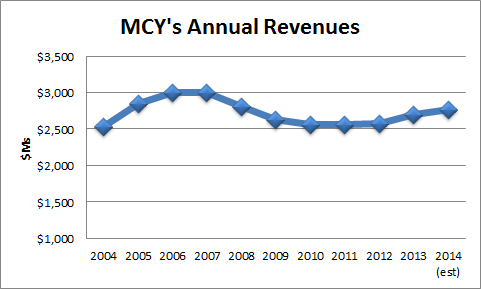 Source: Morningstar Direct
MCY's FY projected operating EPS of $2.55 is slightly higher than its annualized dividends per share ($2.46), after two straight years (2012 & 2013) of its dividends exceeding its earnings. One item of interest was that MCY's Special Investigations Unit uncovered and successfully denied $24M worth of fraudulent claims in California alone last year. Premiums written outside of California (its largest statewide marketplace) declined by 6.7% year-over-year during the quarter. Going forward, MCY seeks to price its products to expense targets that it has not yet achieved but expect to achieve over the next several years. We believe that this will enable MCY's products to be competitive on price while providing a satisfactory return to shareholders. Over the long term, MCY seeks to improve its combined ratio to 95% and this would increase its pre-tax profits by 7.5% once it achieves this target.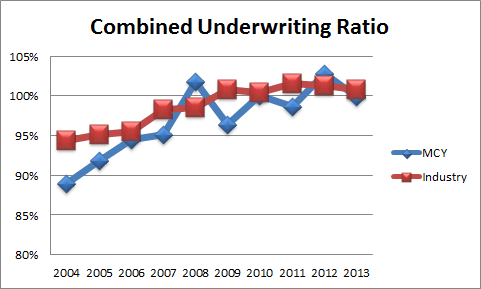 Source: Mercury General's 2004-2013 Annual Reports
Analysts are projecting MCY to earn $2.55/share in 2014 and $2.59 in 2015 based on its cost containment efforts as well as the following favorable rate actions:
6% rate increase for 2014 in its preferred private passenger insurance products,
6.9% rate increase in its non-standard California insurance in July 2013, and an
8.25% rate increase in its homeowner's insurance business in January 2014. The 8.25% rate increase for its homeowner's insurance business offset a 5.5% rate decrease that went into effect on May 2013.
However, analysts are expecting MCY's EPS in later years to generate minimal future growth. MCY increased its dividend per share payments in 2013 by a whopping 1 cent and investors should expect the same for 2014. MCY beat its consensus EPS expectations in three out of the last five quarters, including by $.16 in Q2 2014. MCY missed its EPS estimates by $.11 and $.20 in Q3 2013 and Q4 2013, respectively, so beating its expectations by $.14 in Q1 2014 and $.16 in Q2 2014 is a relief. Although MCY has increased its dividend every year since 1990, its dividend only increased by 6.14% cumulatively since 2008.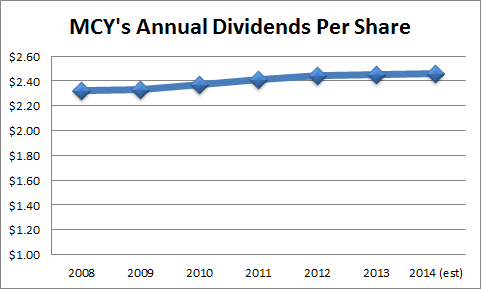 Source: Morningstar Direct
Notable Shareholders
One notable value shareholder in MCY is Royce & Associates. Royce owns 185,100 shares of MCY as of Q3 2013, which represents 0.34% of MCY's outstanding shares and is worth $8.95M. MCY's largest shareholder is its Founder and Chairman George Joseph and his ex-wife Gloria. Mr. and Ms. Joseph own 18.8M ($908M) shares of MCY, which represents 34.2% of MCY's outstanding shares. Mr. & Ms. Joseph divorced in 1985 and as part of the divorce agreement, MCY shares jointly held were halved and transferred into the separate names of George Joseph and Gloria Joseph under their individual and independent control. One thing I would prefer to see is an increased percentage of independent directors on MCY's board of directors. Four of MCY's 10 board members were past or present employees of the company (Chairman George Joseph, CEO Gabriel Tirador, CIO Christopher Graves and former President Michael Curtius). Despite this high proportion of non-independent directors, MCY's corporate culture won it a spot on Forbes' 50 Most Trustworthy American Financial Companies.
Financial Position
MCY has a very strong, very conservative, well-capitalized balance sheet relative to other property & casualty insurers. MCY has $270M in outstanding notes payable versus $4.5B in total assets and $1.9B in total equity. MCY's debt to asset ratio is only 5.9% and its debt to equity ratio is only 14%. MCY's debt to equity ratio of 14% is well below the 30% of its peer group. However, its median operating margin over the last five years of 6.6% is well below industry-leading peer groups firms like Travelers Companies (TRV) (17.2%), American Financial Group (AFG) (13.5%), Cincinnati Financial (13.8%) and Safety Insurance Group (SAFT) (11.8%).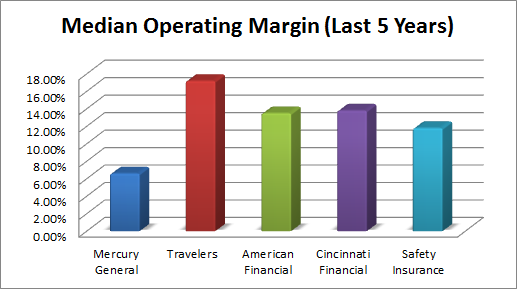 Source: Morningstar Direct
Factors That Would Make MCY A Strong Buy
MCY's management engages in financial engineering to extract value (either through a special dividend, share repurchase, or accepting a takeover offer).
MCY is able to restore the growth momentum it enjoyed from 1993 to 2004.
MCY is able to reduce expenses and improve its operating margins.
Factors That Would Make MCY A Sell
Rising interest rates reducing the value of its bond portfolio
Increased price-related competition in the industry
Increased loss claims from policyholders
Industry Outlook
We are not particularly bullish on the insurance industry as the likelihood of rising interest rates will provide headwinds to the values of insurance company investment portfolios. According to the Insurance Services Office, Inc. (ISO), net written premiums for property/casualty insurers grew by 2.9% in 2011, 3.4% in 2012 and 4.5% in the first three months of 2013. Although investors should be pleased that there is some growth in this market, they should also recognize that the growth rates are underwhelming. The insurance industry is a mature, highly regulated, highly competitive industry and is not necessarily an area geared towards high growth rates. Property/casualty insurance companies saw improved underwriting results on a year-over-year basis according to the ISO study (94.8% in Q1 2013 versus 99% in Q1 2012) based on a 4.3% decline in the loss ratio during this period. Although all insurer types in the study saw improved underwriting results year-over-year, commercial lines writers experienced the greatest improvement in their underwriting results (Q1 2013 aggregate combined ratio of 91.3%, versus 101.7% in Q1 2012).
Conclusion
In conclusion, we are neutral on MCY. Although we are attracted to its industry-leading dividend yield of 4.8%, we noticed that it is trading at a 15% premium to book value relative to its peers. Furthermore, its FY 2014 P/E of 19X is 41% higher than the 13.5X of its property/casualty industry peer group even though its projected EPS growth of 2.1% is well below the 9.3% projected EPS growth of its peers. Lastly, we project that its Return on Equity for 2014 will be about 8%, well below our 11% minimum cost of capital. Although Mercury General's growth from 1961 to present day is impressive, its recent record of performance and future projections should prompt its investors to take their profits in Mercury General and reallocate them towards companies trading at a discount to intrinsic value and that offer superior growth prospects relative to Mercury General. We hope that at some point, Mercury General's management will come out from under the shadow of its founder and get its groove back. Until that time, we recommend investors take profits in Mercury General.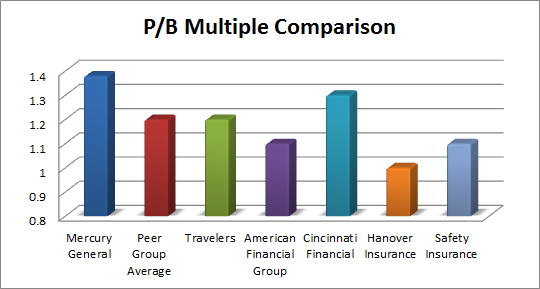 Source: Morningstar Direct
Disclosure: The author has no positions in any stocks mentioned, and no plans to initiate any positions within the next 72 hours.
The author wrote this article themselves, and it expresses their own opinions. The author is not receiving compensation for it (other than from Seeking Alpha). The author has no business relationship with any company whose stock is mentioned in this article.