The man got out of his car and walked briskly ahead through the November gloom. He approached the two men watching him curiously and stopped. "I've got something for you... A letter," he said, and handed Marty McFly a note from 1885.
This classic scene from "Back to the Future 2" shows the staying power of The Western Union Company (NYSE:WU). Since its founding in 1851, it has evolved into a global powerhouse in the money transfer business, completing a remarkable transition from its original (and now former) business of sending telegrams. It has grown both organically and via a series of acquisitions, such as of Finint S.r.l. and its 10,000 sub-agent locations across Europe in 2011.
Let's take a look at Western Union and see if it has a "buy" message for you.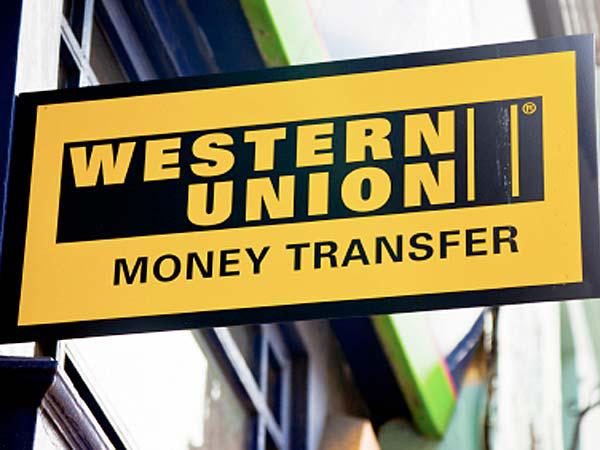 Western Union Financials
We always start by looking first at the annual numbers and then zero in.
Western Union Fiscal Year Financials

| | | | | | |
| --- | --- | --- | --- | --- | --- |
| Fiscal Year | Revenue | Net Income | Earnings/share | Shares Outstanding | Shares Repurchased |
| 2007 | 4,900.2 | 857.3 | 1.11 | 772.9 | $ 726.8 |
| 2008 | 5,282.0 | 919.0 | 1.24 | 738.2 | $1,314.5 |
| 2009 | 5,083.6 | 848.8 | 1.21 | 701.0 | $ 400.2 |
| 2010 | 5,192.7 | 909.9 | 1.36 | 668.9 | $ 581.4 |
| 2011 | 5,491.4 | 1,165.4 | 1.84 | 634.2 | $ 803.9 |
| 2012 | 5,664.8 | 1,025.9 | 1.69 | 607.4 | $ 766.5 |
| 2013 | 5,542.0 | 798.4 | 1.43 | 559.7 | $ 399.7 |
Source: Western Union Annual Reports; all amounts in $million except per share data.
We can see several things of interest in the numbers from Western Union's annual reports:
Revenue has increased over time, but periodically WU has a bad year that interrupts its growth;
Net Income shows the same pattern as revenue, with 2013 jumping out as a particularly weak year for earnings;
Share count has been decreasing steadily, even before the 2008/9 recession, apparently as a result of the continuing share repurchases.
The red flag here is the 2013 weakness. Revenue did not take much of a hit, but we want some color on the weakness in earnings per share and Net Income, which would be because of higher costs. The company's continuing share repurchases are a huge benefit to investors that have taken the share count down 28% from 2007 through 2013.
Problems often show up in free cash flow, and the figures can direct us towards areas to explore further.
Western Union Fiscal Year Cash Flows

| | | | | | |
| --- | --- | --- | --- | --- | --- |
| Fiscal Year | Net Cash From Operating Act. | Cap Ex | Free Cash Flow | Dividends/share | FCF/Share |
| 2007 | 1,103.5 | 192.1 | 911.4 | $0.04 | $1.18 |
| 2008 | 1,253.9 | 153.7 | 1,100.2 | $0.04 | $1.49 |
| 2009 | 1,218.1 | 98.9 | 1,119.2 | $0.06 | $1.60 |
| 2010 | 994.4 | 113.7 | 880.7 | $0.25 | $1.32 |
| 2011 | 1,174.9 | 162.5 | 1,012.4 | $0.31 | $1.60 |
| 2012 | 1,185.3 | 268.2 | 917.1 | $0.425 | $1.51 |
| 2013 | 1,088.6 | 241.3 | 847.3 | $0.50 | $1.51 |
Source: Western Union Annual Reports; all amounts in $million except per share data.
The cash flow data shows the following:
Net cash from operating activities has been stagnant, taking a huge hit after the recession from which it is still recovering;
Capital Expenditures have been trending higher;
Free Cash Flow has been erratic but trending lower since 2007;
From a miniscule percentage of Free Cash Flow/share, the dividend occupied roughly a third of it in 2013.
While none of these are trends are particularly ominous, they suggest that Western Union's business has been stagnant over the past five years. The company appears unconcerned, continually raising the dividend. If we are to take a chance on this company, there will either have to be a "story" that convinces us a turnaround is in progress or the company will need to be a compelling value based on its stock price.
So far, the Western Union picture looks a bit rough. With all the big swings the company goes through, timing of your entry is critical, because clearly it has good years and not-so-good years. This is not a constant, steady grower, but then again, it doesn't look in any serious trouble, either. The bottom line is that we still have an open mind about the company, but we'll need a further reason to invest in it beyond the annual data.
The most recent data that we have is from the second quarter. Let's zero in on that quarter over time and see whether there are any evolving patterns of interest.
Western Union Second Quarter Financials

| | | | | | |
| --- | --- | --- | --- | --- | --- |
| Fiscal Year | Revenue | Net Income | Earnings/share | Dividends | Net Cash Flows |
| 2009 | 1,254.3 | 220.2 | $0.31 |   | 606.3 |
| 2010 | 1,273.4 | 221.0 | $0.33 | $0.06 | 326.1 |
| 2011 | 1,366.3 | 263.2 | $0.41 | $0.08 | 506.3 |
| 2012 | 1,425.1 | 271.2 | $0.44 | $0.10 | 445.7 |
| 2013 | 1,385.9 | 198.6 | $0.36 | $0.125 | 477.5 |
| 2014 | 1,405.6 | 193.8 | $0.36 | $0.125 | 450.1 |
Source: Western Union Second Quarter Reports and dividend history; all amounts in $million except Earnings/share and Dividends.
This data presents a slightly different picture than the annual data:
Revenue has rebounded in 2014, and was the second highest amount since the recession;
Net Income was down again and has been trending lower over time, but the rate of decline has slowed in 2014;
Net cash has been trending lower, but varies dramatically and is either up or down over time depending solely on your starting point;
The dividend has not been raised since late 2012, the company undoubtedly noticing that falling payout ratio.
What we have financially is a mixed picture. On the down side, several trends are negative. Fiscal 2013 looked like a difficult year for the company, with a decline in revenue and high capital expenditures. On the plus side, there are faint glimmers of a turnaround in 2014, especially the revenue rebound, or at least a bottom in the company's issues - and that is often where opportunity lies.
Valuation
Even a company that is going through a rough patch can be an interesting buy candidate if it is a good value relative to the market, competitors and its own history. Western Union may not be a screaming bargain, but it does appear to be a good value.
Looking the stock up on Yahoo Finance yields the following: the price/earnings ratio on a trailing twelve month basis is 12.2. This compares favorably to a S&P 500 multiple at just under 20 and that at competitor American Express (NYSE:AXP) at 17.6, though it is above Moneygram International's (NYSE:MGI) 9.8. On a price/sales basis, it is trading at a reasonable 1.66 versus an industry figure of 3.66. Gross Margin at 0.41 and Operating Margin at 0.20 are weaker than the industry marks of 0.86 and 0.30. The five-year PEG is 1.14, versus AXP's 1.69 and an industry mark of 1.07.
Looking over on Morningstar, they have a forward price/earnings ratio for WU of 10.9 versus the S&P 500 at 17. Price/book is at 8.7, high relative to competitors at 3.1, but with older companies such as WU the book value can be artificially low due to carrying old assets on the books at undervalued rates. More interesting is that WU is trading at half its usual multiple to its book value, its 5-year average for that value being 17.4.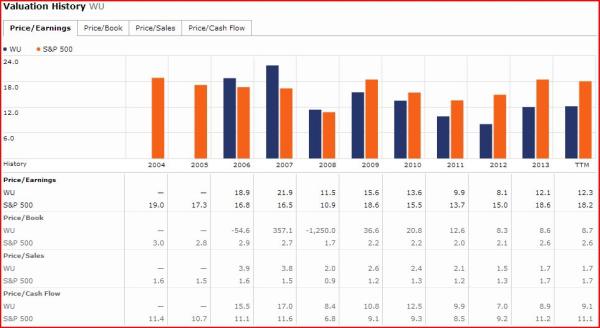 Source: Morningstar.com
As the chart above shows, WU's multiple decreased into 2012, and since has recovered a bit but remains well below the highs of old. On a comparative basis relative to the S&P 500, WU used to trade at a premium to the broader market, but now trades at a discount, though that discount may have narrowed just a bit.
At this point, based on the data so far, we formulate an investment thesis which we will test against further information: the market soured on Western Union during the recession period, and relative to the broader market that made it into a relatively good value. It remains such a value, though the market is beginning to appreciate it a bit more recently.
Looking Forward
When it released its earnings for the second quarter, which met analyst expectations and was about $5 million less than the previous year's result, WU

raised the low end of its earnings guidance for the year by five cents a share, putting its range at $1.45 to $1.50. It also said that constant-currency revenues should increase in the low-to-mid single digits.
There are several key drivers of growth in the company that make Western Union's future appealing: digital transactions, fewer competitors and emerging markets. In some ways, the two appear tied together.
During the conference call after the second quarter earnings report, Western Union CEO Hikmet Ersek noted that the company's new digital initiatives look very promising:
"Digital, which includes westernunion.com and Mobile Money Transfer, is still an area that is generating strong growth. Our strategies are working, and westernunion.com online money transfer revenues increased 31% in the quarter and are up 38% on a year-to-date basis. We expect the digital business to continue to be a long-term growth driver for Western Union."
The company also noted that "Electronic channels revenue increased 27% in the quarter and represented 6% of total company revenue." So, while digital is doing well, it still represents only a small fraction of the company's business. The company seems excited about the possibilities there:
"No, I think we are very pleased with our digital business. Last quarter we grew 31% of revenue, year-to-date about 38%, even the transactions growth about 46%, so we are very pleased with the momentum. We are also pleased with the customer acquisition."
They emphasized this several times:
"The main growth in the future will -- for Western Union will continue to come from our digital business. We are in 23 countries, dropping money to 200 countries, and our expansion policy continues. Our expansion strategy continues."
Emerging markets are another promising area of growth:
"In the Middle East and Africa region, revenue and transactions each increased 6% compared with the year-ago quarter, with no impact from currency. Strong revenue growth from Saudi Arabia and the United Arab Emirates drove the region's increase, and we are pleased that we recently renewed a multiyear agreement with Bank Albilad in Saudi Arabia, one of our largest global agents."
Tied into these growth areas is the fact that some major players who do not have money transfers as their core business are finding new anti-terrorism regulations too much trouble. Barclays' apparently imminent exit from the money transfer business, for instance, could open up opportunities for Western Union in many emerging markets.
Of course, the high costs of compliance are hurting Western Union, too:
"We're making progress. We have -- we expect the spending in the compliance area will be a little bit higher in the second half of the year versus the first half. As you know, we indicated last time that we plan to have about 2,000 people in the compliance organization by early next year, and we are deep into that hiring process, and so those costs will ramp up as we move into the second half."
That appears to explain the surge in capital expenditures and drop in Net Income that we noticed earlier. The company alluded to the effect of these costs on its competitors:
"Well, Tim, I want my money back, and compliance is an investment we believe that will pay back. And 3.5% to 4% of our revenue, and we believe that it's a good investment. And it shows already some good signs that some banks or some other competitors are getting out of this business, and we do see some market share gain in some markets, not overall. In 1 or 2 markets, we started to see that, and it helps our -- banks not serving us, I don't know."
There are other cost issues facing the company as well that it seems ready to deal with:
"Yes, we see just an industry shift towards more consumers using credit cards. So we're not going to able to fix that overnight, but it is something that we do believe we have some solutions to handle and to address this year."
Insiders on balance appear to be buying: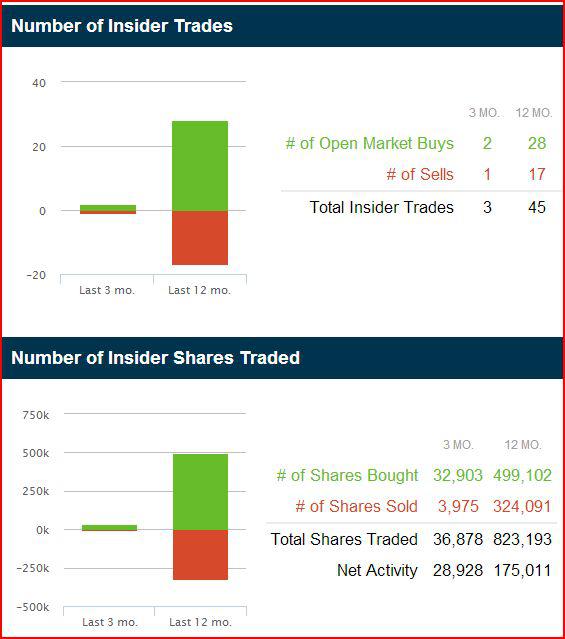 Source: Nasdaq.com
Short interest has been high all year, with 10 days to cover on 31 July, but it is off its peak. Analysts are mildly bullish on the company, though there is a wide split in opinion.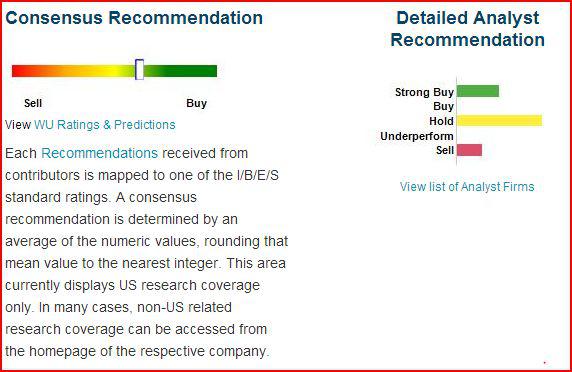 Source: Nasdaq.com
Taking a look at the chart, the company has gone sideways for several years in a range between 11.93 and 19.82. It sits toward the upper portion of that range after a steady four-month rise. Since last October, it has been forming a classic cup pattern which has yet to complete, with the bottom formed in spring 2014. That is considered a bullish formation that tends to resolve to the upside after forming a sideways handle at the top, which in this case would be the low 19s.
Conclusion
Western Union is a tough call and requires some judgment and faith. It appears to be a good value by several measures, though not a screaming buy by any means. The sideways chart action the past few years appears justified given the company's spotty performance. A dividend increase from the current 2.9% is not out of the question if the company performs as expected. It is a company with lots of promise and no fulfilment yet.
So, a "show me the money" type might want to pass or only take a small position. However, this is no vaporware company: Western Union successfully has managed incredible transitions across its 160 years and probably will again. For investors who believe in the company's opportunities in the digital and emerging market realms, Western Union is a buy. It may, however, require patience, because those opportunities have yet to bear financial fruit.
Disclosure: The author has no positions in any stocks mentioned, and no plans to initiate any positions within the next 72 hours.
The author wrote this article themselves, and it expresses their own opinions. The author is not receiving compensation for it (other than from Seeking Alpha). The author has no business relationship with any company whose stock is mentioned in this article.