Dating back to before the days of gladiators in the Roman Coliseum, the masses have always gathered to cheer on their favorites in head to head competition. With this in mind, Amazon's (NASDAQ:AMZN) announced acquisition of Twitch Interactive Inc. for a reported $970 million has made the company the largest player in the exploding world of broadcasting and viewing of competitive video gaming.
With 55 million users, Twitch is the fourth largest source of internet traffic in the US, trailing only Netflix (NASDAQ:NFLX), Google (NASDAQ:GOOG) (NASDAQ:GOOGL) and Apple (NASDAQ:AAPL). Amazon had to compete with Google and Yahoo (NASDAQ:YHOO) to finally win the bidding.
History of Twitch
Twitch began in 2011 as a spin off from one of the earliest streaming sites on the Web, Justin.tv, whose founders, Justin Kan and Kyle Vogt, also created and sold Socialcam to Autodesk in 2012 for $60 million.
Twitch was initially privately capitalized with $35 million from investors, including Take-Two Interactive Software of "Grand Theft Auto" fame, Thrive Capital and Bessemer Venture Partners.
While players cannot use Twitch to play against one another, the streaming platform that Twitch has created for broadcasting and viewing games being played by others has become much more than just a niche demographic of computer game geeks and couch potato video game players.
Popular games like "Call of Duty" and "League of Legends" have become an indispensable part of Gen Y and younger culture, and many try to pick up tips from top players, as well as just revel in watching the elite level of achieved competition.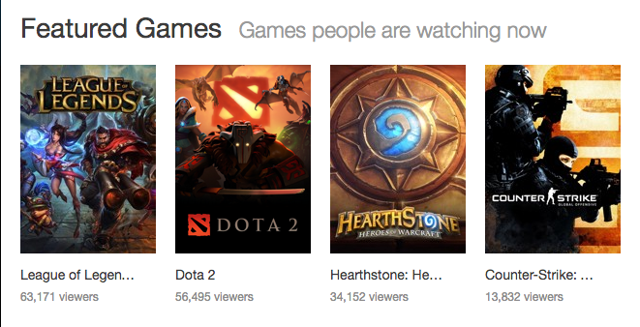 (twitch.tv)
Enormous Ad Revenue Potential
E-game viewing of premier competitors certainly has established a huge following. The championship finals of Riot Games' "League of Legends" was viewed last October by 32 million people, which the Wall Street Journal calculated was more than the series' finales of "Breaking Bad," "The Sopranos" and "24" combined.
That fact alone makes the advertising potential for Twitch enormous, and adds to the already $1 billion in advertising revenues that eMarketer, a tech research firm, estimates this year for Amazon to generate.
Given the market's lukewarm reception to Amazon's Fire Phone, having Twitch should help Amazon offset its recent spending sprees for drone technology, credit cards and Amazon Fresh. Twitch's primary viewers are young males with significant disposable income. As a result, analytics firm TubeMogul estimates thats Twitch's ad rates are roughly 85% higher than on other videosites.
Mixed Quarterly Results, Guidance
Jeff Bezos paid $775 million for robot maker Kiva Systems in 2012, and his other expenditures have bit deeply into Amazon earnings even as revenues and market share continue to grow. Its disputes with print publisher Hachette over eBook rates are still unresolved, and operating losses, which increased in the second quarter to a net loss of 27 cents per share is not expected to improve. Third quarter guidance so far has net sales expected to increase by almost $2 billion but operating losses to increase $400 million.
Long-Term Vision For AMZN Shareholders
While still early in the game, Amazon could potentially have another winner on its hands with Twitch.
CEO Jeff Bezos has shown repeatedly that he has far reaching vision when it comes to Amazon's long term prospects, and has been on the right side of the gamble more often than not.
Amazon has jumped into e-gaming with both feet. With its already entrenched cloud technology as the backbone, Fire TV, introduced this past spring, is a set-top box with a dedicated gaming controller and an original menu of games designed by Amazon programmers in Seattle and California for direct competition with XBox and Playstation.
With AMZN clearly competitive with tech and retail giant rivals (see below), the latest acquisitions of Twitch could give it an edge.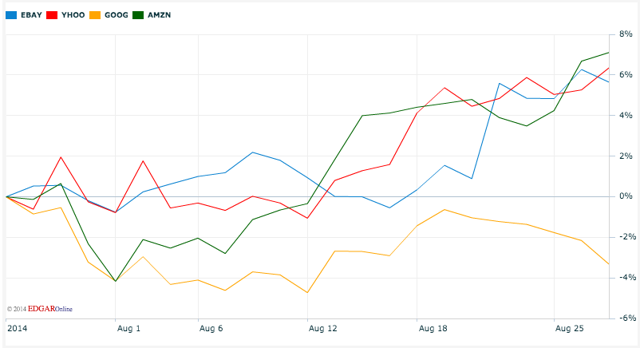 (Nasdaq.com)
AMZN shareholders seem enthused about the acquisition and shares jumped significantly on the news.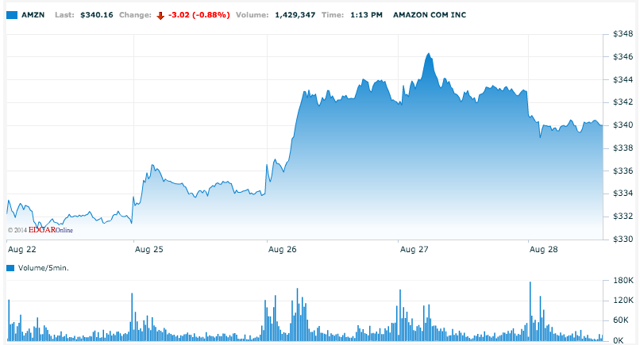 (Nasdaq.com)
We are increasingly positive on AMZN moving forward in 2014.
Disclosure: The author has no positions in any stocks mentioned, and no plans to initiate any positions within the next 72 hours.
The author wrote this article themselves, and it expresses their own opinions. The author is not receiving compensation for it (other than from Seeking Alpha). The author has no business relationship with any company whose stock is mentioned in this article.