In this post, I'll first present a one paragraph summary from the latest Federal Open Market Committee (FOMC) minutes to give a short overview of the current macro-economic conditions. I'll then present the activity for the January ETF portfolio.
First, the bad news. For the period ending on December 14, 2010, spreads, a measure of stress in markets, on LIBOR, commercial paper, and asset-backed commercial paper increased slightly. Spreads on sovereign yields in some euro countries (Greece, Portugal, and Ireland) edged higher against German bunds. Equity risk, as measured by the expected real return on equities (S&P500) and the real 10-year Treasury yields narrowed a bit, but remained elevated relative to longer-run norms. The dollar edged up against most other currencies, with particular gains against the euro. The dollar appreciated slightly against emerging market currencies, but edged down against the Chinese renminbi.
In short, the latest minutes of the Federal Open Market Committee (FOMC) tells a story of slowed growth in the US restrained by the depressed housing markets, employers' continued reluctance to add to payrolls, and reduced consumer spending.
Now for today's January portfolio.
click to enlarge images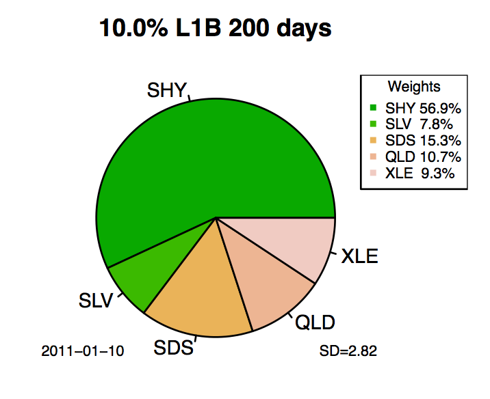 Compared to last week's portfolio, the standard deviation is still trending down, but increased slightly within the last week from 2.81 to 2.82 today. The proportion of bonds, in the form of iShares Barclays 1-3 Year Treasury Bond ETF (SHY) went down from 68.5% last week to 56.9% this week, which is evidence that the recent dip in bonds resulting from Quantitative Easing is beginning to tarnish the solid bond performers.
The iShares Silver Trust ETF (NYSEARCA:SLV), my commodity pick, remains steady at 7.8%, down slightly from last week's 8.6%. None of the other commodity ETFs I'm tracking (IAU, DBC, GSG, and USO) are being included in the portfolios.
The short and leveraged ETFs for this week remain the ProShares Ultra QQQ ETF (NYSEARCA:QLD) and ProShares UltraShort S&P500 ETF (NYSEARCA:SDS). If you're not familiar with short and leveraged assets, please read my article from January 2, 2011. It looks like these two are creating a simple butterfly spread between them, which is fun to watch; not fun to play for retirement investors. The combination of the two create a sub-portfolio within the larger portfolio, but still need to be included in the portfolio for the entire portfolio to be effective. I suspect having a portfolio with 26 percent of the investable money in shorts and leveraged ETFs might be too much. Next month, I'll include a constraint to limit the amount of short/leveraged assets to be no more than 10 percent. Does that sound reasonable to everyone?
The SPDR Energy Select Sector Fund (NYSEARCA:XLE) is still my sector pick replacing the Consumer Discretionary Select Sector SPDR ETF (NYSEARCA:XLY) from last last week. I call the sector rotation component of these portfolios "fast money" as these ETFs can come and go depending on the market performers for the week.
Also, if you're buying and selling these assets, I do not include transaction costs in the allocation calculations. This section of the portfolio, which for now, is limited to only 5 assets for the entire portfolio, generally pulls one ETF from the list of possible in my universe (XLF, IYM, XLE, VNQ, XLI, XLY, SMH). When considering the previous 200 days, it looks like XLE was this week's winner. Next week could be different.
The performance of the portfolio, assuming we invested on April 2, 2010 and walked away (buy-and-hope strategy?), would have performed like this: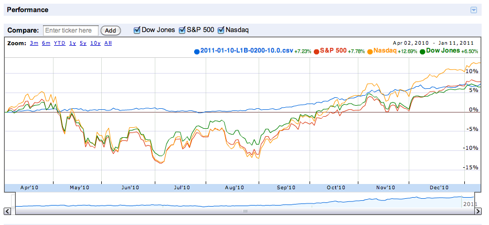 This says to me that we should have started to think about rebalancing our portfolio back in October or September, when the market began to exhibit directionality again.
The takeaway messages are:
Having a well constructed portfolio can provide a great visualization, and thus teaching tool, for what happens when the unexpected happens. Look at what happened during the sideways markets of 2010.
The January portfolio is only one example. Ask your financial advisor for a more complete and tailored portfolio that can fit your needs.
Asses early, asses often. Rebalance regularly. Period.
A well balanced portfolio should not be considered a replacement for other wealth protectors like insurance from health shocks and income shocks. Here's a great book on both available from Amazon.com
All mathematical based algorithms for portfolio construction are backwards looking. Forward looking predictions are called forecasts, or sometimes more appropriately, speculation.
Which brings me to another important point: This portfolio was constructed yesterday, using data since April 2, 2010. What would the performance of the portfolio, constructed on April 2, 2010, using the previous 200 trading days worth of data have looked like? I will plot those results in the future as well.
I hope this helps.
Disclosure: I am long SLV.