By Angus Robertson
Alacra Pulse's first annual analysis of M&A activity on the web identified a total of 452 companies that were tagged as takeover targets in 2010 by Wall Street analysts, industry experts and bloggers.
The analysis looked at the output of 3,000 carefully vetted outlets that are publicly available on the web. Alacra Pulse uses a combination of semantic technology and editor oversight to tag companies identified as potential takeover targets by sell-side analysts or independent experts in the alternative media. These may be rumors, or in other cases, simply a Deal Idea. A good example is this entry from last month, where noted bank analyst Dick Bove talks about two banks as rumored takeover targets [click to enlarge all images]:

These takeover targets are also tracked in Pulse's "In Play Today," as the company sometimes ends up being acquired. A previous post looked into the correlation between deal ideas and completed deals, broken down by industry. This one examines the breakdown of takeover targets.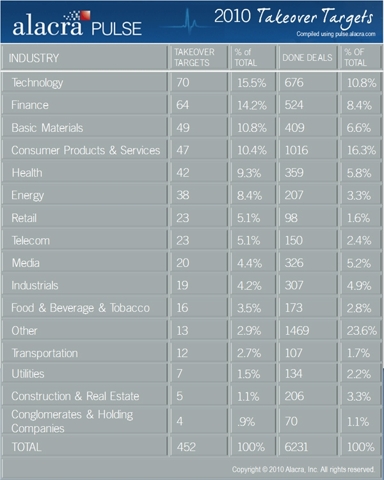 Two industries, Technology and Financial Services, combined to account for 30% of the total targeted companies, with 70 and 64 companies respectively, whereas they accounted for 19% of the total completed or announced deals with 676 and 524 respectively. Conversely, the 47 Consumer Products and Services targets accounted for 10% of the total, while the 1016 done deals were the highest of any industry, representing 16% of the total.
Previous posts addressed the reasons for the relatively high number of tech companies in play, and the widespread expectation of consolidation in the Financial Services industry as the weaker survivors of the financial meltdown are absorbed by the stronger ones.
Given that this industry had by far the highest number of companies in play in 2010, it will be worth watching closely in 2011. It will also be interesting to see how many of the targeted companies end up being acquired. Regional banks with impaired loan portfolios, such as Regions Financial (NYSE:RF) and SunTrust (NYSE:STI) are frequently mentioned as ripe for takeover.
Regions was tagged by Pulse as a takeover target on Aug 22 when CreditSights analyst David Hendler mentioned it as posslble acquisition for PNC Financial (NYSE:PNC). Other potential PNC targets included Capital One (NYSE:COF), M&T Bank (NYSE:MTB), SunTrust, and Fifth Third Bancorp (NASDAQ:FITB).
As far back as March, SunTrust, along with Fifth Third and others, was flagged by Pulse as a potential target for Barclays (NYSE:BCS), while about the same time, reports surfaced of Banco Santander (NYSE:SAN) targeting M&T.
MarketWatch reports that Regions is "a kind of a 'sitting duck' for a larger bank to acquire," according to Miller Tabak analyst Tom Mitchell, but its troubled loan book would be "a potential 'poison pill." Indeed one reason more takeovers have not taken place is that it would require paying of the TARP loans at Regions, SunTrust, Fifth Third and others, which could offset much of the benefits of synergy. Another factor may be that the share price of most of these banks has risen by 25% or more over the past year, partly driven by takeover expectations. In addition, Bloomberg reports, many investors shifted out of big banks into smaller banks as financial reform regulations squeezed big bank profits, according to David A. George, of Robert W. Baird & Co.
The most notable recent deal in the regional banking space was BMO Financial's (NYSEARCA:BOM) takeover of Marshall & Ilsley (NYSE:MI), announced last month.
Alacra Pulse tagged Marshall & Ilsley as a takeover target in early September, when banking analyst Dick Bove included it in a list of 17 regional banks as potential targets, including the aforementioned SunTrust, Fifth Third, Regions and others. A few days later, UBS included M&I as the only bank on a list of 39 takeover targets.
Look for more action in this space this year.